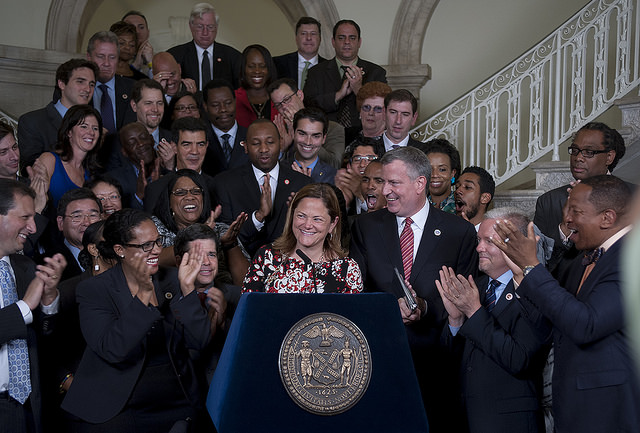 City Council members applaud Speaker Mark-Viverito at budget announcement (William Alatriste)
---
NEW YORK - When the New York City Council passed rules reforms in May, one of the most significant changes made was to the system of allocating member items. According to the new rules, the money, also known as discretionary funds and used to support non-profits in members' districts, would be doled out in a more equitable way than in previous administrations.
Late Tuesday evening, the Council released "Schedule C," the portion of the budget that shows how member item money will be allocated. An analysis by good government organization Citizens Union shows Speaker Melissa Mark-Viverito abided by the rules she helped pass, with members receiving from $685,000 to $760,000 in expense funding.
"The City Council has lived up to its promise of further reforming the distribution of discretionary funding to its members by making more equitable and needs-based funding decisions," said Dick Dadey, Executive Director of Citizens Union. "This is a sea change from previous years, and creates a Council where power is shared with individual members and their constituents benefit."
Each Council member received a base of $400,000 as well as $110,000 for aging initiatives and $150,000 for youth initiatives. Members received additional funds of $25,000, $50,000, $75,000, or $100,000 based on the levels of poverty in their districts. Poverty levels were estimated using the 2012 American Community Survey.
Speaker Mark-Viverito, along with four other council members (Maria del Carmen Arroyo, Ritchie Torres, Vanessa Gibson, and Fernando Cabrera) received the maximum allocation of member items, $760,000. Each of the five represents portions of the Bronx, the borough with the highest poverty rates.
While the member item playing field is now more level, during this transitional year 15 council districts will receive less funding than the previous year. No district was hit harder by the leveling out of the funding than that represented by freshman Council Member Mark Treyger, of Brooklyn. His district, represented by Domenic Recchia last session, will receive $853,464 less in expense funding this fiscal year, according to the Citizens Union analysis.
In an emailed statement Treyger said his predecessor "benefited from a broken political system," and praised the reforms passed by the Council.
"We are still working to also ensure that outstanding nonprofit organizations that do important work in districts around the city are not unfairly and inadvertently punished as a result of these reforms," Treyger said. "I am continuing to work with Speaker Mark-Viverito and my colleagues to make sure that groups serving our constituents will have the funding necessary to continue their critical work on behalf of millions of New Yorkers."
He continued, "The bottom line is that I expect that local organizations serving local residents will in the end receive the funding needed to continue to effectively serve my community."
On the other end of the spectrum, Council Member Inez Barron's Brooklyn district received a sizable bump in discretionary funding. The district, which was represented by her husband Charles Barron last session, will receive $330,536 more member item funding, according to the Citizens Union analysis. Charles Barron was not afraid to speak out against former Speaker Christine Quinn, and despite representing one of the poorest areas of the city, was often given the smallest member item sum.
Gotham Gazette emailed Council Member Barron's office to see how the increase would affect her district. There was no response by press time.
A total of 36 council districts are receiving more discretionary money than last year, while the other 15 are receiving less than a year ago. The total for each council member is detailed in the chart below, along with the increase or decrease in funds from the previous year.
"The true beneficiaries of this reformed discretionary funding process are the constituents in each district," said Rachael Fauss, Policy and Research Manager of Citizens Union who analyzed the budget items. "By distributing funds equitably and based on measures of poverty, the residents of each district will be more fairly served in the city's budget process."
Part of the council rules reform package was to bring greater transparency to the member item process. This year's Schedule C document includes a detailed description of how the Council arrived at member item allotments, something not done in the past.
But, the document was still released as a PDF online, making it difficult to analyze. A spreadsheet was sent when a request was made to the council press office, but not all of the information was included in the new document. Totals for members were not included in either document, which is where Citizens Union stepped in (Citizens Union Foundation publishes Gotham Gazette).
The rules reforms did not require this year's budget to be in machine-readable format, but Council Member Ben Kallos, an open data advocate, has pushed for making all council documents machine readable so the data can be analyzed more easily. As part of the rules reform, the Council will form a technology working group to determine best practices for data transparency going forward.
"As part of the City Council's already largely successful and ongoing push for greater transparency, I look forward to working with my colleagues to ensure that the Schedule C funds are released in the best possible and most searchable format and will be looking into ways to make sure that happens," Kallos said by email.
The budget documents will be published on the City's open data platform in August.
Access the full spreadsheet via Google Docs here.
*This article has been updated with comments from Council Members Treyger and Kallos
***
by Kristen Meriwether, Gotham Gazette
@MeriwetherK