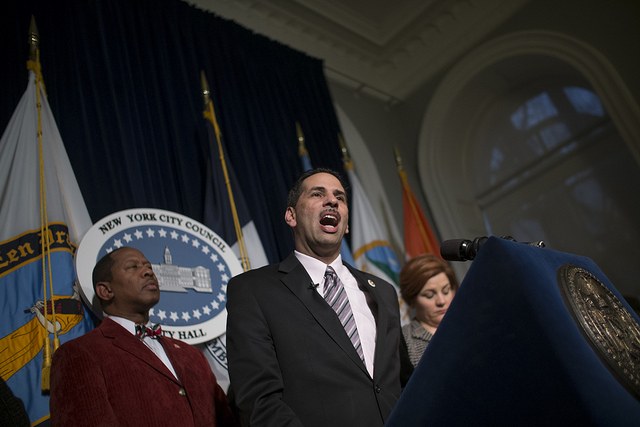 Council Member Fernando Cabrera (William Alatriste)
---
City Council Member Fernando Cabrera's run for the state Senate in the Bronx's 33rd district, a seat currently held by Sen. Gustavo Rivera, is becoming more complicated by the minute. Cabrera, a Democrat challenging Rivera in September's primary, has expressed interest in joining the Independent Democratic Conference if elected and appears to have its members' support. However, IDC leader Sen. Jeff Klein, also of the Bronx, recently said that he would have a "litmus test" for any candidate the IDC might support. Based on his conservative stances on reproductive rights and marriage equality, Cabrera appears likely to fail such a test.
This is especially true given the IDC's recent commitment to break its coalition with Senate Republicans and form one with the mainline Senate Democrats.
Cabrera is a conservative Democrat and pastor at New Life Outreach International. He has ties to the Family Research Council, which was recently labeled a hate group by the Southern Poverty Law Center for insisting that gays and lesbians should be imprisoned.
Klein took to the airwaves on The Capitol Pressroom last Wednesday to discuss his announcement that the IDC had re-found its Democratic religion after meeting with progressive evangelist Mayor Bill de Blasio and the seemingly more agnostic Gov. Andrew Cuomo. Klein criticized Senate Democrats for having members who are not supportive of "progressive" legislation that the IDC has been accused of blocking by sharing power with Republicans - bills like the reproductive health portion of the Women's Equality Agenda.
Klein brushed off questions about whether the IDC was supporting primary challenges to sitting Democratic Senators, but said that if the IDC does decide to get involved with primaries a litmus test would be set that would include whether a candidate supports women's issues, the DREAM Act, and campaign finance reform.
Cabrera appears to be exactly the kind of right-leaning Democrat that Klein has railed against the mainstream Democrats for having in their ranks. A number of sources insist, though, that Cabrera is running with Klein's backing. An IDC spokesperson did not return requests for comment.
According to records from Westchester County and the New York City Board of Elections, Cabrera switched his registration from Republican to Democrat when he moved to the Bronx in 2007, yet continued to vote in the 2008 Republican presidential primary.
Cabrera enjoys support from Sen. Ruben Diaz and from the conservative Democratic base in the Bronx that backs both legislators. Diaz is certainly an example of a mainline Democrat Klein was singling out as Diaz is very publically against a woman's right to choose, LGBT rights, and campaign finance reform.
While Cabrera's campaign did not return requests for comment, Sen. Rivera said that he was looking forward to the race and said he would run on "The progressive record I've built over the last three years."
The Rivera-Cabrera race is only one potential sticking point in the coming alliance between the IDC and mainline Senate Democrats, set to occur after November's elections according to the recent announcement. Sen. Diane Savino, another IDC member, recently told The Observer that Democrats risk wasting their money on primary challenges to the IDC and that these challenges could lead to the two conferences being in the minority come 2015. Savino appears to have warded off any primary challenger to her seat. She admitted the IDC is keeping its options open depending on November's election results.
Democrats Oliver Koppell and John Liu are still challenging IDC Sens. Jeff Klein and Tony Avella, respectively, much to the chagrin of the IDC.
Cabrera still has to make the petitioning deadline to get on the ballot, though he likely has the help of Diaz and other right-leaning Bronx politicos. Bronx insiders say the race will be a test of the influence of conservative Christian politicians who rely heavily on pushing turnout through block parties and the relentless call to "votar, votar, votar!" issued from the speakers of campaign trucks that circle the Bronx. Rivera's camp insists that the majority of Bronx voters are sophisticated and progressive and not interested in candidates whose campaigns are based on standing against women's and LGBT rights. Cabrera has reportedly told a number of prominent Bronx politicos that Rivera hasn't brought home enough funding for the Bronx and that constituents asked him to run because they were upset that Rivera was championing same-sex marriage and the women's equality agenda over financial issues facing the Bronx.
The race will be a test of those competing stances, but it could be a particularly hard one for Rivera as he has earned the ire of some of the Bronx's most powerful legislators with his progressive stances, and both Diaz and Klein have proven to be effective fund-raisers and campaigners.
***
by David King, Albany editor, Gotham Gazette
@DavidHowardKing