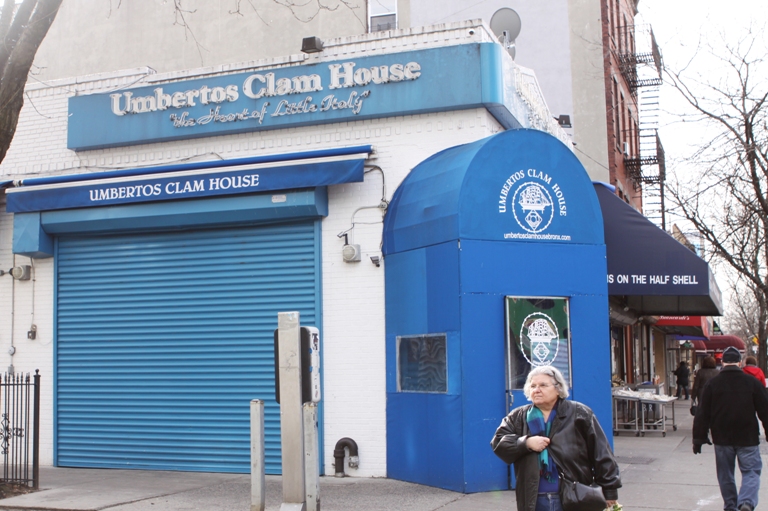 A closed Umberto's Clam House in the Bronx (photo: Elizabeth Zanghi/The Ram)
---
Umberto's Clam House. Gray's Papaya. Union Square Cafe. These famous, long-established New York City businesses and many more are victims of circumstances advocates say come down to a lack of protections for commercial tenants. Given the recent focus on residential tenants and affordable housing, many don't realize the bitter plight of the city's small businesses, especially low-profile mom-and-pop type stores and restaurants.
And these establishments - the city's small businesses - are desperately looking for help.
Few New Yorkers can't name a favorite local business or neighborhood staple forced to close over the last several years. Bodegas, Korean markets, and Irish Pubs are now considered to be part of a dying breed - endangered species poached by high rents, corporate competitors, and real estate development deals. Large swaths of commercial areas have all but disappeared from Little Italy, Chelsea, Hell's Kitchen, and Bedford Avenue in Williamsburg. Empty storefronts litter the five boroughs, sometimes for weeks, months, even years.
Ramon Murphy, president of the Bodega Association of the United States, told the Daily News the main reason for all the small business closings "is the one-sided process of lease renewal...Landlords either do not renew them or want to raise the rent four or five times. Often, you have to give money under the table for the lease to be extended."
The Small Business Congress (SBC) wants to change the system. An umbrella organization of private small business groups advocating for policies that will best benefit its community, SBC aims "to save the pathway to social mobility for lower income families, save the character of our neighborhoods, save our art and cultural groups, save our not-for-profits and save our middle class."
SBC Executive Vice President Steven Barrison is on full alert, emailing, "We are bleeding about 800-1,000 mom and pop stores per month in NYC! Costing us tens of thousands of jobs when you consider 7-8 jobs per store and 11,000-12,000 closings a year now! The CRISIS is real and it is here right now!"
The crisis Barrison describes has been building for decades: from 2002-2012, during Mayor Michael Bloomberg's tenure, the city's Landlord and Tenant Courts issued 83,211 warrants to evict commercial tenants, according to SBC data. SBC believes for every business that fights in court, two walk away, and estimates that at least 240,000 businesses closed and between 2.5 and 2.8 million jobs were lost (gross, not net) over the combined years of the Giuliani and Bloomberg mayoralties.
Landlords evict commercial tenants for a variety of reasons. Often, tenants fall behind paying escalating rents, but don't want to walk away from their life's work. Activists say they see a growing trend by which owners move faster to evict because they want to make space available for a corporate franchise or a bank, which can and do pay substantially higher rents.
Even though thousands of new small businesses also open every year, the odds are against their success and many close within the same year they open. Sung Soo Kim, who is president of the Korean-American Small Business Service Center (KASBSC) and has been called the godfather of New York's small business community, explains the significant obstacles against success, chief among them being high rents and operating costs. With the city's small businesses providing the large majority of jobs for New Yorkers - and establishing a gateway to the middle class, especially for immigrants and in ethnic communities - many, including Kim, wonder why little has been done by city government in the last twenty years to stem the tide of business closings, particularly of long-standing, neighborhood establishments.
"It's a crisis," agreed Ron Shiffman, founder of the Pratt Center for Community Development. "There's a dramatic impact on neighborhoods, especially on lower income folks [who rely on] inexpensive stores and culture, who get priced out," Shiffman said, referring to gentrification. Shiffman says the importance of neighborhood small businesses is that they "hire locally, they contract out services, their purchases are local. A dollar recovered in the local community [means] far more than it does [from] corporations."
The city's small business community is looking to its local government to act before entrepreneurship is further stifled and every mom-and-pop store is replaced by a corporate chain, making "family business" an oxymoron.
Government Action
On June 26th of this year, New York City Council Member Annabel Palma, of the Bronx, re-submitted the Small Business Jobs Survival Act (SBJSA), which is considered by many to be the key antidote to mass closings. The bill, which is co-sponsored by Council Members Rodriguez, Chin, Gentile and Rose, states it would "amend the administrative code of the city...in relation to creating a small business lease program for establishing an environment for fair negotiations in the commercial lease renewal process."
While this is the first time Palma is the prime sponsor, the legislation has existed over the course of a myriad of previous sponsors and several council speakers.
Supporters say the legislation equalizes the relationship between commercial tenants and landlords to allow for fairer lease negotiations, in part by strengthening tenant protections. When an agreement is unreachable, a mediator or arbitrator would be enlisted at the parties' expense - there would be no government involvement or cost. Those behind the bill emphasize it is not commercial rent control.
"Every week I hear about another small business closing its doors because the rents are no longer affordable," Palma said in a recent statement. "I know that communities grow and change, and rental markets heat up...But there needs to be some protections for the small businesses that give character and life and jobs to these communities...That's why I have always supported the lease renewal bill."
There is, of course, another side to the issue. "The legislation represents an unconstitutional intrusion on the use and disposition of private property," said Steven Spinola, president of the Real Estate Board of New York, about SBJSA.
SBC legal counsel Sherri Donovan argues, though, that "There is an entire line of U.S. Supreme Court cases that permit local authorities to enact legislation and rules as long as there is a rational basis." The SBJSA is reasonable, she said, because it promotes arbitration, which is used in "every sphere" of business. "It's not like we are taking property away from owners," Donovan said of the SBJSA.
The De Blasio Administration
There was great optimism in the small business community when Mayor Bill de Blasio was first elected. Finally, it was thought, there would be a substantive policy change after the Giuliani and Bloomberg years. De Blasio's mentor, former Mayor David Dinkins, was considered a true ally, having created the first-ever Interagency Task Force on Small Businesses. According to SBC's Barrison, the Dinkins Task Force (later disbanded by Giuliani) was successful because it included participation from all sectors and "every ethnic group," allowing business owners to work directly with city agencies.


Moreover, when de Blasio was in the City Council, he was a sponsor and vocal advocate of the SBJSA, backing it as a means to bring greater economic equality.
In a letter to de Blasio's transition team with recommendations for his then to-be-determined Commissioner of Small Business Services (SBS), the SBC wrote the selection was essential to stemming the tide of small business closings and the related job losses. SBC urged the next commissioner must have "the courage to stand up for small business owners and be a strong voice for them."
A major point of contention for SBC - particularly during Bloomberg's tenure - was that no senior official at SBS had direct experience owning or running a small business, coming instead from either big business or government. Currently, the deputy commissioner in charge of workforce development, who has had that title since 2013, previously owned two small businesses.
Quenia Abreu, president of the New York Women's Chamber of Commerce, said she wants SBS to hire as permanent staff or consultants "people who have owned small businesses so they know the tribulations and challenges."
Ultimately, de Blasio selected Maria Torres-Springer, a former executive vice president and chief of staff at the New York City Economic Development Corporation (NYCEDC). Torres-Springer, who is of Filipino descent, also worked for the non-profit Local Initiatives Support Corporation and for Friends of the High Line.
Merideth Weber, director of communications at SBS said there are other ways of getting experience relevant to running SBS, arguing, "It's not necessary to have experience of a small business" and that bringing in multiple perspectives to SBS is important.
Gotham Gazette asked both Torres-Springer and Weber of SBS, a representative of NYCEDC, and the mayor's press office about specific programs in existence or being planned with a focus on job retention, especially through keeping small businesses open throughout the city.
Mayoral press secretary Phil Walzak emailed to reiterate key pieces of de Blasio's mayoral platform: "From cutting burdensome fines and helping...navigate regulatory rules to providing assistance in developing a business plan," Walzak wrote, "the City is dedicated to helping small businesses start, operate, and grow."
Earlier this month, the Department of Consumer Affairs (DCA) announced more than 20 reforms the administration hopes will lighten the financial burden on the city's small businesses. Designed to "bring much-needed relief" by reducing the number and cost of fines, improve transparency, and even provide inspections in a prefered language, DCA commissioner Julie Menin said the agency is "committed to making our operations fairer, simpler and less onerous on law-abiding businesses." And in de Blasio's new budget, the City plans to collect eight percent less in total fine revenue over fiscal year 2015 than it collected in 2012: $789 million, down from $859 million.
For her part, Torres-Springer listed SBS' pro bono legal assistance to help with lease renewals, loans, training programs, workshops, and initiatives available to startups. According to Weber, SBS helped nearly 7,000 new businesses that opened in 2013, and NYC Business Solutions assisted 8,700 businesses with more than 13,300 free services.
"All of our services are to help businesses grow and operate," Torres-Springer said. "So in that way, a lot of programs, if not all, are to help businesses not close down."
She added that upon her taking the helm of SBS, she sees an opportunity to reassess what SBS does, better understand the reasons for business closures, and examine specific interventions that might be helpful.
Steve Null, founder of the Coalition for Fair Business Rents, doesn't see the same picture the City sees. Null asked how it could be possible that the singular city agency (SBS) tasked with helping small businesses has no job retention goals for the city's biggest employment generator. "Or even a single business program or initiative to save a single small business or a single job?" he added, expressing years of frustration.
Advocates like Null point to the number one issue facing small business owners: rent, and ask what will be done by the City to ensure more small businesses can afford the space they inhabit - with the Small Business Jobs Survival Act (SBJSA) pointed to time and again.
Adding to the skepticism, advocates say, is that Torres-Springer is a veteran of Bloomberg's EDC, an agency they believe either ignored or actively worked against their interests. SBC virtually begged the mayor not to choose someone who previously worked for this kind of entity. "(We) will not gain such an advocate from people who remained silent for over 20 years or people who never once advocated for the small business owners," SBC's transition letter to Mayor-elect de Blasio reads.
At the press conference announcing Torres-Springer in January, Mayor de Blasio said, "As Commissioner of Small Business Services, she will establish a new revolving loan fund to help local businesses grow, expand outreach to immigrant-owned businesses, and help launch new economic development hubs in underserved communities." De Blasio promised that under Torres-Springer's leadership, the City will deepen "our outreach to immigrant entrepreneurs long overlooked by City Hall...We will lift up every community. This will be one community. This will be one city, where everyone rises together."
While Torres-Springer has only been on the job a few short months, starting in late March, frustration with SBS remains high and advocates are waiting to see the different approach promised by de Blasio. Kim was the first and last chair of the Small Business Task Force, and believes SBS hides behind "useless programs and bureaucratic organizations controlled by special interests." The Korean-American Small Business Service Center (KASBSC), which Kim runs, is the oldest small business service center in the city. Over the past decade, SBS has never contacted KASBSC or similar organizations about the mass closings and the increasing extortion of immigrant owners, Kim said.
Not everyone is critical or skeptical of the selection of Torres-Springer. Former Brooklyn Council Member David Yassky, who chaired the Council's small business committee for four years, said of Torres-Springer, "I liked working with her. She's a terrific choice." When Yassky dealt with Torres-Springer, she was working for former Deputy Mayor Dan Doctoroff and EDC. "Even though we were not on the same side, [she was a] total professional, very smart. She is trouble-solving oriented," Yassky said.
Abreu, of the Women's Chamber of Commerce, said, "I love that she's a woman."
Null explained a systemic problem within SBS, in his view, is its poor staffing and leadership. "They have absolutely zero interest in solutions. If the structure [included] the right people with the right mandates, they would have solved all these problems," Null said.
One of the biggest changes is that SBS will become more collaborative, said Torres-Springer. "The vision moving forward," she said, "is for there to be a more consultative, ground-up planning process, that takes into account the needs of different stakeholders: small businesses, job seekers, community-based organizations."
She is particularly proud of work she did at EDC where she "championed personally" programs targeting immigrant entrepreneurs, the commissioner said. In May, SBS announced a new immigrant-owned business initiative funded by Citi. Community-based organizations will collaborate with the City to help immigrants "start, operate, and grow" new businesses. The program includes business education and counseling, and these services will be marketed to immigrant populations.
To which Null quipped, "Yes, phone people who have never owned or operated a small businesses to learn how to grow your business."
While there is no silver bullet answer to rampant small business closings, it's important to consider "the entire toolkit of services," Torres-Springer advised, adding that she is "optimistic" and the picture isn't quite as bleak as SBJSA advocates paint. SBS is taking the opportunity to examine the lifecycle of small businesses and ask why those which have struggled or closed have had such difficulty, she said.
One small business which successfully utilized SBS is the specialty food store Russ and Daughters on Manhattan's Lower East Side, a 100-year-old landmark. Co-owner Niki Russ Federman said SBS was "so helpful" by providing a point person to navigate through the relevant rules and regulations when the business expanded to include a cafe in a separate building. Russ and Daughters was also awarded an SBS workforce development grant, as they require a specialized kind of worker. "The skills are so unique," Russ Federman said of those required to staff her famous store, and the grant helped pay for the necessary training.
But Kim, who is also co-founder and president of the SBC, explained his members ask daily for assistance because the City only views them as "cash cows." He discussed the psychological damage and disenfranchisement that's been festering as a result, "There is a loss of pride, a loss of belonging, to be a New Yorker." In 2013 alone, 24 percent of Korean-owned businesses closed, Kim said.
And Kim doesn't buy the myriad of services and initiatives SBS promotes. "SBS programs are ridiculous and worthless to the majority of NYC hard-working immigrant owners," Kim said. "There is nothing more absurd," he added, "than a loan program to [businesses] who can't pay their rent."
The Coming Tell-Tale Months
Despite successful attempts by the real estate industry and its elected allies to kill the SBJSA in the past, there is hope the new 'progressive' City Council (and mayor) will act differently. The last time the bill had a hearing, in 2009, overseen by Yassky's committee, there were more than 30 sponsors.
The current chair of the Council's small business committee, Robert Cornegy is said to be working on legislation using subsidies to pay landlords to not rent-gouge. "The investments small business owners make in our communities are often part of the dynamic that helps to raise property values," Corney said. "I hope that we can create an effective incentive for commercial landlords that will give businesses greater predictability and allow them to benefit from the positive changes they help to create."
Cornegy is not currently a sponsor of the newly re-introduced SBJSA, which has just five sponsors, though Palma and others will surely be looking to add to that number over the summer.
There is some concern about the mayor because of his perceived inaction on small business issues while public advocate. As a candidate and thus far as mayor, de Blasio has focused on issues like access to capital and the burden of regulations, not directly on closings, sky-high rents, and extortion. Barrison said that If de Blasio thinks "that the biggest problems facing our small businesses were fines and lack of loans, he will continue the same anti-small business conservative Republican Giuliani/Bloomberg policies." The mayor's choices for SBS commissioner and the new deputy mayor for housing and economic development, Alicia Glen (a former Goldman Sachs officer, skeptics like to point out), don't bode well for change, Barrison said.
At his hearings, Yassky said he thought it was critical the City do something to fix the pervasive rent-gouging. "Not doing anything is not an option at this point," Yassky said at the time, now five years ago. "We can't allow our mom and pop businesses who create the majority of our jobs to disappear and that is what is happening."
In fact, advocates say, nothing was done and the city's small businesses have suffered. Null explained his coalition would never oppose government helping someone start a new business or access loans, that they are not opposed to SBS programs, but they feel SBS is not focused in the right direction. In the end, Null says the central problem is "the failure of not keeping successful businesses in business."
***
by Jillian Jonas for Gotham Gazette
@GothamGazette