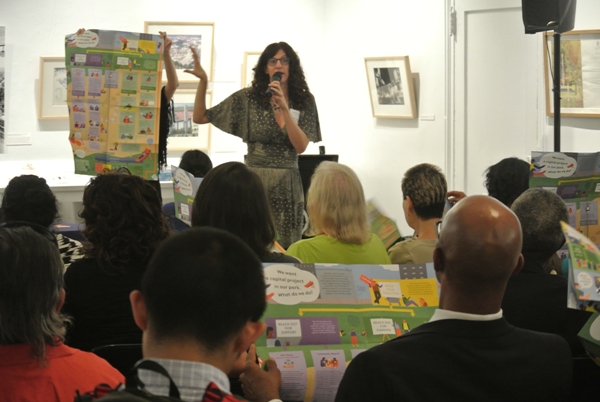 Parternships for Parks' Leah Worrell presents a new advocacy guide (photo: Katrina Shakarian)
---
Four years ago, Faye Hill retired from a career as a legal secretary and decided to get involved with improving and maintaining her local park. She joined forces with volunteers in her community to form Friends of Springfield Park, Queens. Since its inception, the group has secured funding to make improvements like restoring flower beds and installing watering equipment.
Last week, Hill shared the group's experience making inroads for Springfield Park with over 100 attendees at the launch of "How can I Improve My Park?", a step-by-step, illustrated guide to park advocacy. Park enthusiasts, including members of several community and advocacy groups, gathered to celebrate the publication of the guide and move the flourishing park advocacy movement forward, hoping to broaden involvement across the city.
As Hill explained, navigating the path of effective park advocacy is not simple, even for the most determined park lovers. Between City Council Members, Borough Presidents, Community Boards, the New York City Department of Parks and Recreation (DPR), and a myriad of local community organizations, it's difficult to know where to start, who to contact, and what resources are actually available for neighborhood parks.
In order to lift that fog, two New York City parks organizations, New Yorkers for Parks and Partnerships for Parks, collaborated with the Center for Urban Pedagogy, an organization that promotes public understanding of complex policies through design, to produce a graphic roadmap for navigating the city's bureaucracy on behalf of local parks. The goal of the new poster is to elucidate the park advocacy process and empower concerned citizens to make a difference in their communities.
"Park advocates contact us all the time to ask: 'where do I start?'" said Executive Director of New Yorkers for Parks (NY4P), Tupper Thomas. "It's a complex process, so we we wanted to create a guide that eliminates any of the confusion and makes the process much smoother for those who know their local parks best, but may not know how to navigate the city's budget process. This poster will really empower park advocates across New York City to make a difference in their communities."
Gathering on the eastern edge of Central Park at DPR's historic Arsenal headquarters, advocates and legislators lauded the unveiling of "How can I Improve My Park?" Attendees mixed and mingled in the 19th century building, designed in the likeness of a medieval fortress, over drinks and neatly cut sandwiches, before DPR Commissioner Mitchell Silver delivered opening remarks, which were full of praise for the effort.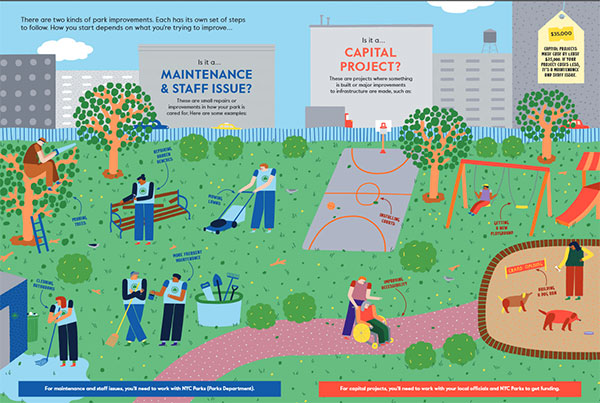 The 8 x 11 inches booklet, designed by Elana Schlenker and illustrated by Brooklyn artist Leslie Wood, unfolds into a busy poster of colorful animations and flow charts that lay out courses of action for penetrating the city's bureaucracy.
The poster includes descriptions of:
The two general categories of parks improvements: capital projects which include infrastructural changes like building a new playground or dog run, and maintenance and staff issues which include upkeep and procedures like fixing broken park benches or mowing lawns.
The civic entities involved in either pursuit: NYC Parks Department, Community Boards, City Council Members, Borough President, Mayor's Office among them.
People to contact along the way: borough-based Partnership for Parks (PfP) Outreach Coordinators, individual Parks Managers, etc.
Actions to take: Coalition building, letter writing, phone calls, scheduling meetings, etc.
"Everything in this publication, I had to learn it through almost 10 years of [volunteering] and getting involved in my local parks committee at Community Board 12 [and] going to workshops. Any workshop that Partners for Parks sent my way, I took it," said Obed Fulcar, a New York City public school teacher and founder of Friends of Sherman Creek, who attended Thursday's event.
"This publication can help an individual that wants to get involved and do something about their local parks," he declared enthusiastically of "How Can I Improve My Park?"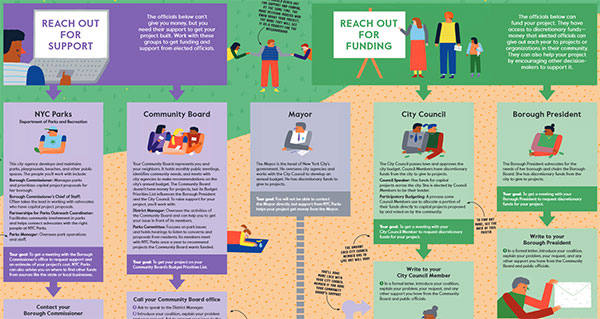 The publication launch doubled as a free Partnerships Academy Workshop, featuring a panel of speakers addressing the question, "How New Yorkers Can Work with Government to Support our Parks?" Partnerships Academy by Partnerships for Parks (PfP) trains community-based organizations to navigate city agencies and nonprofits on behalf of their local green spaces.
The evening's panelists were First Deputy Commissioner Liam Kavanagh of the NYC Department of Parks and Recreation; City Council Member Mark Levine, Chair of the Council's Committee on Parks and Recreation; Hill, of Friends of Springfield Park, Queens; and Brad Taylor, of Friends of Morningside Park, Manhattan.
Before the poster was unveiled, panelists discussed a wide range of parks topics such as safety, litter, initiating renovations, and the role of grassroots activism in keeping city officials abreast of constituent needs and new trends in the city.
Citizens advocating on parks "keeps us connected to the community," said Kavanaugh. "It's easy when you're in government to become somewhat wrapped up in your day-to-day business activities...the priorities that either you or City Hall has determined we should be focusing on, and you do lose track of what's important to the people you're supposed to serve."
Despite Kavanaugh's ode to community involvement, the celebratory mood of the event, and the publication's warm, cartoonish aesthetic, panel members were frank about the difficulties inherent to the process of facilitating changes in their communities.
Hill described the slow and steady ascent of her group on the advocacy trail. It began by completing a small flower bed project, getting other residents, particularly families and children, invested in the space, and launching what she described as "an attack" on elected officials to steer money toward the park.
Levine affirmed the need for Hill's persistence and tenacity. "You're gonna have to be assertive for your park and for your cause in a world of competing priorities," he said, referring to the process of dividing council members' discretionary budgets among causes in their districts. Levine finds himself at the center of the 'park equity' debate, wherein some parks advocates and legislators are pursuing ways in which all city parks can be well-funded and maintained. The new guide offers help to any park advocate looking to pursue improvements for his or her favorite park.
"How Can I Improve My Park?" is part of Center for Urban Pedagogy's (CUP) ongoing "Making Policy Public" project, a series of foldout posters that aim to elucidate public policy through graphic design. Past projects include multi-lingual guides to rules and regulations for New York's 10,000 street vendors and to personal money management, targeting immigrants.
Deputy Director of CUP, Valeria Mogilevich, described the organization's role in generating the posters as managers of the collaborative process. "We work as art directors, project managers, editors, and help advocacy groups and designers speak the same language and talk to each other," she said.
Currently, the new parks advocacy guide is only available in English. CUP plans to publish a Spanish version in the coming months.
NY4P and PfP have already distributed over 1,000 guides to community groups and parks enthusiasts across the boroughs. PfP will continue distributing the posters through its network of borough based Outreach Coordinators, whose role is to connect people and community groups with information and networks to support their local parks.
Although , "How Can I Improve My Park?" is not a silver bullet for all neighborhood park problems, its sponsoring organizations hope that it will empower people with information and courses of action to make a difference in their communities.
***
by Katrina Shakarian, Gotham Gazette
@KatShakarian
@GothamGazette