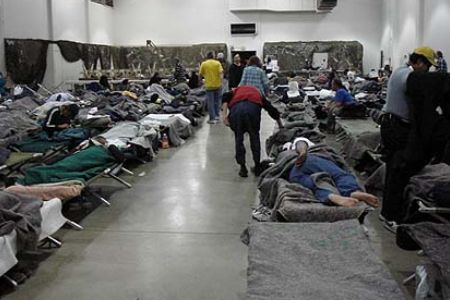 A New York City homeless shelter (photo: presstv)
---
A look at the first seven months of the de Blasio administration's push to reduce record-high homelessness in New York City.
A few weeks shy of Mayor de Blasio's inauguration, the homeless men gathered, as they usually do, on the work corner outside of the Bedford Armory shelter in Crown Heights, Brooklyn. When asked, they discussed their day-to-day routines, what challenges they face in a gentrifying neighborhood, and their hopes for the incoming administration — particularly one led by a candidate elected on balancing out income inequality, all the way down to the bottom rungs of the socio-economic ladder.
Surprisingly enough, they were fairly optimistic: finally, a progressive from Brooklyn in City Hall, with familial ties to the African-American community and a sense of the streets, they said. This was a man who, just weeks later, would promise the city he would "put an end to economic and social inequalities that threaten to unravel the city we love." But, tying in President Obama as an example, the men advised that the political packaging always comes with a warning label: talk, more times than not, is just talk.
Now, we're more than seven months into Bill de Blasio's first year in office. And the situation remains dire: homelessness in New York City is at a record high and growing, with 54,000 people sleeping on the streets or in shelters every night; a figure that includes the strikingly high number of 23,000 children.
"Situation as it is now is that communities are reacting to emergency family shelters," said City Council Member Stephen Levin, the head of the Committee on General Welfare, which oversees the Department of Homeless Services (DHS) and other social service agencies. "The DHS is operating on an emergency basis. We're at max capacity."
In a sense, nothing has changed, but everything has changed. For the past seven months, the de Blasio administration has quietly launched initiatives and snuck expenditures for preventive services into the budget that, without a doubt, show a complete departure from the latter years of the prior administration. Yet, while lacking the drama of politics, the homelessness issue has been drowned out by the noise of police reform, the teachers contract, universal pre-K, and several controversies of varying sizes. But even if our attention may have diverted, it is now clear that Mayor de Blasio's War on Homelessness has officially begun.
Subsidy Programs
New York City is once again experimenting with a rental-subsidy approach to combating its homelessness program.
In May, just a few weeks after the State changed the wording in its budget to allow the re-creation of such a program using state monies, the Wall Street Journal reported that the City was weighing two rental subsidy programs: one that would help families leave the shelter system, and another that would aid families who have been in and out of the shelter system more than once. Then, last week, those programs were confirmed by the de Blasio administration — all in all, the City predicts the new initiatives will help place 4,000 families, or 13,600 people, into their own homes after the first year; a move that, if sustained, will equal today's homeless population over four years.
In early April, this publication looked at the failures of Advantage, the now-defunct rental subsidy program created by the Bloomberg administration that housed, and then evicted, over 8,000 families across the five boroughs, placing them back in the vicious shelter system cycle. Critics labeled the program as unrealistic; a "one-size-fits-all" solution to a problem that comes in all shapes and sizes, with a time frame that didn't give participants enough chance to become self-sufficient.
"Confronting homelessness takes two parts: the right policies, and the right resources," Council Member Levin said in a recent interview with Gotham Gazette. "The most important thing to do at the outset of a new term is to push the reset button on policies. It's extremely important to have a system that, over time, decreases the shelter census to a level that we can handle." In terms of income, Levin's district includes the wealthiest (Brooklyn Heights) and close to the poorest (Bed-Stuy) neighborhoods of Brooklyn, as well as a handful of homeless shelters.
In order to reduce the shelter population, reviving some form of a rental subsidy program is the crown jewel of the de Blasio homelessness agenda. In stark contrast to Bloomberg, de Blasio is pushing that reset button Levin mentioned. "In terms of the commitment on rental subsidy, it's the first in 3 years," Levin said.
The first of the two new rent-subsidy programs is set to cost $80 million over four years, split down the middle between Albany and City Hall, and target 801 families a year, for a total of 3,204 over four years — fewer than half the number of families affected by Advantage's demise, and only a small percentage of the 13,000 families estimated to be in the shelter system every night.
Whereas Advantage offered one to two-year subsidies, the new program will stretch the timeframe to a three-year renewable subsidy. Also, the qualifications for subsidies this time around would be more targeted based on income sustainability: families would have to have lived in the shelter system for more than a year, with one individual working over 35 hours a week and showing unfettered employment for a few months.
The second plan, set to cost $59 million over four years, would act as a fallback for families who have been caught in the unforgiving cycle of the shelter system. In addition to providing 'intensive social services,' funding for permanent housing will be raised through reductions in rents, valued at about $61 million, being sent to landlords of 'cluster sites,' where market-rate apartments house formerly homeless families with city funds. However, as one might expect, not every landlord is on board with this plan; one having already threatened to evict 200 families as a result, creating a legal omen for the plan's future.
This move also coincides with the expansion of the Family Eviction Prevention Program, which helps families on the brink of losing their homes, to include 2,500 domestic-violence victims. To pay for this, the City is setting aside $9 million from the new rental subsidy programs. In terms of a start date for the programs, Lilliam Barrios-Paoli, the deputy mayor of health and human services, has hinted at a September launch, but, as of now, details remain murky for something many housing experts say would change the game entirely.
"Can New York City do rental subsidies and have New York State participate?" James Dill, the executive director of Housing and Services, asked in a recent interview. "We're very interested in seeing the early steps."
NYCHA's Role
Between 2004 and 2013, the number of NYCHA housing units dedicated to homeless individuals dropped from 1,780 to 95. A similar free-fall occurred to those receiving Section 8 federal housing vouchers, too. These plummets were due, in large part, to the 2005 end of the Bloomberg administration's priority policy, which designated a fixed amount of units and vouchers to homeless populations based on the available units that year. In addition to ending Advantage, many housing advocates peg this as the second of two direct reasons why 54,000 New Yorkers are now homeless. It's also another reason why many of these advocates stress the need for more units.
"It has to be the affordable housing," Dill told Gotham Gazette. "We're enthusiastic about [the mayor's] affordable housing plan. From our point of view, it's not only the most humane, but also, the most cost-effective approach." As it is, it costs the city $3,000 a month to house a family, though that price varies by situation. It is a number many say is far too much to pay to keep families in shelters.
Since 1987, Dill's Housing and Services, Inc., has provided a home for older, mentally or physically disabled homeless individuals, and case managers who "help them overcome the demons that led them to their homelessness in the first place." With 17 facilities in the tri-state area — three in Manhattan — front desk services are available 24/7, 365 days a year. It is this sort of permanent supportive housing that Dill believes the mayor needs to hone in on.
In his ten-year housing plan, Mayor de Blasio decided to up the ante with NYCHA units: now, starting in this new fiscal year, 750 out of the 5,000 NYCHA units available every year will be prioritized for homeless families; Section 8 vouchers will also be restored, although a solid figure of just how many has still yet to be identified. The move effectively reinstates dead policy and yet, while 750 is a huge increase from 170, several advocates have said this is not enough for the extensive problem at hand. Not to mention the waiting list for NYCHA, the largest city public housing agency in the country, now includes upwards of 247,000 families.
"We were disappointed with NYCHA's 750 designated units because it should be 2,500," Patrick Markee of the Coalition for the Homeless told Gotham Gazette. "We're hopeful the administration will be helpful with this."
Along with numerous other groups, Markee's organization called on the mayor and Governor Cuomo this past May to dedicate funds for the creation of 30,000 supportive housing units over the next 10 years, which would save New York taxpayers about $10,000 a year per unit, they say. The current City-State agreement - known as NY/NY - is set to create 9,000 units, but Governor Cuomo has indicated that he'd be willing to have Albany pay for an expansion of the program.
Here in New York City, the de Blasio administration's housing plan leaves the future target area for supportive housing blank, making Markee hopeful that the idea of 30,000 units is still under consideration by elected officials. "The mayor included a significant amount of funding calling on City and State for permanent housing plans," he said. "The mayor's budget goes a long way — there are now affordable housing funds for families."
More than Just Housing
In addition to the housing side of things, the concept of 'doing more' translates into the biggest buzzword in this conversation: HomeBase. Started by the Bloomberg administration a decade ago, the preventative program has positioned 14 offices in areas with the highest levels of homelessness (such as East New York, Bed-Stuy, and Mott Haven), providing populations there with services like job training, benefits assistance, landlord-tenant mediation, and emergency "one shot" rent payments for families in line for eviction.
Under Bloomberg, funding for the program staggered with the recession, plateauing its growth for some time. But on July 1st (the start of the 2015 fiscal year), HomeBase witnessed a 50 percent increase in its funds — the largest expansion of the program since its creation, with most of the new dollars coming from the State. The increase will help create more offices and serve 5,000 more families, as the city plans a $870,000 marketing blitz in the coming months to broadcast the news of more offices and services.
"Studies have shown that HomeBase is an effective program, with a quantifiable diversion of resources that are allocated," Council Member Levin said. "I asked the head of the DHS years ago, under Bloomberg: 'If we quadrupled resources for HomeBase, would we see a real impact?' And she said yes!"
Yet, the quantifiable effectiveness of this expansion, and the program itself for that matter, is still under question by housing advocates. "HomeBase is a mixed bag," Mr. Markee argued. "The financial grants do well, but other services, like counseling...I'm not sure how helpful they are. HomeBase has prevented homelessness, though, so expanding it is good news."
To Mr. Markee, more good news came when the Human Resources Administration (HRA) and its new commissioner, Steve Banks, announced two dozen anti-poverty reforms in May. Banks emphasized one measure that consolidates all civil legal services to homeless individuals, most of whom exist in that wide stratum of lower-income Americans who have no access to legal representation whatsoever. On this end, Mr. Markee happily added, "The City is definitely doing more."
The de Blasio Difference
In 2010, Bill de Blasio made his first policy announcement as the newly-elected Public Advocate largely a scathing criticism of then-Mayor Bloomberg's homelessness policy, targeting what he saw as an underwhelming effort to combat an overflowing problem. The future mayor called for everything then that he's doing now: a rental subsidy program, an expansion of HomeBase, and a focus on preventative services.
"The big mistake, in my view, is the inability to acknowledge that the overall strategy hasn't worked," de Blasio told the New York Times. "I've never heard a full acknowledgment of the failure of the strategy, and I don't know how you can make something better if you don't acknowledge that it hasn't worked."
But, there was a strategy - at least at one point during Bloomberg's tenure. When you compare and contrast the plans hatched by the de Blasio and Bloomberg administrations in their original forms, the differences in actual policy concepts are minimal. The reality of what has happened to the city's homelessness politics over the past ten years is how quickly everything can fall apart, no matter how high you aim.
"Bloomberg wanted a two-third reduction over 10 years. That's unrealistic," Council Member Levin said. "We need to start talking about what our five- or ten-year plans are. We have to have our eyes on changing the goals. A one-fifth reduction over 5 years is a realistic time frame with a broad collaborative effort."
Now, the immense failure of that highly ambitious strategy looms like a shadow over Mayor de Blasio's every move. It leaves the most powerful person in New York City in a bind between being too cautious with his agenda and stretching his administration's resources too thin, especially with the fates of 54,000 individuals at stake. And the last thing the mayor would want is for history to repeat itself.
***
John Surico is a freelance journalist. His reporting can be seen in The Wall Street Journal, The New York Times, The New York Daily News, The Village Voice, and elsewhere. He lives in Brooklyn.
@GothamGazette