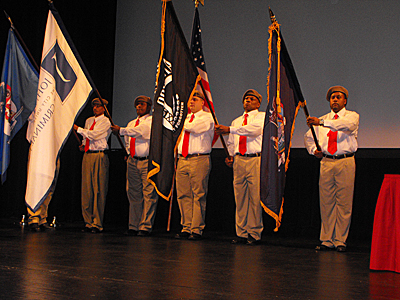 Samaritan Village Veterans' Program Color Guard (nycourts.gov)
---
BROOKLYN—Courtroom 1928 on the 19th floor of the New York State Unified Court System building in Brooklyn is not your average courtroom. On Fridays the walls are lined with military posters from past and present generations. On State Supreme Court Judge Michael Brennan's bench sits a small red United States Marines flag alongside an American flag, paying homage to his past military service.
Brennan's courtroom houses Veterans Treatment Court, a drug treatment court with programs specially designed to provide services and mentoring for military veterans. It is a place where respect is given, honor restored, and justice served.
When a participant graduates from each phase of veterans treatment court, Judge Brennan comes off the bench and salutes, then gives a certificate.
"I get into the military culture with them," Brennan said in a recent interview. "I know everyone did basic training somewhere."
On August 1, the four wooden pews of courtroom 1928 were packed, but it wasn't a verdict everyone was awaiting. Nine military veterans were being sworn in as new mentors. Their mission: to help veterans through the court's substance abuse program by offering peer support only a fellow veteran can offer.
During the ceremony, a judge called up a retired Vietnam Era veteran, who we'll call James. James had served in the Army from 1969 to 1972. He stood up from his seat in the back row and began to walk toward the judge. Tears filled his eyes and began to stream down his face faster than he could wipe them away. It was graduation day for him after 15 months in treatment; he was clean and sober, the transgressions of an ill-fated night finally behind him.
"This was my first time I have ever been in something like this," James said during an interview following his court proceeding. "I realized when you are naive and get into certain things, it is easy to get into trouble—and so hard to get out."
James, who lives on Long Island, was lucky he was arrested in Brooklyn. Had he been taken into custody in Manhattan or Staten Island, he would not have been given the same opportunities veterans get in Brooklyn, Queens, and the Bronx.
Manhattan and Staten Island are the only two boroughs without veterans treatment courts, although Staten Island has one in the works. Despite the success of the veteran treatment court programs in the other boroughs, the expansion of veterans treatment courts all over the country, and federally-funded grants to help start programs, Manhattan currently has no plans to add a veterans treatment court to its drug court system.
Buffalo Beginning
Nationally, Veterans Treatment Courts began in Buffalo in Judge Robert Russell, Jr.'s courtroom in January of 2008. Judge Russell had seen first-hand how helpful a military mentor was to a veteran in his courtroom and decided to create a program designed specifically for veterans. It allowed Russell to tap into the military culture instilled in the those who serve and harness the camaraderie of service members.
As Judge Russell's program began to gain notoriety, a Vietnam Era veteran named Cesar showed up in front of Judge Jo Ann Ferdinand in Brooklyn Drug Treatment Court. She sentenced him to a treatment program, where he did well at first, but left the program before completing it and wound up back in jail.
Cesar told his case manager he was a Vietnam veteran and Judge Ferdinand sent him to a treatment program designed for military veterans. He began to do well in the program and one week he appeared before her and asked for permission to take a trip to Washington D.C. to visit the Vietnam Veterans War Memorial Wall.
She granted permission and as Cesar turned to exit the courtroom, Judge Ferdinand heard him mutter, "Maybe this time I will get up to the wall." She asked if he had been before, to which he replied, "yes, many times."
Naively thinking it was just a simple logistical problem, she asked, "You weren't able to walk to the wall?"
"I couldn't face seeing the names of my buddies," Cesar said.
His answer shook the Judge.
"The war was 30 years ago and he is still carrying those invisible wounds—and they are effecting his behavior today," Judge Ferdinand said in a recent interview.
Shortly after her experience with Cesar, she arranged a trip to Buffalo and visited with Judge Russell to see how his program worked. That visit got the ball rolling on what was the first Veterans Treatment Court in New York City, which opened in Brooklyn in January of 2009. Judge Ferdinand enlisted Judge Brennan, himself a retired marine, to preside over the court (Judge Ferdinand sees veterans with DWIs in her courtroom).
The program is not for every veteran arrested in Brooklyn. Since April 2012 (the farthest back records were available) Brooklyn Veterans Treatment Court has had a total of 44 participants, 10 of whom have graduated (some are still in the program). In 2013, a total of 1,410 defendants in Brooklyn checked "have you ever served in the military" on their arrest intake form, according to stats provided by the New York State Unified Court System.
To get into the program, participants plead guilty and have to agree to seek treatment for their addiction. Instead of leaving the defendant to find treatment themselves, Brooklyn Veterans Treatment Court (BVTC) pairs them with veteran-friendly treatment facilities. If they follow the course of treatment their guilty plea is withdrawn and their record is sealed. In addition, BVTC assigns a veteran justice outreach (VJO) specialist to help veterans navigate the federal Veterans Administration (VA) to ensure they receive any and all benefits they are entitled to.
The biggest advantage of a veterans treatment court versus a traditional drug treatment court is the veteran mentor program. The strictly volunteer position is considered a "keystone" to the veterans treatment court program. The mentors are veterans, but don't necessarily need to be in recovery themselves. Mentors are not designed to be another authority figure, but as a brother or sister—akin to fellow service members in the military.
James spoke with his mentor early in his treatment when he was having trouble adjusting to the group discussions. They formed a bond that proved valuable months later when he failed a urine test. James claims he had not used, and believes his urine was switched at the VA where the monitoring is less strict than at BVTC. It was his only failed test, so instead of throwing him in jail, Judge Brennan decided to extend his treatment by three months. James said his mentor helped him accept his punishment and look to completing the task instead of dwelling on being wronged.
"If we can't take care of those who [put on a uniform] then we are failing," Judge Brennan said.
Missing in Manhattan
In the short time since Judge Russell began his veterans treatment court in Buffalo, the program has caught on, spreading not just in New York, but nationally. As of July 28, 2014, the latest data available, there are 197 veteran treatment courts nationwide, according to Justice for Vets.
But Manhattan does not have a dedicated veterans treatment court. The Midtown Manhattan Court has programs tailored to veterans, but only handles misdemeanors and does not have a mentor program. Manhattan Mental Health Court handles felony cases, but to be accepted into the treatment program, a veteran would have to be diagnosed with a mental illness first. The treatment would then go through the VA, where the veteran could be paired with a mentor if it is offered at a particular treatment facility. For veterans that are not eligible for benefits with the VA (due to dishonorable discharge, for example), the Manhattan courts will refer them to veteran community organizations.
The lack of a formal veterans treatment court lies in staffing and funding, according to Valerie Raine, acting statewide drug court coordinator for New York's Unified Court System. Raine has spent 18 years working in the drug courts, including most recently being the director of drug treatment projects at the Center for Court Innovation.
"It is not that they don't want to or haven't talked about it but...the bottom line is they have staffing issues," she said of Manhattan Court in a recent interview. "It probably will happen, but they just don't have the resources to actively plan right now."
Raine pointed to the recent reforms made to the so-called Rockefeller Drug Laws. The April 2009 changes, signed by then-Governor David Paterson, eased the sentencing for drug offenders and greatly expanded eligibility for drug treatment in lieu of jail.
The reforms were applauded, but did not come with an increase in staffing for the courts. In fact, due in large part to the recession, budget cuts at both the federal and state level resulted in substantial layoffs in 2011.
Even with the cuts, boroughs were able to follow Brooklyn's lead, start and maintain veteran treatment courts: Queens opened its in 2010, and the Bronx in the fall of 2013. Both were able to get programs started with federal grants.
The Bureau of Justice Assistance (BJA) began issuing grants to help pay for training and staffing to start veterans treatment court programs. In (federal) fiscal year 2013, BJA issued $2.5 million in grants specifically designated to implement veteran treatment courts around the country. That was up from just over $1 million the previous fiscal year and $199,990 in fiscal year 2009 when it issued the first grant to Buffalo.
Despite the uptick in available grants and the support of Veterans Justice Outreach agency, the District Attorney's Office, the defense bar, and some community programs, Manhattan has yet to apply.
"There has been significant work done to prepare for applying for the Veterans Treatment Court Planning Initiative (VTCPI)," David Bookstaver, spokesperson for New York Unified Courts, said by email. "The Manhattan Treatment Court may very well apply to participate in the VTCPI. But due to current operational concerns, they have not done so yet."
Bookstaver did not return two follow-up emails when asked to elaborate on what he meant by "operational concerns."
Funding would provide a push start for a program in Manhattan, but according to Raine, that may not be enough. She said due to the 2011 funding cuts, there is concern about applying for grants that would support new staff positions.
"When times were better, you could pretty much count on when the grant funds ran out—assuming the program did well—the court would assume the continuation of that position," Raine said. "But that is no longer a guarantee. Funding is never in perpetuity."
While the Manhattan Court system continues to consider if and how it will begin a veterans treatment court, there continues to be no shortage of need. The day prior to her interview with Gotham Gazette, Judge Ferdinand said she received a call from a lawyer who was representing a veteran who had been arrested in Manhattan. With no options for her client in Manhattan she called Ferdinand to see if she could take the case. Since the offense happened in Manhattan, there was nothing she could do.
"When you think about what people did in military service, certainly those are people you don't want to just ignore and forget," Judge Ferdinand said. "If you restore them to full health, you have really made a great impact on all of us."
***
by Kristen Meriwether, Gotham Gazette
@MeriwetherK