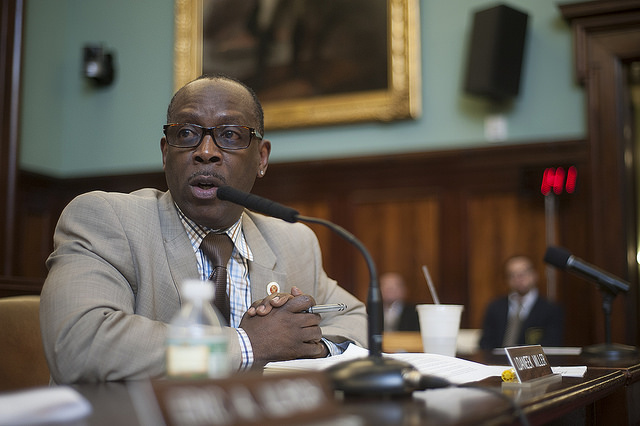 Council Member I. Daneek Miller (photo: William Alatriste)
---
Freshman New York City Council Member I. Daneek Miller began his work in civil service over 30 years ago and was president of a local transportation workers union as recently as last year. Today, he is eight months into his term on the Council and, fittingly, chairs its Committee on Civil Service and Labor.
Though he came into office with less fanfare than some of his colleagues, Miller was thrust into the spotlight as his committee ushered through the first major initiative of the new administrations of Mayor Bill de Blasio and Council Speaker Melissa Mark-Viverito: an expansion of the paid sick leave law passed in 2013. As he explained in a recent interview with Gotham Gazette, things have not slowed down for Miller since. Embracing his role as chair, Miller discussed his committee having dealt with several other key labor-related issues, such as a fairly high-profile examination of conditions for employees working in reality TV, and set its sights on others in the coming months.
"I've taken the paid sick leave legislation as a learning curve and now that's the bar," Miller said over the phone.
Representing the 27th council district in Queens, which includes Queens Village, Jamaica, and Springfield Gardens, Miller calls himself a life-long community and labor activist. He most recently served as President of the Amalgamated Transit Union (ATU) Local 1056, where he advocated for transportation workers on the full spectrum of issues. During his tenure he brokered the collective bargaining agreement that restored bus service to his neighborhood in Southeast Queens and as a newly elected council member he has been hands-on in Hurricane Sandy recovery, he said.
"I come from labor, and if I have to roll up my sleeves and clean it up myself then that's what I'll do," Miller said of his activism at a York College journalism event this spring.
Now as committee chair, Miller doesn't feel like he's changed hats much at all. "We always talked about building a labor movement, and this is an extension," he said. Though serving on the Council is "pretty intense, far more intense," he added.
The Committee on Civil Service and Labor is responsible for legislation and oversight on relevant issues such as workers' compensation, protecting collective bargaining (like those for car wash workers), and ensuring equal employment opportunities.
It is charged with oversight of "Municipal Officers and Employees, the Office of Labor Relations, the Office of Collective Bargaining, the Office of Labor Services, and the Municipal Pension and Retirement Systems," according to the Council website.
As a former union president, these are all issues Miller is familiar with and why it made sense for him to pursue chairing the committee and for Speaker Melissa Mark-Viverito to appoint him as such, he said. "It has helped having an internal understanding of the nuts and bolts of what makes things run [regarding labor]," Miller said.
Miller is one of many examples of council committee chairs who appear especially qualified to lead their respective committees - and who have extensive union ties. As with Miller, there can be questions about elected officials legislating, negotiating, or holding oversight hearings on issues they have such distinct experience with.
As he tells it, Miller has made an effort to up the labor committee's productivity by consistently holding hearings, he said, particularly on insufficient compensation and what many have come to call "wage theft."
In June, Miller's labor committee hosted a hearing on the reality TV industry, which heard testimony from production workers protesting what they, and Miller, identify as unfairly low wages and unpaid overtime. The hearing grabbed substantial attention from the national media and Hollywood, shedding light on the committee and its progressive push under Miller.
"Labor 101 is always investigate the grievance, and that has served me well," Miller explained about, in this case, working to do away with the practice of allowing "per diem workers," or workers that are picked up to do a certain job, to be employed extensively alongside union workers.
"That's a problem because it creates an underbelly of low-wage workers," Miller said at York College. "We have a threshold here of prevailing wage that the industry should be paying, and now someone comes in and says 'Eh, well you don't have to pay everybody that.'"
Per diem workers lack the wage protections and collective bargaining rights of unionized labor, driving down the market rate wage for work. The practice makes unionized workers less valuable to companies when they can get work done for less.
Speaking with Gotham Gazette, Miller also named employee protection for school bus industry workers as a top priority.
We're putting our children, "our most precious cargo," at risk if we continue to treat school bus drivers, mechanics, and other workers in the industry unfairly, he said. This priority is shared by many fellow council members and Mayor de Blasio, leading to recently-passed legislation allowing for increased pay from the City to privately-employed school bus drivers.
Standing up for workers and working families has always been important to Miller; it's where he got his start.
"I really cut my teeth as part of the NYC Union Child Care Coalition - being a single parent, raising children," Miller said at York College.
"Fact of the matter is, I learned more about organizing, building coalitions, and really as much as I know about what we're doing today [in the Council and the committee] from that group of women and that organization more than two decades ago."
Citing the expanded resources allocated to his committee under the leadership of Speaker Mark-Viverito, Miller said he's excited about the opportunities he has as committee chair to improve the lives of working people.
"Greater challenges dictate the need for greater resources," he said, "I'm confident that this is a really good time to be a part of government here in City Hall."
***
by Nicola Licata for Gotham Gazette
@GothamGazette