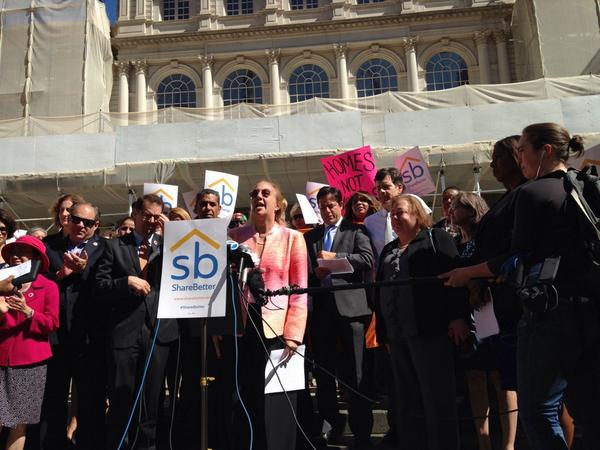 Manhattan BP Brewer at a City Hall press conference (photo: @galeabrewer)
---
When Manhattan Borough President Gale Brewer held her first monthly meeting with representatives from each Manhattan community board in January, civic technology was a key part of the conversation.
One city leader who helped shepherd the passage of the groundbreaking 2012 Open Data Law when she was a member of the City Council, Brewer has long-believed in both government transparency and the potential of using data to help solve civic problems. But as she has learned since the law's passage, having the data online is only the first step.
"The wealth of city data available online needs to be made usable," Brewer said. "Simply dumping data on the internet does not qualify as transparency."
Thanks in large part to the booming technology sector, there is a blossoming civic technology community in New York City. Now that government data is becoming more readily available to the public, the challenge is to marry those who have (or are learning) the technical skills to use it with the policymakers who can solve problems.
On Monday, September 15, Brewer will announce a partnership between her office and CUNY's Service Corps program. She will welcome 15 members of the program into her office as paid interns, funded by CUNY, for the entire school year. For 12 hours per week the students will receive training in Brewer's office to use and mine the open data portal as well as other data used by the City such as planning, census, and budget data.
Once the students are trained, they will work with Manhattan's community boards in solving neighborhood problems. The city's 59 community boards are comprised of volunteer membership along with minimal paid staff and operate on shoestring budgets. But, they are the first line of defense for communities regarding land use and zoning decisions, and are often a place residents go with neighborhood problems such as noise complaints, potholes, and lack of services.
Matthew Washington, chair of Community Board 11 in East Harlem, said in a phone interview Friday that he is excited about the new partnership and welcomes the help.
"There is so much information in [the open data portal]. To have someone who is committed to going in there and help extract the information and put it in a format that is very accessible to the broader community is going to be immensely helpful," Washington said.
He said his number one priority will be education data because a number of the schools in his district are underperforming. He hopes to have Service Corps students not only map where the schools are, but combine that with performance data such as graduation rates.
"Being able to use data to understand exactly where the schools are helps inform how we can push them forward," Washington said.
He also hopes to have the students help with longer term planning for the district. Two years ago CB11 hired an outside consultant to make zoning recommendations for a section of CB11 running from 115th Street to 132nd Street, between Park Avenue and Lexington Avenue. While the students won't be able to make recommendations, they will be able to create a detailed map of every school, park, unit of affordable housing, even fire hydrant, in the community board district based on information from the open data portal.
"It can help inform what opportunities exist for us," Washington said.
Brewer sees a lot of potential throughout Manhattan. A staunch supporter of the Vision Zero initiative to eliminate traffic fatalities, she hopes mapping transportation issues in each community board district can contribute to that effort. She also sees data from the open portal being useful for starting or improving recycling and composting programs. One of the biggest issues she hopes to tackle is where affordable housing units are in each district. The information needed to map this information can be found on the open data portal or within city agencies—the students will be the key to unlocking it and making it useful to all New Yorkers.
In addition to helping the community, Brewer also sees the initiative as a great way for the students involved to gain a foothold in what is an emerging industry. Tech jobs are now necessary and available in virtually every industry, and open data is projected to bring in three to five trillion dollars in economic value annually across seven sectors, according to an October 2013 study conducted by McKinsey & Company.
"My vision is that these service corps members will have the tools for a new career in civic technology," Brewer said. "I feel very proud to be able to train them in a topic that I think will be good for their careers."
***
by Kristen Meriwether, Gotham Gazette
@MeriwetherK