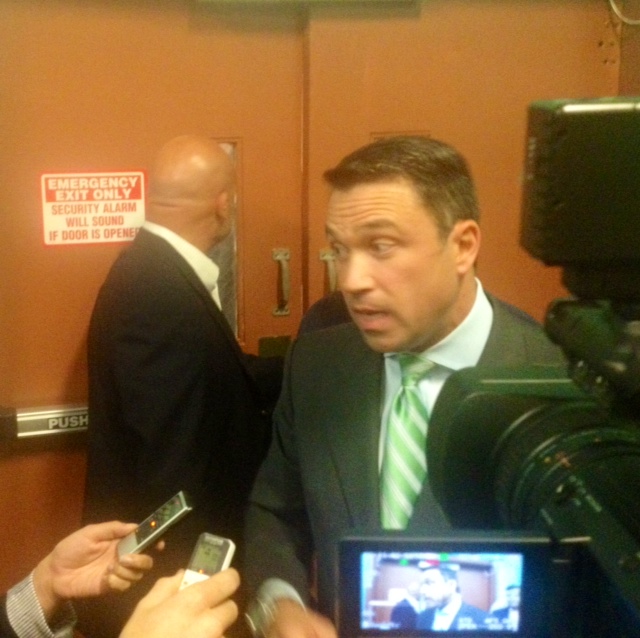 Rep. Grimm speaks with members of the media after his 'debate' appearance (photo: Ben Max)
---
With the conspicuous absence of his opponent, incumbent Republican Congressman Michael Grimm appeared Tuesday evening at the Bay Ridge Community Council's "Great Debate" event.
Grimm seized on the opportunity to defend his record; slam his challenger, former City Council Member Domenic Recchia, a Democrat; and garner favor with some of his Brooklyn constituents. Since 2010 Grimm has represented New York's 11th Congressional District, which encompasses all of Staten Island and part of Brooklyn.
In a theater at the Holy Angels Catholic Academy, more than a hundred people, mostly seniors, heard Grimm respond assertively to questions about foreign policy, immigration, the economy, and healthcare, among other issues. Grimm delivered stern, declarative statements and regularly received applause from about a third of the crowd. Without Recchia there to defend himself, Grimm took advantage of the situation to offer those in attendance with a contrast on his terms.
"If you believe in a very liberal progressive movement," said Grimm, "and that de Blasio and Obama are taking you down the right track, then my opponent is your guy. But if you believe we're headed down the wrong track and want to get back to the traditional values of hard work and sacrifice that built this country, I'm your guy."
There is now less than than six weeks to go before Election Day, and the latest poll by NY1 News/Capital New York/Siena College shows Recchia trailing only 4 points behind Grimm. The poll of likely voters, released last week, shows Grimm with 44 percent, ahead of Recchia's 40. The Green Party's Henry Bardel managed 4 percent while the remaining 12 percent were undecided. A more recently disclosed Recchia campaign internal poll is reported to show the race a dead heat. Grimm, who is under Federal indictment regarding a host of issues related to a restaurant he once owned, is seen as quite vulnerable by Democrats hoping to flip a seat in the House - and the Democratic Congressional Committee is pumping money into the race.
Recchia, who represented part of Brooklyn in the City Council, is depending on his past record as chair of the Council's finance committee to help him win votes. His platform, he told Errol Louis of NY1 in an interview Monday night, is based on his tenure in the Council and his life as a family man who works to strengthen the middle class and help working families.
"I am what people go through day in, day out. I'm a working father, married to a public school teacher," he said. "I have three children, raising a family, taking care of my mother on Staten Island and going shopping and helping her and working with my family. You know, it's all about family and working together."
But Recchia's apparent inexperience with foreign policy issues became a sticking point last week when he failed to provide clear answers to reporters' questions on trade and labor. Recchia soon defended his qualifications, saying he has "great knowledge of foreign affairs," citing international trips he has made and a student exchange program with Japan that he once ran in his district. Senator Chuck Schumer, who was there to endorse the Congressional challenger, came to the rescue when Recchia was silent on which committees he would like to work on in Washington if elected.
Grimm jumped at the chance to critique Recchia's position. "People are now finally finding out that my opponent is not qualified," he told NY1. "He's comparing making a vote to practically go to war to deal with the most dangerous terrorist threat and well-funded terrorist group, ISIS, that we've seen in our lifetime to running an exchange program for Japanese 9-year-olds. I mean, it's insane that that is what his qualifications are."
Although Grimm seems to hold a slight upper hand, especially given his popularity on Staten Island, where the bulk of the district is, he is facing challenges of his own. His approval ratings have taken a hit since his indictment in April on 20 counts of fraud, tax evasion and perjury. He is slated to face trial in December - after the election - and maintains his innocence.
When asked about the indictment by an event moderator, Grimm said that it was "a fair question" and proceeded to tout his record delivering for his community and country. Asked by Gotham Gazette afterward whether voters should take the indictment into account, Grimm said that they should take everything into account and again quickly shifted to his work while in Congress.
Recchia regularly references Grimm's legal troubles and has also questioned Grimm on foreign policy, saying he shifted positions on supporting President Obama's plans to bomb Syria. "First he was supporting when Obama wanted to go into Syria with air strikes and then when he changed his position, he went against the president, and then he sends out a fundraising letter to fundraise off of it," Recchia said of Grimm.
Grimm addressed most of the charges Recchia has lobbed against him, some of which are unsubstantiated, at yesterday's debate. "My opponent has spent a lot of time slinging mud and not actually talking about issues," he concluded.
Grimm publicly accused Recchia of ducking him at the Bay Ridge debate. "He's refusing to debate me because he's afraid that the sooner middle class Staten Islanders and Brooklynites discover his record is in lock-step with the ultra-liberal dream team of Bill de Blasio, Nancy Pelosi, and Barack Obama, the sooner they will send him packing," Grimm said in a statement. He reiterated the sentiment during and after the Tuesday's debate, regularly criticizing both President Obama and Mayor de Blasio, and lumping Recchia in with them, while also noting Recchia's absence.
Recchia denied the debate-ducking charge, citing a scheduling conflict, and said, "I look forward to debating Michael Grimm." His office has not confirmed whether he would be available at the next debate, reported to be scheduled for the morning of October 1 at the Fort Hamilton Senior Center.
***
by Samar Khurshid, Gotham Gazette
@SamarKhurshid