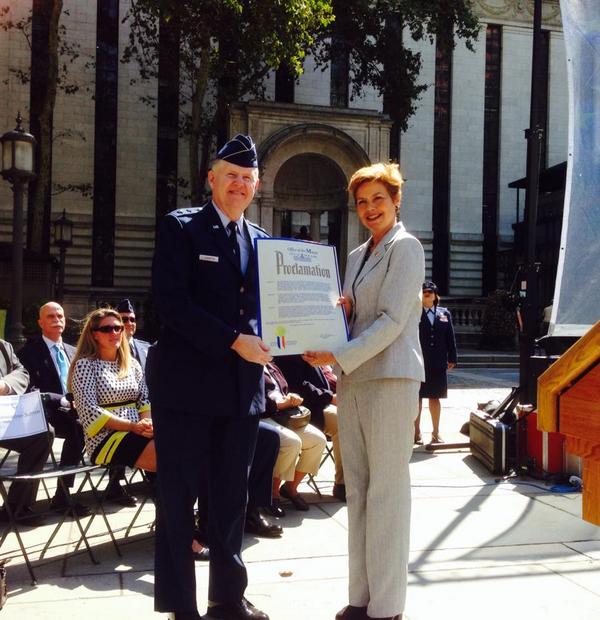 MOVA Commissioner Sutton presents a mayoral proclamation (photo: @nycveterans)
---
For the City's 216,000 military veterans, the Mayor's Office of Veterans' Affairs (MOVA) is the only centralized city-run resource center to help find things like healthcare services, employment opportunities, and educational training.
But MOVA itself has extremely limited resources by which to help veterans. For fiscal year 2015 MOVA is set to receive just $549,112 in funding, which pays for five staff members and an additional $25,000 in non-personnel costs, according to figures provided by the Office of Management and Budget. With more and more veterans expected to return home in the coming years, those resources are not going to be enough, according to veterans advocates who already see MOVA's reach as too short.
For City Council Member Eric Ulrich, chair of the Council's veterans committee, the solution is both simple and necessary: make MOVA into its own department.
On Monday Ulrich's veterans committee will hear Intro. 0314, which would abolish MOVA and create the New York City Department of Veterans' Affairs in its place. Having a department instead of an agency under the Mayor would give the Council more budgetary and operational oversight, which could lead to more funding and better execution of however much funding exists.
Nothing in the bill sets any sort of minimums for funding or staffing of the proposed department. In fact, the language of the bill laying out the responsibilities for the new department is nearly identical to the language in the City Charter that created MOVA in 1987. But by creating a separate department, the Council would, for the first time, be allowed to hold budget hearings for veterans' affairs, much like it does with all the other big name departments such as Police, Parks, Transportation, and Education.
These budget hearings would give the Council multiple opportunities each year to get a performance assessment from the Veteran's Affairs Commissioner as well as listen to advocates voice concerns about what services funding is (or is not) providing. The Council can use that information as leverage when pushing for additional funding during budget negotiations with the Mayor.
Mayor Bill de Blasio has been vocal about support for veterans, often evoking the personal story of his father, who was a WWII veteran. De Blasio's father lost part of his leg in the Battle of Okinawa and later, after being diagnosed with cancer, took his own life.
Despite his personal connection and expressed support for veterans, de Blasio's first budget as mayor did not include additional funding for MOVA. In its April response to the mayor's preliminary budget, the Council asked for $400,000 in added funding for MOVA. The request was denied. However, Speaker Melissa Mark-Viverito and the Council used $400,000 of its own discretionary funding for veterans initiatives. Individual Council members allocated $207,250 of their discretionary funding toward veterans services as well.
Using discretionary funds as a way to circumvent the lack of funding provided by the mayor is not necessarily a sustainable or fool-proof plan. Because MOVA is not its own department, that discretionary funding must go through other departments (primarily DYCD, DFTA, or SBS). This process can be much slower than the mayor directly funding initiatives through a department and in some cases the funding does not actually make it to the targeted group at all.
In fiscal year 2014, which ended on June 30, the Department of Youth and Community Development (DYCD) received 20 requests to process council member discretionary funding related to veterans for a total of $97,357. As of Friday, September 26, nine of those requests totaling $61,857 had been filled, with another four totaling $22,400 in process. Of those not in either category, a request for $5,000 was not filled because the organization never submitted the paperwork.
But checks for six requests totaling $8,000 could not be written because those requests each did not meet the department minimum of $3,500. DYCD spokesperson Mark Zustovich said it was not efficient to consider contracts for smaller amounts due to the volume of contracts the department receives. He added that in some cases groups who have multiple requests under $3,500 with DYCD could be combined. Groups applying for funding of less than $3,500 can go back to the City Council to see what other options exist.
Creating a separate Department of Veterans' Affairs would not be a panacea for this problem. There is currently no language in the bill specifying that there be no minimum request amounts, but this could be something council members consider during negotiations with the administration on the bill.
In addition, while creating a new department would provide another avenue for discretionary funding, it would not necessarily mean all discretionary funding is funneled through it.
Newly appointed MOVA Commissioner Loree Sutton will be testifying on Monday, per a City Hall spokesperson. If her boss' comments during the Aug. 18 press conference announcing her appointment are any indication, it doesn't appear the administration is warm to the idea of a separate department just yet.
"We think that the model we have now is an important and effective one and we can do a lot more with," de Blasio said when Gotham Gazette asked about the plan. "It's certainly something we would entertain going forward, but I think the way I look at this is we wanted to bring in a new leader, get going with the model we have now, and then we'll judge from there."
Council Speaker Melissa Mark-Viverito, who helped push for more funding for veterans services, has not taken a firm position on the bill.
"I have to look at it more carefully, and obviously I look forward to the testimony," Mark-Viverito said at an unrelated Sept. 23 press conference. "We believe strongly that we have to do all we can to figure out how to bring together and galvanize existing resources of the city to benefit our veterans."
***
by Kristen Meriwether, Gotham Gazette
@MeriwetherK