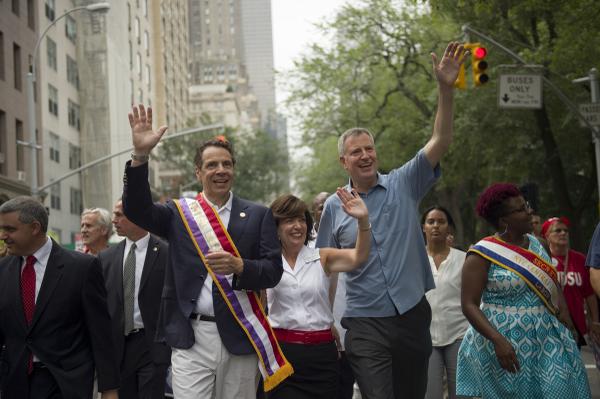 Gov. Cuomo, Kathy Hochul, and Mayor de Blasio march together (photo: @BilldeBlasio)
---
The coalition formed by Gov. Andrew Cuomo, Mayor Bill de Blasio, and labor interests to help Democrats win control of the State Senate is making its presence felt in a number of contentious races as the group intensifies its efforts heading into the final five weeks before November's elections.
According to a number of Democratic sources who spoke on the condition of anonymity, the coalition has been actively providing Democratic Senate candidates with talking points as well as opposition research. The State Democratic Campaign Committee (SDCC), which is controlled by the notoriously hands-on governor, has been providing direct mail support of Democrats in key Senate races including in the 46th Senate District which features a contentious rematch between Democrat Cecelia Tkaczyk and former Republican Assembly George Amedore.
Sources say that certain races will see a bombardment of attacks against Republican opponents and the state committee will begin airing TV and radio ads in some contentious districts. Races that are staffed with relative newcomers and volunteers are suddenly finding themselves bolstered by a veteran, if not impersonal, political operation.
Operatives stress that Cuomo and de Blasio are personally involved in strategizing along with some of their top advisors, and the 1199 SEIU (healthcare workers) and Hotel Trades Council (HTC) unions.
"You've got the two best political strategists in the business running your campaign," said one source of Cuomo and de Blasio. "Its like Bill Clinton being your campaign manager. These two guys learned at his hips and having people with that kind of expertise can really be a game changer."
A number of extremely seasoned Democratic political operatives are also involved in the effort to win back the Senate for Democrats. The SDCC has spent hundreds of thousands of dollars on the state's top consultants, though it isn't clear how much has been spent specifically on Senate races.
When asked about the mayor's commitment to winning a Democratic Senate, Dan Levitan of Berlin Rosen said, "The Mayor is fully committed to building a progressive Democratic majority in the State Senate this November."
Emma Wolfe, a top de Blasio aide highly credited for de Blasio's electoral success, is using personal time to work on electing Senate Democrats.
However, some Democrats insist that it is unfair to call the efforts a partnership between de Blasio and Cuomo. They say de Blasio has been ramping up his efforts while Cuomo has remained on the sidelines. There is a sense among some Democrats that Cuomo would rather work with a Senate that will enable him to push through more conservative fiscal measures, as he has done during his first term.
"I think he's trying to embarrass the governor into action," said one Democratic senator of de Blasio, speaking on the condition of anonymity. "I don't think the governor wants to work with us."
Cuomo has seemed noncommittal to a Democratic majority in the Senate even though he committed to work for one in exchange for the Working Families Party endorsement in late May.
"They elect a Legislature – Democratic, Republican, whatever they elect," Cuomo said of voters. "I think the job of the Governor is to figure out how to make it work," he told reporters at the gathering of The Business Council of New York earlier this month.
Former Gov. David Paterson, who Cuomo hand-picked to head the State Democratic Committee has also issued lukewarm statements on the possibility of Democrats winning the Senate.
Cuomo has indicated that he may endorse Republican Sen. Mark Grisanti of Buffalo who lost his primary bid to his more conservative opponent Kevin Stocker. Grisanti voted for two key Cuomo wins in same-sex marriage and gun regulations via the SAFE Act. Cuomo promised political support to Republicans who backed him on the same-sex marriage vote and Grisanti is the last one of those left. Cuomo told reporters that he faces a "personally difficult" decision in whether to endorse Grisanti or Democrat Mark Panepinto.
Grisanti has been courted by Independent Democratic Conference head Sen. Jeff Klein in recent weeks and many Democratic operatives believe Grisanti will end up caucusing with Democrats if he is re-elected - despite some of his conservative leanings.
Some liberal activists have been outraged by Cuomo's lack of public enthusiasm for Democratic Senate candidates and his flirtation with Grisanti. Bill Samuels, who helped finance Democratic efforts to win the Senate in the past, has called on Cuomo to spend $10 million of his own campaign cash on Senate races and slammed him for considering endorsing Grisanti.
"It's political malpractice for Cuomo and Hochul not to endorse Marc Panepinto, a strong and talented Democrat whose victory in November will play a crucial role in helping the Democrats take back the State Senate and enact a real statewide progressive agenda," said Samuels.
Cuomo has generally been stingy with his endorsements and is loathe to endorse candidates unless they are a sure thing. Some insiders insist the governor doesn't want to stick his brand on an uncertain cause while jeopardizing his bipartisan record. Those close to the Cuomo-de Blasio effort say they don't expect to see personal endorsements until late in the game when the groundwork has been laid with paid and earned media.
Sources involved in the Cuomo-de Blasio effort say that the governor has been absolutely hands on in strategizing and fundraising. They say a massive win in November will give Cuomo a mandate to move progressive legislation. Operatives working for the Democratic Committee indicated that Cuomo understands that the public and media are focused on issues like the Women's Equality Agenda, the minimum wage, and The Dream Act, and that an improving economy and extra cash in the state budget mean he can focus on moving that kind of legislation.
Operatives say they are looking to defend Democratic seats in the the 41st district race in the Hudson Valley between Terry Gipson and Republican Sue Serino, and the 55th district race between Sen. Ted O'Brien and Republican Rich Funke. Democrats are looking to pick up seats in the 40th district in Westchester where Republican Sen. Greg ball has decided not to run for reelection, the 3rd senate district on Long Island where Republican Sen. Lee Zeldin is not seeking reelection, and the 7th senate district on Long Island where Republican Sen. Jack Martins faces Democrat Adam Haber.
A number of skeptical insiders and activists insist that Cuomo has talked himself into a corner and now has no choice. "I don't know how he can back Grisanti, who has insisted he won't support the Women's Equality Agenda, when he is running on passing that very piece of legislation and created a party just to get it passed," said one advocate. "The governor will look impotent if he goes into the next legislative session having touted all these issues but doesn't have the votes to pass them."
However, there has been consistent speculation that the governor has enjoyed the current power-sharing arrangement between the IDC and Senate Republicans so that he can govern more from the middle without having to veto more progressive legislation that would come through a Democratically-controlled Assembly and Senate. And Cuomo may be in favor of continuing to be able to put the blame on a split legislature when certain progressive legislation is stalled.
Democrats skeptical of Cuomo's efforts note that the governor's Women's Equality Party (WEP) has been an embarrassment. Democrats Tkaczyk, O'Brien, Gipson, and Justin Wagner, who are all in extremely close races that are key to Senate control were all bounced off the WEP ballot line after the majority of their petition signatures were rejected by the Board of Elections. Most of the rejected signatures came from out-of-district signees. Angry Democrats are in disbelief that such an error could have been an "honest mistake" when Cuomo is known to run such a tight ship.
This is an unusual year for Senate Democrats because of the number of groups involved in trying to win a Democratic majority. Klein is looking to bolster his own IDC ranks and has tepidly pledged to work with Democrats if they win the appropriate number of seats. Sen. Mike Gianaris, who heads the Democratic Senate Campaign Committee and has a notoriously frosty relationship with Klein, would like to grow his influence with the conference. Naturally, both the mayor and governor are also looking to grow their influence in the Senate through the candidates they help elect.
All this maneuvering will come into play, of course, when post-election jockeying starts for agenda items, rules changes, committee seats, and resources. Insiders expect senate rules changes to come up quickly as the IDC and mainline Democrats look to encode their relationship just as the IDC and Senate Republicans did two years ago. Staffing and resource allocation will be hot topics in a new Democratic alliance - if it happens. Loyalty, allegiances, and campaign debts will almost certainly come into play.
What do Cuomo and de Blasio get out of it? "The governor has committed to these big progressive items," said one operative. "And he is going to deliver. The mayor has come up against Albany and he knows what it is like to have your issues gummed up. He wants to be able to have people he can count on up there."
***
by David King, Albany Editor, Gotham Gazette
@DavidHowardKing