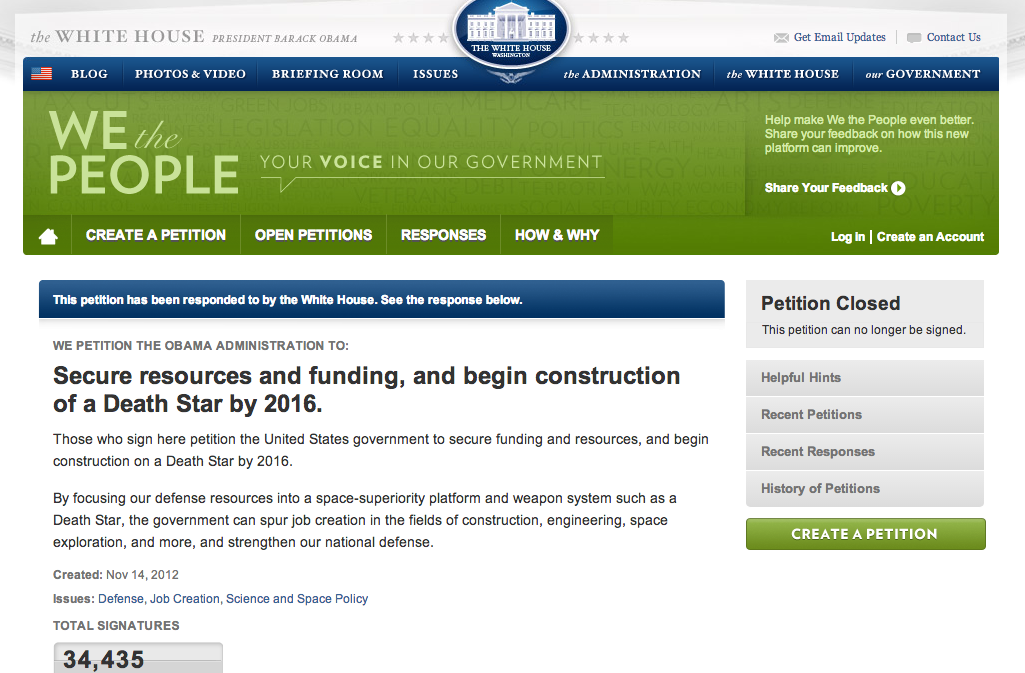 The Death Star petition on The White House's We the People petition site
---
September 22 marked the three year anniversary of We the People, the White House's online petitioning platform. In an effort to increase public engagement, the site is designed for citizens across the country to bring issues to the federal government and receive public responses.
New York City does not currently have a government-sponsored online petitioning platform, but a newly proposed law may change that. On Wednesday, the City Council's Technology Committee will hear Intro. 471, a bill that would create a local version of We the People.
The bill, introduced by Council Member James Vacca, chair of the technology committee, would require the Department of Information Technology and Telecommunications (DoITT) to create an online platform where New Yorkers can create and sign petitions. Just like with We the People, once a certain number of signatures is reached on the city platform, a city agency or public authority would be required to issue a response.
"On major public issues we don't have an opportunity to gauge how citizens collectively feel," Vacca said in a recent phone interview. He added this bill would provide "citizens in New York City an opportunity to register how they feel about public policy and legislative issues, collectively."
The idea is not just to provide a new place for New Yorkers to complain to government about something they want fixed, but to begin a public, online dialogue with elected officials about issues in specific communities and around the city. Think of it as the 311 for policy ideas and discussions.
The idea for a platform like this took off last year when BetaNYC, America's largest civic technology and open government community, released its "People's Roadmap to a Digital New York City." Of the recommendations the group called for is the creation of "We the People of NYC," an online petitioning platform similar to the We the People platform at the federal level.
While the legislation was not picked up in the 2013 election year session of the Council, a non-government sponsored site called Ask Them got the ball rolling locally. Ask Them, created by David Moore of Participatory Politics Foundation, has been running since February 2014 (former New York gubernatorial candidate Zephyr Teachout is on the advisory council). The site works by allowing a user to find a verified elected official, ask them a question, get others to support the question by signing the petition, and then have the elected official answer the question publicly.
Moore says he and other members of the civic tech community spoke with Vacca's staff prior to the introduction of the bill about how Ask Them works and that he even offered the City the code to build the platform. He says he doesn't consider a City-sponsored site in competition with his, but more of a useful complement.
"It is a validation for the ground work we laid with Ask Them to create more dialogue with your local council members and be able to petition the people who represent you," Moore said in a recent interview.
Recipe for Success
The bill is aimed at increasing civic participation, and if the site catches on, it would create a unique way to communicate local problems and propose solutions directly to elected officials. But simply creating a site does not guarantee its success. In fact if history is any indication, a lot of resources will need to be spent to foster its success: maintaining the technical side, ensuring politicians or agencies respond in a timely manner, and (perhaps most difficult) creating and maintaining public engagement with the site.
That is a tall order for any municipality. But David Karpf, Assistant Professor in the School of Media and Public Affairs at George Washington University, argues if a platform like this is going to succeed, New York City could very well be the place to do it.
"New Yorkers care enough about their city that I think there is a real chance that if they come to know about this site, they will use it to voice concern about what they are seeing in their neighborhood and in their city," Karpf said in a recent phone interview.
He cautioned, however, if New York City's platform does succeed, it would be a first for a government-run site of this kind. Karpf did an analysis in April of We the People, which saw only 85 petitions posted that month. None of them hit the current threshold of 100,000 signatures to get a response. By comparison, during the same month 7,393 petitions were created on Change.org and 2,053 on Moveon.org - neither of which are government run. Both sites had several petitions that reached the 100,000 signature threshold, according to Karpf's analysis.
To get a site like this to work, Karpf says making it easy to use will be critical, but the key will be to drive people to use the site once and get them to come back a second time. While that may sound easy, We the People has shown that it is not—even with an Internet hit like the now-infamous "Death Star petition."
We the People struck PR gold when the "Death Star petition" was created in November 2012, asking the government to secure funding and begin construction of a Death Star (yes, like the one from Star Wars) by 2016. It became an Internet and media hit, driving 34,435 people to sign (the threshold to receive an official response was then 25,000 signatures). In January 2013 the Obama administration issued a comedic response which drew nationwide press coverage.
While that petition was able to generate a spike in new users and even press coverage of the site, many of those people who signed on never went back to We the People to continue to engage. Karpf said that while a big hit like the "Death Star petition" is the type of thing that drives early adoption, the We the People site failed to follow successful marketing models used by Change.org and Moveon.org.
We the People does not have a strong social media campaign where it pushes popular petitions. It relies more on homepage web traffic, which as a universal trend has dropped significantly in the last several years thanks in large part to the rise of social media.
Change.org and Moveon.org also use push notifications like emails to entice users to sign other petitions based on what they have already signed. While that may be one of the best ways to get more people to interact with the site, it leaves a lot of questions as to what role government should play in pushing certain petitions over others, or pushing any at all.
Soliciting participation on a city site is among several areas to be explored during Wednesday's hearing, including if the City will allow citizens to create or sign petitions for issues in a district they don't live in and how to mitigate groups flooding support for a petition that may or may not have true community support.
While there may be obstacles to creating and ensuring the success of the site, it does not appear a failed local version of We the People would actually even be all that bad.
"The worst case scenario is you build a website where New Yorkers can register their opinions and then not a lot of New Yorkers show up," Karpf said. "As government boondoggles go, that is a pretty small one."
***
by Kristen Meriwether, Gotham Gazette
@MeriwetherK
Note: this article has been updated to include information about BetaNYC's roadmap