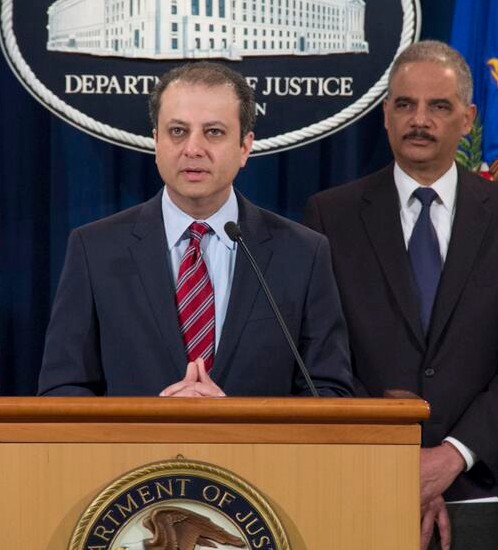 US District Attorney Preet Bharara (photo: @SDNYnews)
---
Preet Bharara smirks a lot. And you might too if you were him.
The United States District Attorney's sharp wit, which he deploys regularly, along with his powerful position and track record of high-profile indictments, provides cause for a knowing, confident air about him. At public appearances, Bharara often wears a look that those on the receiving end of his work would surely call smug - or worse - but brings reciprocal smiles to the faces of those who see him as a white knight.
The crowd of well-dressed New York business and civic leaders who gathered on Tuesday morning for a Crain's New York Business forum featuring Bharara appeared an impressed, captive audience. Unlike many others Bharara has dealt with, though, they were free to leave when he was done with them.
As Bharara, who is rumored to be on the list of candidates to be the next U.S. Attorney General, spoke for about twenty minutes and then answered questions from two moderators for another thirty, he repeatedly flashed his disarming sense of humor right alongside no-nonsense talk about rooting out corruption. The Bharara routine, during which he comes across wholly at ease, goes something like: clever remark, half-smile, straighten up, talk tough (and smart). Repeat.
While they only accounted for a portion of his remarks, Bharara's comments on Tuesday about government corruption, specifically that which is committed by those who work in Albany, had a special sense of I'm-not-done-with-you-yet.
Whether he was discussing financial institutions, the criminal justice system, or politics and government, Bharara hit on the theme of cultures of corruption and the need for institutional leaders to prevent them from forming. "We do a lot of political corruption cases, public corruption cases," he said, adding, "You have a culture problem in some places in the political sphere...whether it's in Albany, and there was a time in the City Council, hopefully that's a little better now."
And then the Bharara smirk. He was referring, of course, to his own handy-work in prosecuting corrupt members of the New York City Council.
However many cases he has made, Bharara has repeatedly argued that he and his merry band of prosecutors can't do all the cleaning up of politics that's needed.
"I say all the time," he implored, "that these are not problems that prosecutors alone can solve." Bharara argued that policy-makers, as urged by the public, must make the real change.
He did say, though, that when prosecutors have turned up enough cases, "a byproduct of our work" is that it can cause "commissions to be established," and, in trademark Bharara fashion, "however long they remain in existence." Referring here, of course, to the short-lived Moreland Commission on Public Corruption that New York Governor Andrew Cuomo established and then disbanded just nine months later.
Bharara's office is now continuing investigations that Moreland began, along with new investigations of Cuomo's potential obstruction of the commission's work and influence over the public relations spin in its aftermath.
On Tuesday, Bharara reiterated that he felt it was essential to pick up on the work begun by Moreland and that it is indeed ongoing. "For a period of nine months or so a bunch of work has been done and you don't want that work to go into the dustbin of history or down the drain," he explained of his mindset. "And so the commissioners, basically the two remaining chairs, asked us to take all the files and we did, and we're working on them and we're working on them in our own time and not according to anyone else's political timetable or schedule." A statement he made with a completely straight face.
Bharara explained on Tuesday that he sees significant problems with New York law that are contributing to all of the state's political ethics issues. He outlined the need for more regulation of lawmakers' ability to earn outside income in addition to their government salaries and the need for stricter disclosure rules and rules enforcement.
"After thinking about this for a long time, especially in recent months," he said, there is a "really serious problem" with "the influence of outside money and the way in which people can be associated with outside firms in a way that makes it very difficult to figure out what they're getting for that pay when they're otherwise legislators and supposed to be answering only to the people of their district and their state."
He went on to say there "should be a no-tolerance policy" regarding violations of disclosure requirements related to outside income (and, presumably, conflicts of interest).
"It is a very difficult thing for prosecutors like us and in other parts of the state to figure out what's illicit money and what's not illicit money," Bharara said. "And on top of that, when you have a disclosure problem where people are not disclosing in a way that they should, I think that's a real problem that should worry everyone."
Bharara told a story of speaking with an Indian journalist in town to cover the visit of Indian Prime Minister Narendra Modi - events around which Bharara wryly noted he had not been invited to attend, sort-of-grinning as he said the invitations must have been lost in the mail.
Talking about public corruption in India with the journalist, Bharara said that the reporter told him "there's a law in India whereby if you can show that a public official has disproportionate assets you can put them in jail." He recounted further explanation from the journalist: "The law is if you are a public servant and you make X dollars in official salary, but they can show you have a lot more money in the bank, you can go to prison for that."
To which Bharara said he replied, "Wow, if we had a law like that here (pause) that would not solve our prison overcrowding problem," and laughter filled the room.
That is until Bharara sharply said, "Public corruption is a problem everyone should care about. This issue, joking aside, of outside money, I think is a big problem. I think that the United States Congress does a better job of it because it is very difficult to be an outside consultant or outside lawyer and have all this outside income if you're in the United States Congress because the ethics laws are different [from New York's]."
Without even a hint of a smile, Bharara was sure to drive home his key point related to political corruption: "We can cause people to pay attention, we can cause voters to care about these issues," he said of himself and his fellow prosecutors, "but we're not policy-makers, we're not going to solve these problems."
***
by Ben Max, Executive Editor, Gotham Gazette
@TweetBenMax