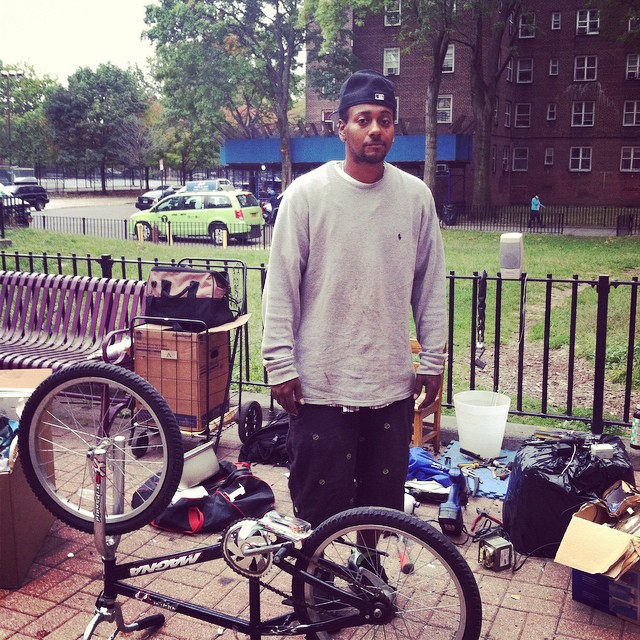 Moses Waltan of Red Hook (photo: Emrys Ellerphoto)
---
Lower East Side, Red Hook residents unsure whether their communities are prepared for future extreme weather
More than a dozen reporters hit the ground on the Lower East Side of Manhattan and in Brooklyn's Red Hook on Thursday, Oct. 2 to kick off a special crowdsourcing project. The effort will explore whether the most vulnerable New Yorkers believe themselves safe from the coming impacts of climate change.
The reporters, part of a 30-plus-member news team, spent several hours combing the communities for insights from residents, asking "Two years after Sandy, do you think you're safer?"
Red Hook and the Lower East Side (LES) were targeted because they were among the worst hit by Sandy in 2012 and remain among the most at risk for future climate-related damage from extreme weather and sea-level rise.
WATCH LIVE COVERAGE - LOWER EAST SIDE | RED HOOK
The real-time reporting was also the launchpad for a two-week-long effort to survey residents of the two neighborhoods and New Yorkers everywhere for their views on climate safety. The results of the survey and the live reports will be part of a deeper analysis to be published later this month.
TAKE OUR CLIMATE SAFETY SURVEY
Uncertain future worries many
Many residents in both neighborhoods expressed concerns about whether they were, in fact, safer now. "Mother Nature has its own ideas," said Carlos Rosario, one middle-aged LES resident.
Rachel Goldberg, also of the LES, told our reporters she worries the city is less prepared because people think the storm is done and won't happen again. And another LES woman, Laura Pagan, 65, said she believes New York lacks the resources to deal with another storm of Sandy's magnitude.
Even The Big U, a several-hundred-million-dollar, federally funded project meant to prepare Lower Manhattan with a 10-mile series of preventative levees, didn't assuage residents' concerns. The project aims to further protect 29,000 public housings apartments, 150,000 residents and a Consolidated Edison substation from future storms.
But according to 39-year-old Rob Weber, while the Big U may make Lower Manhattan more resilient to coastal flooding, it won't prevent what he sees as the catastrophic effects of rising global temperatures. And Lilah Mejia, a climate activist who lives in the LES, said she won't feel climate safe as long as large corporations dominate the economy.
Some New Yorkers were reassured by steps they've seen to curb damages done by future storms. Said Carmelo Quinones, a 53-year-old LES resident, "They're repairing in a way to prevent any other floods in the future."
But many respondents couldn't say with certainty whether or not they believed themselves safer.
Patricia Nardone, a resident of the Knickerbocker Village since 1977 who was present during the entirety of Hurricane Sandy and left without water and power, said she likes that her building is constructing flood walls, but doesn't see any real protection from the river. And Jenny Chang, a Smith Healthcare Center employee, said she felt safer, but that the future was unpredictable.
(Reporter Kat Long reports from the Lower East Side on how residents were responding to questions about climate safety)
Is climate safety a DIY project?
Reporters in Red Hook, Brooklyn also found a range of views, from the optimistic to the cynical. But most residents who spoke with reporters suggested community support was strong, voicing an "if you want something done, you've got to do it yourself" view.
For instance, establishments such as Sunny's Bar on Conover Street or Pioneer Street Supermarket saw the community band together to raise funds and help local businesses that were otherwise ignored. Sunny's Bar alone was said to have raised over $150,000 in relief through grassroots efforts.
Most waterfront residents seemed keenly aware of their vulnerability, as knowledge of climate risks outstrip actual physical preparations. Their bond is strengthened, some suggested, but not their infrastructure.
So while they said precautions like gas-operated generators are much more commonplace now than two years ago, that doesn't mean barriers or drainage has been improved.
And while some have flood insurance or have repaired their homes and are hopeful that they'll never have to face the trials and tribulations of another Sandy, others haven't taken any measures at all.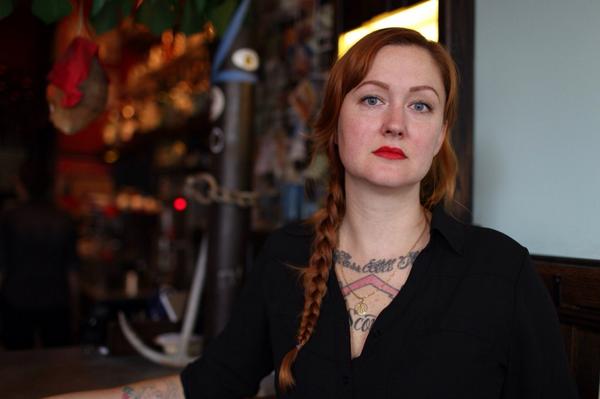 Jamie Lynn, bartender at Fort Defiance restaurant in Red Hook, said of her climate safety, "I'm not overly concerned. I'm not living in fear." (photo by Jessica Bal)
***
The live-reporting/crowdsourcing project is a joint effort involving Gotham Gazette, the CUNY Graduate School of Journalism, climate news site AdaptNY, and NY Environment Report.
Watch in the coming weeks for an extended analysis of community views on climate safety. Meanwhile, take our survey and tell us, Do you think you're safer?
Contributing to this report were:
(Red Hook team): Jessica Bal, Andrew Caringi, Reed Dunlea, Emrys Eller, Sophie Gauthier, Lillian Knoepp, Monica Melton, Carlotta Mohamed, Elise Murrell, Cari Party, Catherine Roberts, Maria Sanchez Diez, Derek Scancarelli, Bianca Silva, John Spina, Marguerite Ward;
(Lower East Side team): Chauncey Alcorn, Pilar Desha, Rahim Chagani, Jack D'isidoro, Erica Davies, William Engel, Allison Fox, David Gershgorn, Eric Levitz, Kathryn Long, Ayana Mason, Andrew Menezes, Cole Rosengren, Karen Shakerdge, Gabriela Alonso