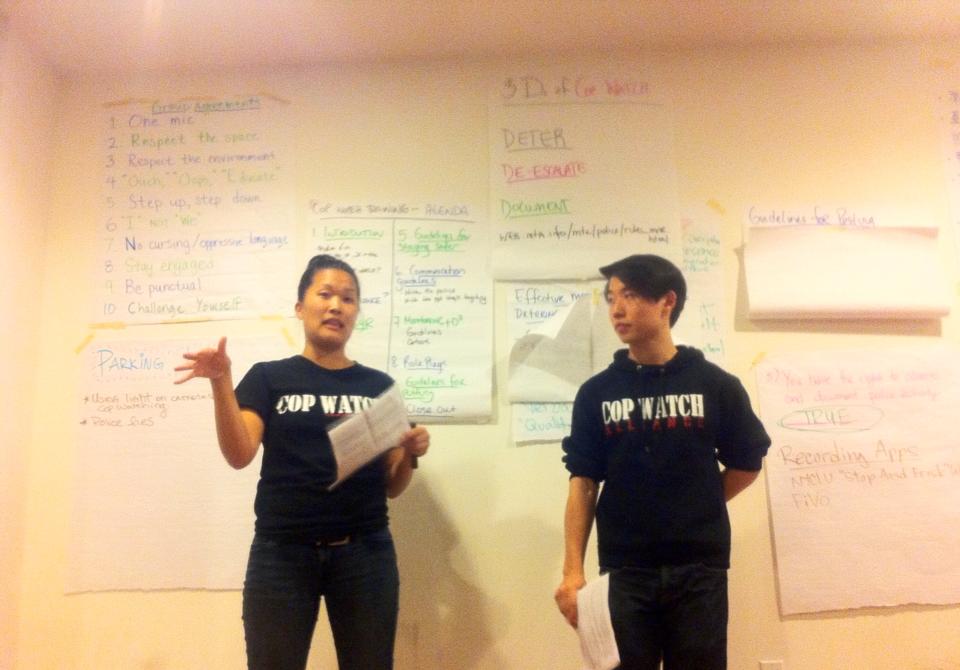 A Cop Watch training (photo: Alex-Quan Pham)
---
"Usually, for the Bushwick team, we'll meet up, we'll have a meal together. And the meal is important because in the rare instances that you get arrested, you sit overnight and you get hungry," said Meejin Richart, explaining the start of a typical Cop Watch patrol.
Richart had just finished instructing the three "Ds" of cop watching—deter, de-escalate, and document—to the packed conference space of the Committee Against Anti-Asian Violence (CAAAV) in Chinatown. The crowd of about fifty participants gathered Monday night to learn how to safely and effectively monitor police activity. The workshop was the second in a series of trainings organized by People's Justice for Community Control and Police Accountability, a coalition of CAAAV, Malcolm X Grassroots Movement, and the Justice Committee.
There are many Cop Watch teams that monitor police interactions throughout the five boroughs. Teams are stationed in Sunset Park, East Harlem, and the South Bronx, among other neighborhoods. While Cop Watch teams have been operating in New York City since 1999, there has been a greater focus on their activities in light of recent high-profile examples of what many are calling police brutality and the coalition is upping its mobilization efforts.
Cop watching in a similar form began in the sixties with the Black Panthers, who utilized a more militant brand wherein they held firearms along with their law books and had the goal of mitigating police brutality in African-American communities in California. The Black Panthers, however, did not have the technology that allows community members to create a virtual paper trail of police using excessive force.
In learning how to cop watch themselves (holding smartphones, not guns), Monday's attendees moved through possible scenarios of witnessing and documenting police encounters. They were told to note the date, time, and location of an encounter; to ask for the consent of the person being filmed; and to cooperate with police if the situation progresses dangerously.
The facilitators reminded participants that the idea is to prevent escalation of violence upon the person being policed, but that watchers need to be cognizant of their own safety as well. Though recording police is a protected right, officers can arrest copwatchers if they have reasonable suspicion or deem a person to be interfering with an arrest. "Remain calm at all times, and ask repeatedly if you are free to go. You do not have to consent to a phone search...they actually need a warrant to go through your phone," explained Kevin Park, one of the two co-facilitators.
Community members proceeded to role-play cop and civilian, which drew laughter and applause. Attendees made light of serious issues, even as they shared their less-than-pleasant stories of past police encounters.
"Most of us wouldn't know anything about the Eric Garner case without someone who pulled out their phone and documented that incident," said Richart, citing the video of the Staten Island man who died in July after being placed in a chokehold by a police officer arresting him. A grand jury has begun hearing evidence on the Garner case to decide whether there should be criminal charges. Both the medical examiner and an independent forensic investigator have ruled the case a homicide.
Eric Garner has become one of the names often cited by protesters amid public outcry against the NYPD. At a recent town hall in Sunset Park, residents decried the case of another victim named Sandra Amezquita, a 44-year-old visibly pregnant woman who a bystander recorded being hit by the police with batons and thrown to the ground stomach-first.
Ruben An, who is a police accountability coordinator at CAAAV, attributes a pattern of police brutality to the Broken Windows theory as put into practice by Police Commissioner Bill Bratton. "You see immigrants getting harassed, you see communities of color getting stopped and frisked, arrested for no reason, brutalized," An said.
The use of Broken Windows policing and an alleged quota system, under which officers have to fulfill a certain number of arrests or other quantifiable metrics, have focused on misdemeanors as a way of preventing more egregious crimes. Neighborhoods home to the poorest New Yorkers and most people of color have faced an appreciably larger police presence.
Another one of the NYPD's practices—the controversial 'stop-and-frisk'—was challenged in the class action lawsuit Floyd v. City of New York. While the court could not order the complete halt of stop-and-frisk due to Supreme Court precedent, it ruled the NYPD's application of the practice as unconstitutional because of its disparate use in communities of color.
The case was a catalyst for a soon-to-be-launched pilot program of monitoring police encounters with civilians whereby officers strap cameras to their chests to document their activity. The court also called for a joint remedial process, which allows community stakeholders to have more input in police accountability. Town halls throughout all boroughs, organized by court-appointed facilitator Nicholas Turner, are examples of places where the community can voice concerns to police officials.
Cop watchers are wary of the pilot program, since the power is still in the hands of officers: "who gets to control when the cameras go on and off? Who has access to the footage—is it the police or the community or some independent body?" asked Aidge Patterson, a coordinator for the People's Justice Coalition.
Cop Watch is one grassroots solution to police brutality, which Commissioner Bratton has vowed to eliminate, but activists say they will not turn away from. As the Cop Watch movement grows, it has been met with retaliation from the police. "Cop Watch is a culture that is doing something right if they're singling us out and attacking us," said Meejin Richart, about what the group says is growing aggression against Cop Watchers by the NYPD. "Our goal would be for Cop Watch to be everywhere, for everyone to be Copwatching for each other."
When asked about the overarching goals of the Cop Watch movement other than the obvious (to document police misconduct), Ruben An reiterated his support for more community control, "We want to see communities deciding what safety looks like for them. It means that they're invited to the process and decide what measures they want to create. We're trying to build a culture where everyone in the community feels they're responsible for one another."
Mayor Bill de Blasio has appointed four new members to the Civilian Complaint Review Board (CCRB) in an effort to reduce police misconduct. Also, Commissioner Bratton made a statement last week indicating he will purge the NYPD of police officers who have been mistreating the public, though he made no mention of moving away from Broken Windows policing.
***
by Alex-Quan Pham, Gotham Gazette
@GothamGazette