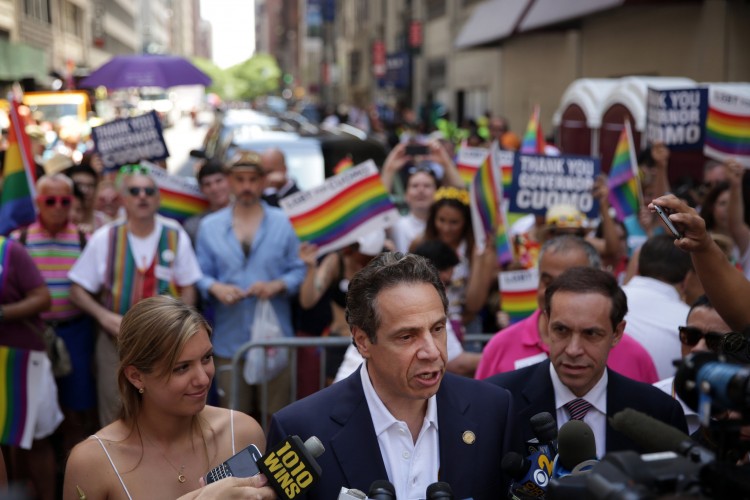 Governor Cuomo (photo via glad.org)
---
The following is part of our series, The Cuomo Record, examining incumbent Democratic Governor Andrew Cuomo's first term as he seeks re-election heading toward Election Day, November 4
Heading toward Election Day, members of New York Governor Andrew Cuomo's administration are focused strictly on their past successes - of which there are several - and refusing to talk about what the governor's upcoming priorities might be when it comes to immigration, civil rights, and criminal justice reform.
With the governor having finally emerged on the campaign trail, perhaps he will further outline specific plans for the road ahead in these areas, were he to be re-elected, while also touting his accomplishments, especially his crowning jewel victory of marriage equality in 2011.
In early October, Cuomo addressed a meeting of Baptist ministers in Harlem and promised to pursue a "social justice" agenda in his second term, spearheaded, he said, by the establishment of "a New York State Office of Faith-Based Community Services, designed to assist and maximize community faith-based organizations in providing education, health, workforce training, food programs and social services to communities – especially those most in need."
But advocates have been largely underwhelmed by Cuomo's limited second term policy outline when it comes to social services, immigration, and civil rights. And, there are long-standing priorities in these areas that many expect immediate action on if Cuomo, as is expected, wins a second term.
Cuomo recently committed to increasing the percentage of state contracts awarded to minority and women owned businesses and creating incentives for businesses to hire people of color. "We have too many young men on the street who can't find a job, who can't find a dream," Cuomo said. "I would rather subsidize their wages at a private company and get them training now, rather than see them get into trouble and wind up paying for a prison cell or something else."
These aren't the sweeping policy changes that liberal advocates and legislators are looking for. Advocates insist strong action by the administration is overdue on specific issues like The DREAM Act and the decriminalization of the possession of small amounts of marijuana if it wants to keep or earn their support.
It's not surprising the Cuomo administration is focused on the past, there are major successes to tout that galvanized his Democratic base and established liberal bona fides.
Late on June 24, 2011, not long into Cuomo's term, people were celebrating in Capital Park in Albany across from the capitol building. Rainbow flags flew as crowds of cheering revelers walked in groups that massed and split, hugging, jumping, clapping and exchanging congratulations. They were celebrating the passage of marriage equality in New York. The mood inside the Senate chamber where the final vote took place was as tense and and sober as the revelers outside were jubilant.
Gov. Andrew Cuomo had seen a marriage equality vote fail in the Senate under his predecessor, Gov. David Paterson, thanks to a lack of both Democratic and Republican votes. Advocates had been devastated, supporters outraged, legislators who supported the measure disgusted.
The fact that Cuomo allowed the marriage equality bill to go to the floor almost certainly meant it would pass, but the room was still thick with emotion, foreboding. Who had Cuomo convinced to vote for the bill? What had he promised them? Democratic Senators who had supported the measure were told they would not be able to speak on the bill so as to not upset Senate Republicans; and so that the vote would proceed in an orderly fashion so the governor could make a grand entrance after its passage.
After a few emotional speeches from Republicans and Democratic Sen. Ruben Diaz, who opposed the bill, the measure passed and Cuomo and his aides strode into the room and waved to the gallery. It was Cuomo's signature moment as governor, delivered less than one year into his term.
Its a moment that has buoyed and haunted Cuomo ever since - he proved a master politician and power player who could twist arms and get votes even when it put his Republican allies in danger. Soon legislators, advocates, and voters alike assumed Cuomo could move heaven and earth to pass legislation as long as he sincerely wanted it - and as long as it would boost his political ambitions.
After nearly four years in office Cuomo has accumulated a number of major accomplishments on civil rights, immigration, and prison reform. Some have come to define his governorship while others have flown under the radar. And yet advocates and members of his own party feel the governor has failed to capitalize on the momentum generated by his action on a number of progressive issues. They see him avoiding fights that would cost him political capital and lightly laying the blame for lack of movement on issues like The DREAM Act, The Women's Equality Agenda, and the Gender Expression Non-Discrimination Act at the feet of his Republican allies in the Senate.
A closer look at the governor's first-term record on immigration and civil rights:
Immigration
Twenty three days before the marriage equality vote Cuomo made another major move on civil rights - this one having to do with immigration. Cuomo announced New York would no longer participate in the federal Secure Communities Program.
The program was created to deport serious felons but instead many advocates, community members, and law enforcement officials insisted that the program led to the deportation of many non-felons and created major distrust of law enforcement and government.
Cuomo was the second governor after Illinois Gov. Pat Quinn to make such a move and established Cuomo's willingness to defy the status quo in Washington.
Secretary of State Cesar Perales told Gotham Gazette that the move did not receive the attention it deserved. "I'm surprised not many people pay attention that the governor took a look at this massive deportation program and said, 'I'm not longer going to participate. I'm not going to help you deport people."
New York City officials had limited their participation in the program before Cuomo's move, but Perales says Cuomo's announcement allowed state law enforcement in other areas around the state with large immigrant communities to improve relationships and remove barriers of fear and apprehension that law enforcement was simply looking to hand them over to federal authorities.
"It probably didn't get as much attention in the city because it didn't have the kind of impact it did upstate where a lot of folks work on small farms, or in communities where the federal authorities feel they can pick up people and question them," Perales told Gotham Gazette. "There was a real panic in those communities that are not exactly immigrant friendly. It let us say to the sheriffs in those communities, 'We are not going to participate in deportation.'"
Bronx state Sen. Gustavo Rivera told Gotham Gazette that the Cuomo administration worked closely with advocates and legislators for over a year on what the correct move was regarding Secure Communities. "They made sure they were absolutely getting this right. And I think they did. It was an important point in this battle we are waging nationally. New York is the most populous state that has said, 'we are not going to implement this.'"
Rivera said that Cuomo's move has restored faith in some immigrant communities that the government's sole function isn't to deport them, allowing for more cooperation between the communities and service providers like the police.
Cuomo's next big move on immigration came in 2013 when Perales and the State Department opened The Office of New Americans, which saw the creation of 27 centers across the state to provide immigrants with English language training, job opportunities and referrals for legal assistance.
"For the first time there is a network across the state from Buffalo, Rochester, Syracuse, where there are offices connecting folks to the help they need. They are doing a fantastic job assisting new Americans," said Perales. Perales says the ONA has allowed the state to keep its finger on the pulse on the issues facing immigrants and has led to action against landlords who were abusing non-English speaking tenants and allowed them to help child detainees.
Perales said he expects to see an expansion of the program to provide increased legal services if Cuomo should serve a second term. "I can't give you an exact number, but I expect a significant increase in funding for the program next year," said Perales.
Some legislators and advocates, however, feel that Cuomo has failed to move on some of the biggest issues facing their communities. A number of city-based legislators have been pushing for the State to act on The DREAM Act - a package that would give college tuition assistance to the children of undocumented immigrants. The bill has passed the Assembly repeatedly, but has only been brought to a vote once in the Senate. The vote on the bill was called unexpectedly by the Independent Democratic Conference and Senate Republicans who control the chamber after advocates demanded a vote. Upset by its failure, those advocates insist they did not have time to work to secure votes.
One Democratic operative who spoke on the condition of anonymity said that the Black and Latino Caucus of the Senate and Assembly has grown increasingly frustrated with the governor on the issue because he has refused to take a firm stance on the legislation despite support from their communities. The operative noted that immigrant communities delivered Cuomo wins in important districts in his primary battle against Zephyr Teachout this September. "We put him over the line. We were out there working for him and he's got to deliver for us now."
The New York City vote may be critical for Cuomo in the general election because of backlash upstate over The SAFE Act, which increased gun regulations in the state.
Despite having committed to passing The DREAM Act as part of his deal to earn the Working Families Party endorsement, Cuomo hasn't been particularly vocal about it this election cycle and administration officials refuse to say what policies Cuomo is committed to in his second term. "Speaking generally, the governor is committed to returning New York to its place as the progressive capital of the nation," Alphonso David, Cuomo's Deputy Secretary for Civil Rights, told Gotham Gazette.
But David refused to get into specifics about the possibilities of Cuomo's second term agenda. "The common thread is solidifying New York as the progressive capital of the nation whether its marriage equality, committing to have a 30 percent goal for state contracts with minority or women-owned businesses, or implementing new and innovative programs like the strikeforce in the Bronx where we've seen unemployment reduced to under 10 percent."
LGBT Rights
Earlier this year the Cuomo campaign had to work harder than expected to secure the endorsements of a number of prominent LGBT clubs and organizations, despite the fact that his signature accomplishment for most of his liberal base has been passing marriage equality.
"Without the governor, we obviously wouldn't have achieved marriage equality and we are grateful," Nathan Schaefer, executive director of The Empire State Pride Agenda, told Gotham Gazette in July. "But when the community looks at endorsements we look at what a candidate has done on our issues in the past and what they have planned for the future."
For some in the LGBT community marriage equality seems to be enough for unwavering, ongoing support of Cuomo - including the state's largest LGBT club, the Stonewall Democrats, which endorsed Cuomo. However, there were city-based LGBT clubs which endorsed Cuomo's opponent Zephyr Teachout or had contentious debates about who to back and wound up siding with the governor.
Schaefer told Gotham Gazette he was specifically concerned that Cuomo had not put much effort into passing The Gender Equality Non Discrimination Act. GENDA would make it illegal to discriminate against a New Yorker based on their sexual identity or gender expression. The failure of the Senate to pass a bill that would ban licensed medical providers from conducting gay conversion therapy was also on Schaefer's and others' minds. And, some members of the LGBT community were concerned that Cuomo was giving Schaefer the cold shoulder.
But in late August the Pride Agenda announced its endorsement of Cuomo, though it was only after he sent them a letter reaffirming his support for GENDA.
Cuomo's surrogates have spent most of the summer and fall assuring influential members of key progressive voting blocs that the governor is committed to moving these larger pieces of liberal legislation. Teachout's surprising primary performance may have convinced Cuomo's camp that he needs to reassert his liberal bona fides.
David said that Cuomo will "continue to intervene to address the needs of New Yorkers" where the federal government has failed them. When asked if he felt enough had been made about Cuomo's action on Secure Communities and The Office of New Americans, David replied: "The communities that benefited have spoken. I hope they speak loudly enough through the ballot boxes. They are the ones who can keep him or remove him."
Women's Equality
Many say that one of the largest failures of Cuomo's first term has been his seeming inability to force action on his own Women's Equality Act (WEA). Cuomo proposed the ten-point legislation that he introduced during his 2013 State of the State address: "Maybe it's a man's world, but it is not a man's world in New York. Not anymore," Cuomo's voice thundered across the Empire State Plaza Convention Center's main hall. "We are going to change the lives for my daughters and your daughters and your sisters and your nieces and your wife and your significant other and every person in this room...And we're going to do it this year!"
But it didn't get done that year, or this year, largely because the 10th point of the act would codify the Supreme Court's Roe v. Wade abortion decision in state law and many legislators have balked on it. Senate Republicans and the IDC blocked a vote on that 10th measure - insisting measures that dealt with pay equality, sex trafficking, and domestic violence be voted on separately. The Assembly refused as it had already passed the entire package. Cuomo has insisted it's one cohesive 10-point plan.
The IDC blamed Senate Democrats for the package's failure, saying that some members of the Democratic conference don't support the 10th measure. Democrats blamed the IDC and Republicans. Advocates were torn on whether they wanted to settle for a vote on the measures separately. Nearly two years after Cuomo announced his intention to pass the package none of the measures have become law.
Now Cuomo has made the WEA the focus of his reelection campaign - even forming the Women's Equality Party - but a number of advocates have expressed disbelief that Cuomo didn't expend more energy and capital in getting a full vote in the Senate.
Marijuana and Prison
In June 2012, Cuomo announced a plan to decriminalize possession of small amounts of marijuana. "Today's announcement is about creating fairness and consistency in our laws since there is a blatant inconsistency in the way we deal with small amounts of marijuana possession," he said. "This is an issue that disproportionately affects young people — they wind up with a permanent stain on their record for something that would otherwise be a violation. The charge makes it more difficult for them to find a job. Together, we are making New York fairer and safer, and ensuring that every New Yorker has access to justice system that doesn't discriminate based on age or color."
The announcement came as the focus on the NYPD's use of stop-and-frisk increased. Cuomo said at the time that the practice permanently stained the records of young people of color who were arrested while in possession of small amounts of marijuana.
Cuomo reversed himself in January 2014, saying that stop-and-frisk was no longer a major issue for New York City and seemed to drop the issue of marijuana decriminalization. Advocates disagree. Jennifer Flynn of Vocal-NY said that the decriminalization of marijuana in New York is a top priority for her organization. "Marijuana legalization has been the civil rights issue of the last three or four years in New York," said Flynn, who described Cuomo's record on civil rights, criminal justice, and prison reform as "a mixed bag."
Teachout hit Cuomo repeatedly on his lack of action on marijuana reform. "This is a governor who has shown a real lack of compassion by failing to grant clemency, and a lack of leadership by failing to decriminalize marijuana," Teachout told Gotham Gazette in August.
Flynn notes that Cuomo has focused on prison reform - closing a number of prisons, dismantling the state's archaic juvenile justice system, and providing programs that connect former prisoners with jobs - like the Work for Success program that has 20 locations across the state.
However, Flynn points out that Cuomo quietly abandoned efforts to reinstate a program he had initially trumpeted that would provide a free college education to inmates after the proposal was rebuffed by legislators.
This fall, the Cuomo administration empaneled a staffed commission on prisoner reentry issues that met for the first time on September 10th. It is expected to issue recommendations on how the State can eliminate red tape and help the formerly incarcerated find jobs and prevent recidivism. One issue that Flynn hopes to see addressed is the placement of inmates in facilities that are closer to their relatives. Currently a number of city inmates are shipped hundreds of miles upstate - often making it impossible for them to continue substantive relationships with their families - hurting relationships that have been shown to prevent recidivism.
Next Term
Sen. Rivera told Gotham Gazette that Senate Democrats need to do a better job supporting Cuomo on pieces of progressive legislation if they expect to see them become law.
The governor seems fully committed to his Women's Equality Act, but on other pieces of legislation like The Dream Act things are less clear. Control of the state Senate will also determine a great deal.
"This is why the battle we are fighting to be in the majority is so important. We need to get more people to get us over the top and get a stable majority," said Rivera. "And honestly we need to do a better job communicating the need of the bill. The DREAM Act polls badly across the state. We need to demonstrate that this bill allows already productive members of society to continue to be successful where they have already been successful."
However, Rivera added, "I know when the governor puts his mind to something...that thing happens. I hope in the time to come he will be willing to put the political capital and muscle behind these issues because that's how things get done."
***
This article is part of The Cuomo Record, Gotham Gazette's series looking at the governor's first term. Find the other articles in the series here.
***
by David King, Albany Editor, Gotham Gazette
@DavidHowardKing