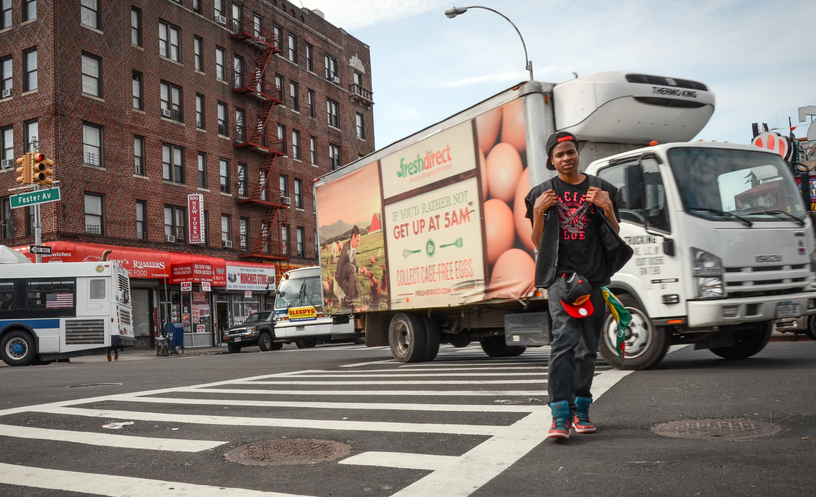 A young pedestrian crosses Foster Ave at Nostrand Ave, Flatbush (all photos: Erin Brodwin)
---
Children in poorer neighborhoods are more likely to be injured while walking
Walking down the street shouldn't mean risking your life. But that is the case at this Brooklyn intersection. Fifteen-ton buses jockey for position with cars, taxis, and dollar vans whose drivers speed down the boulevard hollering boasts of hasty trips for time-strapped travelers. People emerging from the subway crisscross the street at random; the white lines of multiple crosswalks are barely visible.
Children dash throughout the scene: little ones from the daycare center dwarfed by their backpacks run from corner to corner while teenagers in sneakers dart through traffic. A walk signal doesn't protect one child from a near miss when an aggressive driver in a white SUV makes a right turn.
This is Avenue H and Nostrand Avenue on a weekday afternoon. It's one of New York City's most dangerous intersections for children. Within a one-block radius of this urban hive nearly 50 young people under age 17 were hit and injured by vehicles in a seven-year period. Three died. In the two police precincts that cover the area, more than 900 kids were hurt and ten were killed by motorists. And this is not the city's only hotspot for child pedestrian injuries.
New York City drivers hit and injured more than 15,000 children between 2005 and 2012, according to a Gotham Gazette analysis of federal data. And a lot of people, even police officers and traffic safety advocates, aren't aware of the problem.
Typically, traffic safety analyses focus on pedestrians who are killed. In the same seven-year period, almost 100 children were hit by cars and died—no doubt a dire problem. But an analysis of child victims that doesn't account for kids who are hit and injured by cars gives an incomplete picture of street safety. Deaths are rare and haphazard: cars kill children even in places with well-designed streets and a vigilant police force. Analyzing injuries and deaths, however, reveals a pattern of hotspots. Some streets are indeed more dangerous than others. In New York City, most hotspot roads and intersections are in low-income neighborhoods in Brooklyn and the Bronx. They are overwhelmingly congested, poorly maintained, and inadequately policed, according to transportation experts and residents.

Dangerous streets 2005-2012: Orange dots represent areas where at least 7 kids were injured by cars. Dots in black mean a child was killed by a car within 5 blocks of that site. DOT data.
Parents and safety advocates recognize that almost every child that's injured could just as easily be killed. And for those who have lost a child the grief never ends. Audrey Anderson lost her 14-year-old son, Andre, to a speeding driver. Andre was bicycling to a friend's house in Rockaway Beach, Queens when the driver of an SUV swerved and struck him from behind. The child never saw it coming. The NYPD arrived to the scene but did not test the driver for drinking while driving. An investigation into Andre's death was never launched. "Someone always has to die in order for changes to be made," says Anderson. "Unfortunately I lost mine like that."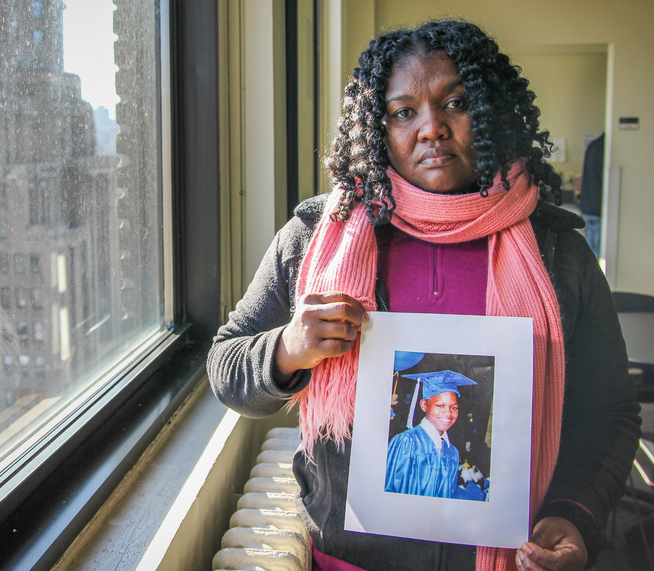 (Audrey Anderson holds a picture of her son Andre, killed by a speeding car in the Rockaways)
Residents, parents, and activists in these accident-prone New York City areas say they need a safety facelift. Mayor Bill de Blasio's Vision Zero campaign to eliminate pedestrian fatalities is a start, and one backed by many families who have lost children to traffic crashes. But most of the advocacy work is being done by residents with little knowledge about street design or access to data about pedestrian injuries.
Efforts by the New York City Police Department (NYPD) and the New York City Department of Transportation (DOT) appear to make a difference, but front line police culture favors taking action on violent crime more than traffic enforcement—even though the data shows more kids getting hit by cars than being shot by guns. Mayor Bill de Blasio's Vision Zero campaign launched this year to begin tackling these problems, is a good start. Still, pedestrian safety programs continue to be more prevalent in affluent communities where parents complain the loudest, seemingly at the expense of children in low-income boroughs, where accident rates are the highest. In the low-income community of Prospect-Lefferts Gardens, for example, annual rates of child injury are seven times higher than in the wealthy neighborhood of Park Slope, one of the communities that has received the most police attention to street safety.
Residents are on guard but resigned to the danger
You can hear children laughing from outside the Head Start childcare center in Flatbush. At dismissal time, staff help children gather lunch boxes and backpacks to prepare for their parents' arrival. Some cluster in supervisor Stacy Rose-McFarland's room, where they wait for moms and dads who haven't yet gotten off work. Soon the kids will pour out onto the streets.
Ten children were hit by cars and injured a few yards away from the daycare's entrance between 2005 and 2012, a Gotham Gazette analysis found. One block west, a child died. "It's a really tough corner," says Rose-McFarland of the intersection of Glenwood Road and Nostrand Avenue. Afternoon dismissal time is the most troubling for the center's staff, she says. In the past, safety officers from the 67th precinct helped direct traffic and dissuaded kids from darting between cars. But sometime last year, the officers stopped showing up, she says. "I wish they could be here, not the whole eight hours or anything, but just around dismissal time, when we're all letting the kids out at once."
A few blocks away, outside Flatbush Public School 269, ask any local whether she has witnessed a kid getting hit by a car and the answer is often yes.
Near the school between Nostrand and Foster Avenues, children inhabit a world of their own. Inside the playground on the school's corner, kids use swings, crawl on a jungle gym, and skid down slides. At 4:00 p.m. on a warm Wednesday afternoon, the place is abuzz with parents carting toddlers in strollers and young boys riding bikes in the street.
Parents and teachers know the two streets that run alongside the park are dangerous. Between 2005 and 2012, 34 children were injured within a block of the playground. Residents say a lot of crashes happen when cars travelling the wrong way on Nostrand collide with other cars, or even the B44 bus. "Happens all the time," said Remzi Deli owner Hamood Awad when I asked him if he'd seen many crashes. "Lots of cabbies. They realize they're going the wrong way mid-block and then suddenly make a turn."
It doesn't help that the street is a major thoroughfare for the B44 bus, which is supposed to stay within the confines of a painted red lane in the middle of Nostrand Avenue. School buses and delivery trucks share the road here too. On the sidewalks lining the street, vendors sell everything from ice cream to peanuts, adding to the number of people traveling through the area on foot.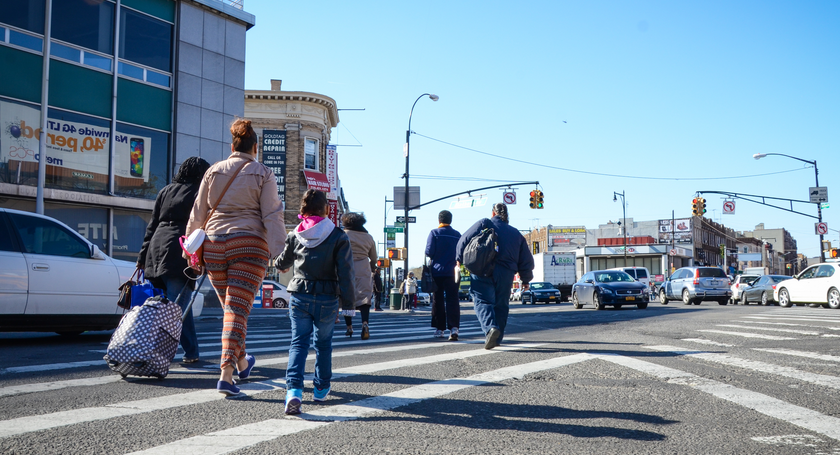 (Pedestrians cross at Nostrand Ave and Avenue H, Flatbush, Brooklyn)
Yolanda Simmons, the police officer who guards PS 269 on weekday afternoons, says people in the neighborhood are aware of the problem, but no one's done anything to change it. "It's the drivers," says Simmons. "People don't understand that if buses and cars are coming this way, they shouldn't be going that way. I've seen trucks...phew! Some close calls."
Niola Victor, a parent who's lived in the area for two decades, said she's also seen a few crashes. "They're always coming from the opposite way. It's ridiculous! I've seen a few kids hit like that," she said. Victor said she also saw an older man get hit and killed a few months ago. "He died right there," she said, pointing at Nostrand Avenue, where the white crosswalk paint was wearing away.
NYPD: Dismissive and defensive
A majority of pedestrian crashes in Brooklyn and the Bronx happen along the invisible lines that distinguish one police precinct from another. Midwood's 7-0, or 70th precinct, cuts a jagged staircase-shape where it meets Flatbush's 6-7 along Nostrand between the intersection near Rose-McFarland and Foster Avenue a few blocks north. In total in those precincts, more than 900 kids were hurt by cars between 2005 and 2012. Ten were killed. Daycare administrators and residents in the area say they know it is dangerous, but are so used to the hazards they no longer feel empowered to do anything about them. Joshua Miller, who has lived in Flatbush for 22 years, says he's gotten used to seeing or hearing about kids getting hit. "Every month it's something," Miller says. "Just last year I saw two people hit. The worst part is that it's a school zone!"
This reporter made numerous attempts to speak to the NYPD Deputy Commissioner of Public Information, the person charged with informing the community about matters of public interest. No one from the office responded.
Some of the police officers who did discuss the problem sometimes seemed to think their job was to tackle "real crime" like murder and shootings, not something as tedious as traffic safety. In February at the Flatbush 67th precinct headquarters requests were made for more information on child pedestrian safety in the area, and an officer named Mike Bresnahan responded, "We do guns here. They do jaywalking on the Upper East Side."
But the data shows exponentially more area kids being harmed by drivers than gunmen. The neighborhood on the border of Midwood and Flatbush saw 15 people of any age shot in 2013. Each year, the average number of children hit by cars in the area is 50.
"The cops say, 'Well our officers are there for crime,'" says Richard Sargeant, who leads a community block group in Flatbush. "But you have [vehicles] flying down the road. That's a crime too." The same is true in other neighborhoods where kids are getting hit by cars. In Prospect-Lefferts Gardens, Brooklyn and Soundview, the Bronx, an average of 11 people were shot in each precinct in 2013. But each year, the average number of children hit by cars in those precincts is 50.
Officer Robert Thybulle, who handles community affairs in the 67th precinct, spoke at length about a single biking and walking safety event the precinct is hosting this summer. The goal of the event is to prevent accidents by educating pedestrians and cyclists. Thybulle didn't say anything about pursuing the drivers who are causing the accidents. Most of them are speeding and engaging in other reckless behavior while behind the wheel. Between 1995 and 2009, more than 220,000 pedestrians were injured; over 2,000 were killed, according to an analysis of NYPD data from Transportation Alternatives. Of the 2,000 crashes reported to the police in which a pedestrian was killed, the driver was breaking at least one traffic law at the time of the crash.
Thybulle did say the police need to be more proactive. "The Police Department is guilty of when something happens we react and then the issue dies," said Thybulle. "We recognize that the amount of pedestrians and cyclists hit is a lot."
NYPD officers were defensive and made excuses at a recent community event where they were pressed by residents about pedestrian safety. The meeting, at Brooklyn College in Flatbush, was organized by the Department of Transportation and the NYPD as part of the mayor's new Vision Zero task force. At the event, officers and transportation department employees sat around tables with residents. At one point, Frank Esquilin, who chairs a civic organization in the Crown Heights-Prospect Lefferts Gardens area, said that although the police had been flooding the community with cops, he never saw any enforcing traffic rules.
"During one of these situations you've got cops everywhere," said Esquilin to the officers. "So why aren't these cops doing something about all the people speeding?"
Police Officer Ari Dubitsky, who works in the area's 70th precinct, replied that the officers who patrol the area are part of a crime unit called Project Impact, and are usually patrolling on foot. That means they don't have a car to enforce traffic violations, he said. "You're asking those cops to chase down a car," said Dubitsky. "They can't do that without their own vehicle."
NYPD collects its own numbers on pedestrian injuries and deaths, which Thybulle said can be shared with the Department of Transportation. One metric used is the Accident-Prone Locations (APL) protocol, a point-based system introduced in the 1990s but abandoned until 2010, when it was reinstated by newly-appointed NYPD Chief of Transportation James Fuller. The protocol, in which the NYPD data team gives intersections one point for each crash that occurs there, two points for a crash in which someone is injured, and three points for a fatal crash, allows the department to deploy safety officers to monitor traffic and issue tickets in the most dangerous areas. Thybulle says his precinct uses the protocol and sends safety officers to schools.
This reporter shared the Gotham Gazette analysis of child pedestrian accidents with Thybulle, and he said the police have identified some of the same areas and received community complaints about them. In response, he said they use the APL protocol to send a group of safety officers to the area to enforce traffic laws and write summonses. Unfortunately, one of the most dangerous intersections in New York City doesn't seem to be getting special police attention. Rose-McFarland's building is a daycare center and not a K-12 school, so Thybulle said it may have been removed from the list of priority locations.
Affluent activists get attention
On a windy November evening, Grace Freedman took the candle passed to her and cupped her hand around its flame to shield it from the chilly breeze that whipped hair and chapped lips. Freedman stood huddled amongst a familiar crowd of parents and children gathered on the corner of Fort Greene Park in Brooklyn. Those who didn't carry candles held handwritten signs with slogans like "Slow down!'' and "Kids live here" etched in large black letters.
Freedman, who is self-employed, is a pedestrian safety advocate in the affluent, largely white-collar community of Park Slope, where an average of one out of every 1,000 children is injured by motorists each year—not even approaching the rate of the most dangerous places for child-pedestrians in the city. In Prospect-Lefferts Gardens, for example, seven out of every 1,000 kids are injured by a car annually. In Soundview, the Bronx, five out of every 1,000 children are hit and hurt by a car.
Although she began holding meetings of parents concerned about street safety years ago, Freedman watched interest in pedestrian activism skyrocket in recent months after one resident's child was hit and killed by a vehicle. Last year, Freedman and a coalition of activists sent a petition to the Department of Transportation demanding that it designate parts of their community as neighborhood slow zones, spaces where speeds are reduced from 35 to 20 miles per hour. "If a neighborhood wants it," Freedman told me, "why can't they have it?"
Park Slope street safety advocate Eric McClure said he talked to a Department of Transportation official about reducing speed limits. But he was told there hadn't been enough pedestrian injuries or deaths to warrant action. Then in 2013 and earlier this year, some wealthy, or what he calls "high profile" children were hit by cars. The death of 12-year-old Sammy Eckstein Cohen in October became a catalyst. His parents began attending city council meetings, lobbying representatives from the Department of Transportation and the NYPD, and speaking at pedestrian safety rallies. The Department of Transportation shifted into high gear, McClure says.
In January, McClure said his Department of Transportation contact suggested he try petitioning the group again. This time, he was successful: The Department of Transportation reduced the speed limit on Prospect Park West from 30 to 25 miles per hour. McClure attributes the change to a few parents who have the connections and time to channel their grief for an innocent child into activism. "It's unfortunate that this is the way it is. But that's reality," says McClure.
The week of Jan. 21, the Department of Transportation and the NYPD sent a team of plain-clothes police officers from Park Slope's 78th precinct to ticket aggressive drivers who failed to yield to pedestrians crossing the street legally. In the course of the two-day sting operation, the officers wrote 17 summonses, almost as many as the 26 they issued in the entire month prior. For the month of January, police there wrote 42 summons for failing to yield to a pedestrian. That same month in Flatbush's much larger 67th precinct, where the child injury rate is three times higher, police issued seven summonses. Since then, the total number of summonses issued in Park Slope—which is half the size of Flatbush when the area's large park is excluded—still dwarfs the amount issued in Flatbush. Between January and April 2014 police in Park Slope wrote 112 summonses for failing to yield to a pedestrian. In Flatbush, they issued 91.
Rob Viola, a senior project manager in the Department of Transportation's traffic and planning division, admits that more active groups get the agency's attention. "The thing is, the more organized groups and neighborhoods are, and the more money the neighborhood has, the more impact they'll have. They have more money, they know who to talk to," says Viola.
Blaming the Victim
Paul Steely White leads the city's authority on bicycling and walking advocacy, a non-profit group called Transportation Alternatives. White says the group's biggest challenge in preventing pedestrian crashes is "overcoming the erroneous perception that pedestrians have it coming, that there's nothing we can do." Because law enforcement officials often blame the victim, he says, it is difficult to encourage them to take preventive action.
But pedestrian error isn't always the reason for a crash. Most involve a traffic violation on the part of the driver—such as speeding or running a red light. And data from police reports shows that unsafe driver behavior is more likely to occur on wide-open, multi-lane roads where high speeds are permitted or on smaller streets where low speeds are not enforced.
There is a minority of instances where driver traffic violations are not a factor. Usually, these involve children who, as scientific studies have shown are unable to accurately judge speed, dart in front of vehicles or cross the street mid-block rather than in a crosswalk. This is more likely to occur if a neighborhood lacks sidewalks, or where high-density family housing (where lots of children live) abuts a major thoroughfare.
White says streets should be built in a way that protects residents from risk rather than placing them in the line of danger. "Even in the small percentage of cases—and I want to stress that it's a very small percentage—where you have kids darting out into traffic, we can prevent those by making our streets more forgiving to the routine errors people are going to make."
The burden is greater in low-income neighborhoods, where White says he sees "a disproportionate number of children dying from traffic crashes." In its report on child pedestrian crashes, Transportation Alternatives found that in low-income neighborhoods where public housing is located near high-speed streets, protracted 'super blocks' require that pedestrians walk long distances—up to a third of a mile, in some cases—to reach a streetlight with a crosswalk. As a result, walking anywhere without breaking the law is impossible. "We've criminalized walking," says White.
Youth Pedestrian Deaths, 2005-2012
Using science to make streets safe
In his previous career, Columbia University epidemiologist Charles DiMaggio was an emergency room physician's assistant in Queens in the 1970s. There he became accustomed to seeing injury firsthand. But something felt strange and oddly disturbing, he says, about the number of children he saw who'd been hit by a car or truck. "I knew something was going on," says DiMaggio. It was a turning point for DiMaggio, who decided he was more concerned with preventing these tragedies than treating them. So the Columbia University graduate student took on an extra load of classes and began working the redeye shift at the ER. Years later, he graduated with a PhD in epidemiology, which looks at injury and illness across communities, rather than in individuals.
Although pedestrian deaths are drastically lower today than they were in the 1970s, DiMaggio says the numbers are still concerning, especially for children. He said the Gotham Gazette data analysis yielded results that were consistent with his own findings. Two clusters of child injuries and deaths in Brooklyn — in Flatbush and Prospect-Lefferts Gardens — and two more in the South Bronx, he said.
In 2001, DiMaggio and a team of urban planners embarked on a mission to see if they could build safer streets. They focused on 130 New York City school zones where numerous children had been hit by cars. There they constructed sidewalk extensions, added streetlights, stop signs, and crosswalks, and held traffic safety education workshops with kids and parents. The process wasn't easy. It required time and collaboration across several city agencies.
In 2012, DiMaggio released the results of his own Safe Routes to School program. Child pedestrian injury rates had plummeted, falling to half their original numbers. "We showed that kids can still be kids," says DiMaggio. "They can walk and bike to school and be safe." The project's federal funding expired last year, however, and no plans exist to extend the initiative to areas beyond the immediate vicinity of the selected schools.
The hardest part of studying child pedestrian injuries is realizing that they are preventable, says DiMaggio. "If you package things in a way they don't break," he says, "you don't have to worry about dropping them."
***
Erin Brodwin is a journalist who writes about the intersection between science and society. She's based in Brooklyn, New York. You can check out some of her other work at erbrod.com
On Twitter: @erbrod