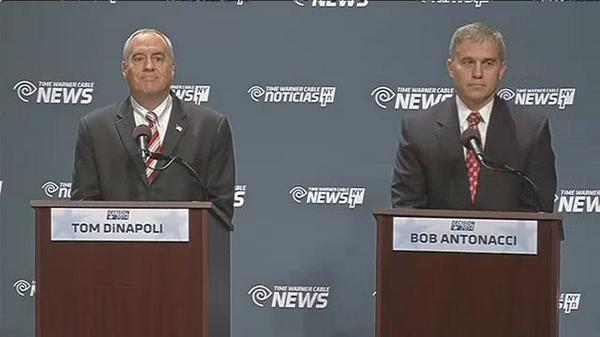 Comptroller Tom DiNapoli, left, and challenger Bob Antonacci (photo: @InsideCityHall)
---
New York City - State Comptroller Tom DiNapoli, a Democrat, and his Republican challenger Bob Antonacci outlined different views of the role of the Comptroller in a televised debate Wednesday night.
DiNapoli touted and defended his record as a strong fiscal steward for the state, but Antonacci, the Onondaga County Comptroller and a certified public accountant, said DiNapoli had overreached with activist investing. In a mostly cordial debate, the issue of "shareholder activism" drew a clear distinction between the two candidates.
An important but not widely known role, the Comptroller is the sole trustee of the state's $176 billion pension fund and is in charge of auditing and reviewing state contracts.
Of the likely voters polled by Siena College late last month, 52% didn't have an opinion about DiNapoli, even though he's been in statewide office for seven years. Nonetheless, the incumbent is a clear favorite with a large financial advantage and less than three weeks before Election Day. A poll released last week by Quinnipiac University had DiNapoli up 56% to Antonacci's 28%, and Siena found similar numbers.
During the hourlong debate at Baruch College, which was broadcast live on NY1, DiNapoli said the Comptroller should have an active role in advocating for socially conscious practices by companies the state pension fund invests in.
He said once the State is invested in a company, he encourages companies to be "good corporate citizens" in terms of environmental issues, worker rights, and LGBT rights, in part to protect against costly lawsuits and protect the state's investment.
"We want to hold the companies that we're invested in accountable," DiNapoli said during the debate.
Speaking with reporters afterward, DiNapoli continued on the subject: "Shareholder activism in the furtherance of protecting the fund is essential and necessary," he explained when asked to elaborate by Gotham Gazette.
But Antonacci said that the Comptroller should only be focused on returns, not ideological issues.
"We're going to base investments on one thing: returns to the taxpayers," Antonacci said about the office if he were to be elected.
According to Antonacci, DiNapoli has made more activist shareholder proposals than many other institutional fund trustees. He said funds with high rates of shareholder activism tend to do worse than funds that don't.
"His activism is costing the beneficiaries of this fund," Antonacci said. "He's got to get back to managing the fund."
At the same time, Antonacci said DiNapoli should be more active at auditing the State Legislature and the Governor. He attacked the comptroller for signing off on a settlement with two women who accused disgraced State Assembly Member Vito Lopez of sexual harassment. Lopez resigned from office amid the controversy.
DiNapoli said he didn't have a choice. "We can't pick and choose when there's a legal settlement," he said, explaining that the Comptroller can only seek to root out fraud, not object on moral grounds when two parties have reached an agreement.
DiNapoli touted what he called a record of fighting public corruption and his partnership with State Attorney General Eric Schneiderman (also a Democratic incumbent seeking re-election) to recover stolen money, as well as his independence from the "second floor"—the governor's office.
"One of the key attributes of this office ... is independence," DiNapoli said. "You don't get any medals for being cozy" with the Governor.
While the race was intended to pilot a new state public campaign finance system - candidates that raised $200,000 in small dollar contributions could qualify for $1.2 million in public funds - it seems likely that neither candidate will collect the public money.
DiNapoli, who fought for public financing as an assembly member, declined to participate in the system for what he says is a variety of reasons: including that it would mean returning or ignoring for this cycle thousands of dollars in contributions he received in the past four years. DiNapoli believes that the governor and the State Legislature passed the public financing pilot program hurriedly, and should have delayed it until the 2018 election cycle.
Bucking many Republicans who oppose the system, Antonacci signed up for public financing – but as he acknowledged in the debate, he will likely fall short of the $200,000 mark and not earn any public matching funds.
Both candidates said they still thought that public financing of state elections was a good idea and a program that should be expanded.
"We have to do something to shake up the incumbency protection agency in Albany," Antonacci said. "Maybe public financing can do that."
"What I hope does not happen as a result of this election is that people who are against public financing say, 'See, this doesn't work,'" DiNapoli said. He now has $2.75 million in campaign cash.
Delving into discount rates and investment diversification, the debate was somewhat technical - as one would expect for an office with the Comptroller's responsibilities - and fairly genial, with Antonacci several times calling DiNapoli a "gentleman" for agreeing to debate him despite his big lead in the polls. It appears it will be the only debate between the candidates before the Nov. 4 election.
Schneiderman and his Republican opponent, John Cahill, will hold a one-on-one televised debate on October 30. Governor Andrew Cuomo, another Democratic incumbent, has declined to do the same with his Republican challenger Rob Astorino, although they will debate along with two additional candidates on Oct. 22.
Antonacci said Cuomo should debate Astorino one-on-one, but DiNapoli declined to say what the governor should do.
"I think debates are always helpful to political discourse and more debates like this are positive," DiNapoli told Gotham Gazette. "I'm proud we were the first set of candidates to come forward and do this."
***
by Casey Tolan, Gotham Gazette
@CaseyTolan