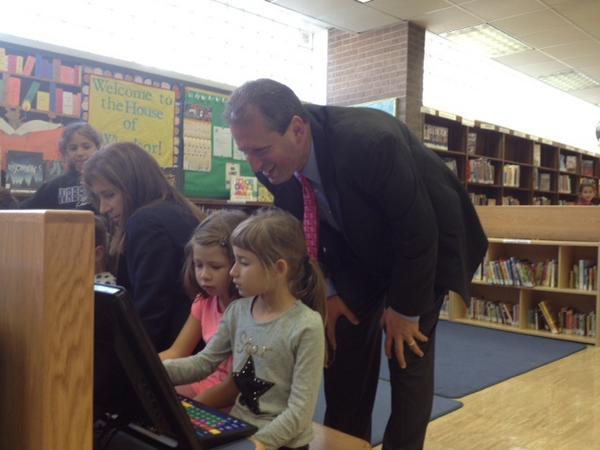 Council Member Brad Lander visits a school (photo: @BradLander)
---
Schools in New York State, and in New York City in particular, are the most segregated in the entire country, and the New York City Council is taking measures to fight that trend.
At a forum held at Brooklyn's John Jay Educational Campus in June, co-sponsored by Council Members Brad Lander and Carlos Menchaca, the District 15 Community Education Council (CEC) adopted a Resolution on Diversity to lobby the Department of Education into action against school segregation. Lander pointed out that segregation was a problem in his district. Unfortunately, his district is just a slice of a bigger pie.
A report released by the UCLA Civil Rights Project in March found that, in the last two decades, New York has become home to the most segregated schools in the country. According to the report, in New York City, out of the 32 school districts, 19 had 10% or less white students in 2010. Nearly three out of four charter schools (73%) were considered "apartheid" schools with less than 1% white enrollment, and 90% percent were "intensely segregated" (less than 10% white enrollment).
Before Wednesday's full-body Stated meeting of the City Council, at 11:30 a.m. Council Member Lander will announce from the steps of City Hall new legislation that will bring the Council's focus to promoting diversity and setting new goals for integrating city schools.
Lander and his colleagues will introduce a bill and two resolutions to the Council on Wednesday. The bill will direct the Department of Education (DOE) to report on the measures taken and progress made in increasing diversity in city schools, including charter schools and special programs. One resolution will call for the DOE to acknowledge prioritization of school diversity in decisions regarding admission practices, new schools, rezoning and strategies for improvement. The other resolution calls on the State to change the law that dictates how the city's specialized high schools run their admissions. According to Capital New York, the bill being introduced by Lander also has co-sponsor Council Members Inez Barron, Ritchie Torres, Daniel Dromm, Ydanis Rodriguez, Mark Levine, Mark Treyger and Alan Maisel. Dromm is the chair of the Council's education committee.
Lander and his colleagues, it seems, are hoping to build off momentum gained in the last few years in which more districts have been dealing with complicated issues of segregation in the face of gentrification and an affordability crisis, especially when it comes to housing.
In 2012, the Community Education Council (CEC) from District 13 and from District 15 in Brooklyn collaborated to create a new admissions process for an expanded facility that would house PS 133. The first-of-its-kind plan scrapped considerations of zone and choice and instead established admissions based on socioeconomic factors. PS 133 became an 'unzoned' school with applicants from both districts; and priority was given in 35% of seats to English Language Learners, or those eligible for free and reduced price lunch.
Earlier, in 2010, when the DOE announced plans for a new school in Kensington in District 15, community residents and educators recognized that accompanying rezoning could affect the existing PS 130. Both schools would have become less diverse with the neighborhood split in two. But after consultation with the District 15 CEC, the DOE announced a plan this month which alleviated concerns about the soon-to-open PS 437. In effect, PS 130 will become a 'split-sited' school with different grades attending classes in separate buildings, some of which will be in the new school.
"Diverse schools and diverse classrooms offer children skills for citizenship, higher education and employment in the 21st century," said David Tipson, director, New York Appleseed, a non-profit advocacy group. "By 2040, this country's going to be minority white. Our children need to be prepared for that. Already, in Kindergarten this year, for the first time in U.S. history, a majority of students were children of color."
Advocates for reform have hailed the Council's move. Hazel Dukes, president of the NAACP New York State Conference, said she was "elated" to hear that the Council is focusing on school segregation. "I think it's long overdue since Brown v. Board of Education," she said, referring to the landmark 1954 Supreme Court decision that declared segregated public schools as unconstitutional. "It's about time this issue became one of the priorities of the Department of Education and the City Council. Education is not just learning how to take a test. A well-rounded individual should be exposed to different cultures and different forms of art."
Kesi Foster, coordinator of the Urban Youth Collaborative (UYC) said, "We're really excited that the new education committee chaired by Daniel Dromm is taking on issues of equity within the system. This is one of those issues that is going to have a big impact." UYC is an umbrella organization of youth groups that campaigns for education reform.
Next month, the Council's education committee will hold a hearing on the new legislation and to discuss proposed changes to DOE policy. A date has not been officially set, but discussions surround the third week in November.
***
by Samar Khurshid, Gotham Gazette
@SamarKhurshid