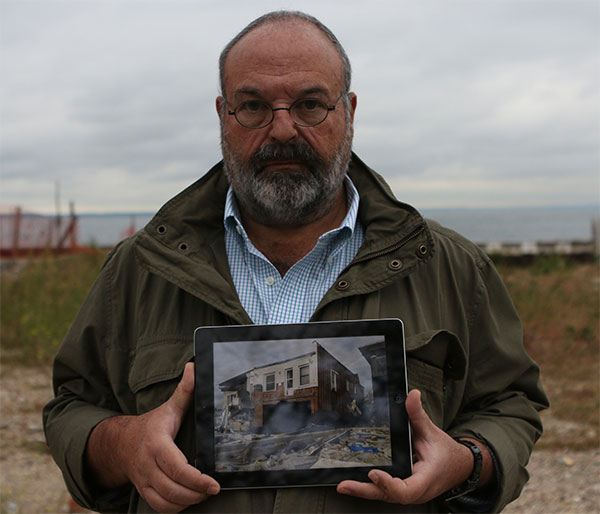 Seagate resident Jack Suben stands in the vacant lot of his former home (photo: Natasha Scully)
---
CONEY ISLAND — It has been nearly two years since Superstorm Sandy destroyed his family's home, but much of Jack Suben's life is still up in the air.
Suben, 60, an architect and Seagate neighborhood resident, says he has struggled to regain everything he lost, including the Atlantic Avenue beach-front home — value estimated at $600,000 — where he and his family of five lived for the previous 11 years.
But his fate, like that of thousands of New Yorkers, rests in the hands of the city's Build it Back program, established by former-Mayor Michael Bloomberg to help rebuild or restore the lost or damaged homes of local Sandy victims.
The prospects haven't been good. Earlier this month, the city's Department of Investigation released a report on Build it Back, showing 90 percent of the program's 14,000 applicants have received no aid at all since Sandy. Another 6,000 applicants simply gave up or stopped responding.
Mayor Bill de Blasio is pushing hard to get the program back on track. Speaking at a press conference in Broad Channel, Queens on Monday, de Blasio listed Build it Back accomplishments since he appointed current Office of Housing Recovery Director Amy Peterson to take over the program in March.
According to de Blasio, nearly half of active applications, about 6,400, have now been made an offer by the program, the vast majority since the start of the year. In addition, nearly 4,000 have accepted offers, 1,500-plus have started design, 727 have started construction and another 878 have gotten reimbursement checks. All those numbers stood at zero at the beginning of the year.
The city also has committed to new goals by year's end, said the mayor. It plans 1,000 construction starts and 1,500 reimbursement checks by December 31.
"Every check means a family is getting back on their feet," de Blasio said. "Every construction start means a family will get back in their homes."
So far, Suben's family is not one of them. Earlier this year, he signed his mortgage over to Build it Back, attempting to recoup its full value after only receiving a combined $300,000 from his insurers due to federal restrictions on flood insurance payouts.
Suben says that after Sandy he was forced to battle with all the entities that were supposed to be helping him in his time of need. "This whole experience has been the greatest quintessential cluster[expletive] of all time," he told Gotham Gazette. "I've never seen so much incompetence in so many places as a result of this storm."
Suben haggled for months with his flood and homeowners insurance providers. He fought his mortgage provider for trying to force him to make payments he legally deferred thanks to a statewide moratorium for Sandy victims.
Since the moratorium ended in 2013, Suben, who along with his wife, Elaine, earns a household income of roughly $130,000 annually, has paid monthly rent of $2,800 for a two-bedroom apartment, while also paying a $1,800 monthly mortgage on a house that no longer exists.
"That's the killer," Suben adds. "I've had to cash in two-thirds of my retirement account just to survive."
His Build it Back troubles began in May of 2013 when representatives from the agency asked him and his wife to travel to their office and sign up for the program.
"They didn't know what they were doing," Suben says of the agency staffers he encountered. "They hadn't even been trained as to how to use the equipment. I had to show the guy who was there how to use the computer. He could barely type."
Although he is dissatisfied with Build it Back's performance thus far, Suben still believes it will come through for him.
"I can't afford for them to fail," he says emphatically. "I'm too invested in them. I've signed my life away."
Other South Brooklyn residents have similar stories. Rocco Brescia's 36th Street home near Kaiser Park was also severely damaged by Sandy. This past June, Build It Back's Peterson herself visited Brescia's home with a team, promising to add a third floor and turn his first floor into a car port to protect his house from future Sandy-like storms.
Five months later, no construction has taken place and no relief funds have been received, according to Brescia. Build it Back declined to comment on Brescia's claims.
"I have neighbors who are all in the same predicament," Brescia says. "They all signed up for [Build it Back], but we haven't heard anything. They say they've rebuilt 500 homes, but not in [this] area code."
David Wynn, president of the Seagate Homeowners Association, explains his neighborhood had 47 homeowners severely affected by Sandy and 20 of them have not been able to move back.
"We're coming up to our third hurricane season since Sandy and nothing has changed," he says. "We still have the same infrastructure problems and damage we had [two] seasons ago. That's pretty bad."
On Tuesday, Build it Back Director Amy Peterson hosted a meeting with Seagate neighborhood homeowners at a nearby senior citizen rec center, the second such meeting in the last six weeks. Suben's wife, Elaine, and other family members attended along with at least three other families from the neighborhood. Each met individually with construction and design specialists to discuss plans to rebuild their homes.
The Suben family expressed relief at the meeting, after months of inaction. "A meeting like this makes us more hopeful to see a time frame," says Suben's daughter Mackenzie, who recently moved home after graduating from college and is sleeping in a bedroom with her two adult brothers. "It's just like we're trying to climb lists. That's all we're doing. It's definitely frustrating. We try not to think about it too much."
Peterson said the ongoing meetings are a way to keep homeowners engaged and informed throughout the process. She added that the Subens and other Seagate homeowners are in the design phase right now, but that construction on their homes should start some time next year.
"We are out in the community almost every day, every night," Peterson notes. "We have a long way to go, but we're really making progress for homeowners. This is a good example that we're actually moving these homeowners forward."
***
by Chauncey Alcorn for Gotham Gazette