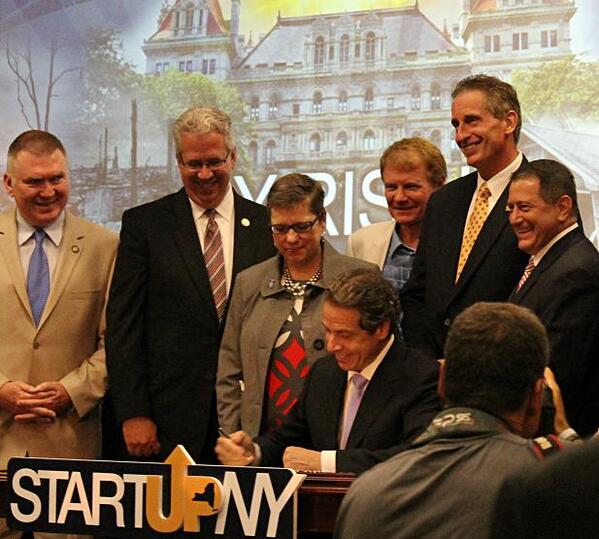 Gov. Cuomo at a Start-Up NY event (photo: @SenTedObrien)
---
The following is part of our series, The Cuomo Record, examining incumbent Democratic Governor Andrew Cuomo's first term as he seeks re-election heading to Election Day, November 4
If you've glanced at a television this year you've probably seen a commercial for Start-Up NY, a state program that gives tax-free status to certain businesses that locate in or around a New York college campus. "The new New York is open" touts the announcer over the images of opening factory doors, technicians in clean suits and men in hardhats pointing at computer screens.
This is the image Gov. Andrew Cuomo wants not only New Yorkers but people all over the country to get of New York: a state with a newly revived, thriving business economy. It's a message Cuomo so badly wants to convey that records show the State has spent over $30 million on commercials airing both in and out of the state to promote "the new New York."
In 2011, Cuomo took office promising to get the state's fiscal house in order, reduce taxes, and create a better business climate.
According to some, including the governor himself, Cuomo has successfully done all those things. As he seeks re-election, Cuomo touts having overseen a renaissance of the New York economy by implementing a property tax cap; creating regional councils that have allocated $2 billion in state cash for local economic development; attracting new businesses with Start-Up NY; addressing upstate's flagging economy by allowing for casinos; and infusing $1 billion into development in Buffalo.
On October 21, the Cuomo administration announced 17 more businesses that would be expanding or locating in New York under the Start-Up program. Since it's launch, the administration noted, 41 businesses had joined the program, "supporting 1,750 new jobs and $77 million in investment."
During the lone gubernatorial debate, on October 22, Cuomo cited "500,000" jobs created during his term. A recent statement from the Cuomo administration noted "511,900 private sector jobs added since Governor Cuomo took office."
In that October 16 statement, Cuomo said, "When this administration took office four years ago, taxes were out of control and jobs and businesses were leaving as a result. Today, we're seeing a different New York: one that has put its fiscal house in order and is continuing to create new opportunities every day."
The Cuomo administration touts that the governor has overseen the lowering of the unemployment rate from a 16-year high of 8.2 percent in May 2009 to 6.2 percent this month, guided the state to improved bond ratings, and delivered four on-time budgets, giving the business community much more confidence in the State. New York was famous for going months past the April 1 budget due date for decades.
In fact, Cuomo, a Democrat, won an award from the conservative Tax Foundation this month for his administration's "commitment to expanding the corporate tax base and reducing the income tax rate to its lowest level since 1968. As these reforms phase in, New York's ranking for its corporate tax system as part of the State Business Tax Climate Index will improve from 25th place to 4th best in the nation."
The same foundation named New York the least friendly state for business in 2013 and was slammed previously as a 'right-wing think tank" by Cuomo's close advisor.
Rob Astorino, Cuomo's Republican opponent, has run on a slogan that "New York is losing," citing a high-tax climate that he says has killed small business and driven New Yorkers to leave the state in record numbers. Astorino says that the state is 50 out of 50 in terms of being "business friendly."
Astorino and his supporters have attacked Cuomo's investment of $1 billion of state funds in Buffalo as a political shell game wherein Cuomo is diverting state cash to an area where he was politically vulnerable in his last two statewide elections.
Cuomo supporters paint a picture of a governor who has used fiscal austerity and prudence to turn around a dreary state economy made worse by the national recession.
Cuomo critics insist that no single elected official can take credit for the rise or fall of the state's economy, that the nation's economy has improved as a whole since 2008, and that jobs created in the state mostly originate from New York City, which was not nearly as damaged by the recession as the rest of the state or country and where Cuomo has not necessarily focused policy.
Critics argue Cuomo's fiscal austerity measures have actually restricted job growth upstate, where local governments are hamstrung by the property tax cap, and that Cuomo has used state funds in a political manner to boost his standing in upstate and western NY - where the economies have remained stagnant despite what some say are superficial investments.
"I never give elected officials broad credit or blame for the economy," said James Parrott of the non-partisan Fiscal Policy Institute. Parrott says it's clear to him that "most job growth occurred in New York City and Long Island. There was very little upstate or north of the Bronx. So there is a real unevenness in the recovery."
Kathryn Wylde of The Partnership for New York City, a pro-business group that has supported a number of Cuomo's economic initiatives, said that she thinks one of Cuomo's biggest accomplishments has been improving the state's business climate by simplifying taxes and focusing on collaboration between the State and businesses in economic development.
Wylde says Cuomo's decision to end the previous state economic development strategy called Empire Zones that handed out state cash to businesses was welcomed by the business community.
"He took a non-transparent approach doling out state largesse to developers without evidence of return on investment and put in place a far more transparent method of handing out billions through regional economic development councils around the state where community interests actually get to see the process. These councils have a role in the selection of projects and there is accountability in the process."
Parrott said that he thinks Cuomo's overhaul of how the State doles out economic development cash has been a net positive. "Its certainly sensible to have these local councils advocate for these projects," said Parrott.
Parrott is also encouraged by Cuomo's commitment to drawing high-tech to the state through investments in nanotechnology and the innovation hotspot competition, but he says he isn't sure current efforts are enough to bolster cutting edge industries and that the State should be looking to ensure return for its investments.
Astorino has slammed Start-Up NY as "a joke" because it doesn't address the needs of existing business in the state. Wylde however, insists the program has been a smashing success. "Start-Up NY has come under attack, but it is a brilliant program and it is key in an innovation economy to create partnerships between universities and industry. This is a game-changer because the state's universities have been remote to what's happening on the frontlines of industry."
Parrott said that he appreciates that Cuomo thinks government can have a positive impact on the economy. "Its very positive that the governor has a perspective on the economy that what he does makes a difference compared to [former Gov. George] Pataki, who kept cutting taxes until the economy improved and it never did."
And yet, Parrott is concerned that Cuomo thinks he too can cut taxes to improve the economy. Parrott said he thinks Cuomo's property tax cap and two percent cap on budget growth has actually damaged the economies of a number of upstate communities - as have his tough negotiations with state unions that have seen layoffs and cuts to benefits.
"The cuts to state government employment and the two percent spending cap and property tax cap are bad news for local governments. They are losing middle income government jobs in areas that aren't seeing private sector job growth."
Wylde said that Cuomo was brave to come in and cut tough deals with unions while capping property taxes and budget growth.
"The governor came in with a very honest and open assessment of what was wrong with Albany from a budgetary and fiscal standpoint," said Wylde. "He committed to restrained budget spending when it had been growing by 10 to 11 percent a year and kept it down to two percent a year. Upstate he capped property taxes as a way of disciplining local governments and he was clear about the need for negotiating pension reform and labor contracts to a significant political cost in some sectors. He laid out this agenda going in and he stuck to it."
Cuomo felt significant backlash from unions and the Left during his Democratic primary against Fordham law professor Zephyr Teachout. A number of Cuomo confidants blamed his loss in several upstate counties, including Albany and Ulster, on his tough deals with unions. Both those areas are also home to strong progressive blocs whose members feel Cuomo has been on the wrong side of debates over the minimum wage.
Cuomo resisted a major increase to the minimum wage during his first term in office - finally agreeing to raise the wage to $8 an hour and an end-of-2015 increase to $9. He also dismissed Mayor Bill de Blasio's initial push to allow municipalities to increase their minimum wage independently of the State. However, Cuomo reversed himself in an agreement to receive the Working Families Party endorsement this spring. Cuomo now says he supports raising the wage to $10.10 an hour (a number President Obama has suggested nationally), indexing it to inflation, and allowing localities to increase the wage up to 30 percent over the state minimum.
Parrott's group steadfastly supports the increase. "I think he's been too conservative," said Parrott on Cuomo and the wage. Meanwhile, Wylde's group stands against allowing localities to set different minimum wages. Wylde said most employers agree New York's cost of living justifies a higher wage but they want it to be consistent across the state.
The Partnership for New York City does not feel Cuomo took care of all their concerns in his first term. Most importantly, Wylde said the business community would like to see the governor work on cutting regulatory red tape. "There is concern that the regulatory environment in the state is stifling. The State has been slow to update regulations and some of this stuff goes back to the pen and pencil days."
It so happens that Astorino has championed regulatory reforms and has pledged to ban any new regulations.
Wylde and Astorino also see eye-to-eye on simplifying the state's eight tier income tax brackets.
In his recently-released campaign policy book Cuomo outlines a number of business initiatives - some of which are leftovers from his first-term pledges and others that promise to expand on them. Cuomo plans to introduce $500 million in incentives to get local governments to consolidate and reduce property taxes; an infrastructure bank that will create "self sustaining" funding for major infrastructure projects; and plans to expand global exports.
Cuomo also wants to expand Start-Up NY, something that Wylde sees as inevitable. "They've really done a great job, they've gotten thousands of applicants and the program has been very responsive to what the industry is saying is needed."
***
by David King, Albany editor, Gotham Gazette
@DavidHowardKing