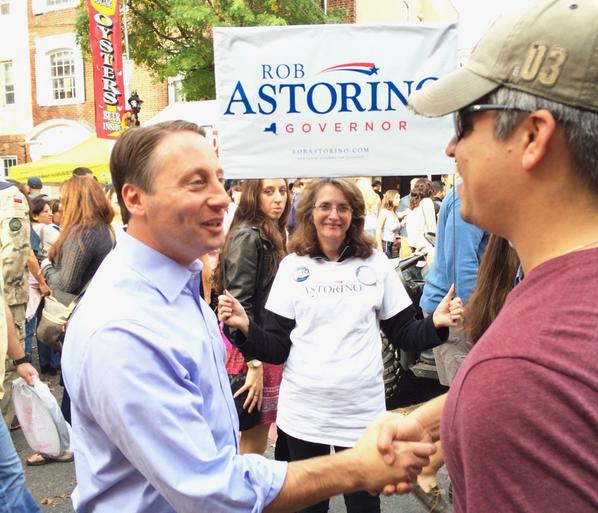 Rob Astorino on the campaign trail (photo: @RobAstorino)
---
In the last few months, Governor Andrew Cuomo has pummeled his Republican challenger Rob Astorino with TV ads describing him as "ultraconservative."
Cuomo and Astorino certainly have very different positions on hot button social issues like gun control, abortion, and immigration reform, with Astorino more conservative on each. But as Westchester County Executive, where he is now serving his second term, Astorino's tenure has been less focused on social issues and more defined by pocketbook concerns like taxes, spending, and budgets.
Astorino touts his tax cuts and reductions in county spending, and the new private sector jobs created under his watch. He argues that his record on these issues will make him a better steward for the state's economy — but his critics say his social positions are out of step with New York and that he's been a shortsighted leader.
What Astorino supporters and opponents agree on is that he's someone who doesn't often change his mind. To admirers, that means he's principled. To his opponents, he's overly ideological.
Astorino's administration has also been sidetracked by a major lawsuit filed before he took office over what the federal government says is discriminatory housing practices in the county. Astorino's vocal opposition to oversight by the federal Department of Housing and Urban Development (HUD), which he calls "radical social engineering," is seen by some as emblematic of his uncompromising style.
Recent polls show Astorino down by 20 to 30 points, and Cuomo retains a huge financial advantage with less than a week until Election Day. But Astorino says he's optimistic.
"People are giving Cuomo a good look now and they're not liking what they see," he told Gotham Gazette. "I think most people think we're going in the wrong direction in the state."
Crossover appeal?
Astorino, a former radio announcer who lives in Mount Pleasant, served on the school board, town board, and the county board before being elected county executive in 2009. He started his career as an elected official at age 21, when he won a seat on the Mount Pleasant Board of Education.
He came from behind to win his 2009 county executive election, and won re-election by 13 points in a county that is two-to-one Democratic — about the same proportion as New York state.
Astorino, who speaks fluent Spanish, says he won 60 percent of the Latino vote and 25 percent of the African-American vote in Westchester, although his campaign has declined to release the internal polling behind those numbers.
"I never could have been elected and re-elected with a large margin without a good number of Democrats, African-Americans, and Hispanics supporting me," he said.
He's been in office with a majority Democratic board of legislators, which he said has taught him the importance of working across the aisle.
"We've had to work very collaboratively in a bipartisan way to get things done," Astorino said. "That's the same thing I'd bring to state government."
But Catherine Borgia, the Democratic majority leader on the county board, disagreed, saying Astorino was hard to work with and shortsighted. As chair of the board's oversight committee, she said she had trouble getting information from his administration.
"If he can't find a way to get along with 17 legislators, he's really going to find it impossible to get along with the New York State Assembly and New York State Senate," she said.
John Testa, the board's Republican minority leader, said he thought Astorino's tenure could be characterized by "frankness" and his "matter-of-fact manner of what needs to be done and how to handle it."
"Rob Astorino is quite frankly not a panderer," Testa said. "He cuts out the politics and tries to get results."
Fight with the Feds
In 2009, Astorino's predecessor settled a federal lawsuit accusing the county of lying about its compliance with fair housing mandates after a judge ruled the county had "utterly failed" to comply with those regulations.
Under the settlement, Westchester is required to build 750 units of affordable housing in 31 towns that are mostly white by 2016 and then market the housing to people of color. It must also push municipalities to change zoning laws that restrict affordable housing. Those zoning laws only allow single family housing in some areas, for example.
But since Astorino came into office in 2010, the county and HUD have fallen into a rancorous debate. The agency has withheld more than $20 million in housing grants to the county, citing lack of compliance.
"This is the one perpetuating issue that seems to always have a piece in just about everything we do in the county," Testa said.
Astorino says he supports building affordable housing and he's complying with the settlement, but that he's also stood up against federal overreach. In his view, the county is a test case for HUD.
"The federal government wants to take over zoning in Westchester and every neighborhood around this country and put apartment buildings in every neighborhood," he said at the lone gubernatorial debate, on October 22. "I'm going to fight that tooth and nail."
"They're going into your community next," Astorino added.
Craig Gurian, the attorney who filed the 2006 discrimination lawsuit, said the county was failing to comply with the settlement because it was building the affordable housing on the least desirable land, disconnected from more affluent white communities.
Astorino has worked "for surface or window dressing instead of going for the substantive structural changes that the decree demanded," Gurian said. "The county is not meeting its obligations."
Gurian says the county has abdicated its responsibility to take municipalities to court if they don't alter their zoning.
While Astorino calls the push "radical social engineering," Gurian responds in kind.
"It's social engineering to maintain homogeneity that perpetuates segregation," Gurian said. "Dismantling that kind of social engineering is entirely appropriate and long overdue."
Astorino is "playing to racial fears," he said.
The county executive has stuck to his guns. "It's impractical and extremely expensive to do what they would like to do with their pie-in-the-sky ideas," he told Gotham Gazette.
In a court motion earlier this year, U.S. Attorney Preet Bharara told the judge that Mr. Astorino had made "numerous false and misleading statements" about the settlement, the AP reported. The county's federal monitor, James E. Johnson, also said Astorino had "spread misinformation" about its requirements.
But Gurian said that HUD and Bharara were also to blame for not actually forcing Westchester to build more housing. And he noted that Cuomo, who lives in Westchester, had never spoken out about the issue until the campaign.
Lawrence Levy, the dean of Hofstra University's Center for Suburban Studies, said the HUD dispute could help both Astorino and Cuomo win votes.
"For Astorino, this is a winner of an issue. It's one of the few that he has a chance to gain traction with suburban swing voters," Levy said, while noting that elections were never won on a single issue. Even some Democrats "don't want the federal government telling them what to do in their own backyards," he said.
Meanwhile, attacking Astorino on segregation plays to Cuomo's liberal base, which he has at times had a rocky relationship with. While he was silent on the issue during most of the campaign, Cuomo, who once ran HUD, has turned it into an attack line in the last few weeks.
"Discrimination is the purview of the federal government. The Civil War was fought. [The federal government] has authority over the states," Cuomo said in the debate.
[Related: Read our series on Gov. Cuomo's record]
'Ultraconservative' or pragmatic?
As county executive, Astorino mostly avoided the hot-button social issues that Cuomo is now attacking him on. But he has clearly taken more conservative positions than Cuomo.
Soon after he was elected, Astorino brought back gun shows to the Westchester County Center, overturning an 11-year ban. He canceled the shows in 2012 after the Newtown, Conn. school shooting, though. That shooting was also the impetus for a defining piece of Cuomo legislation.
While Astorino initially signaled interest in the SAFE Act, Cuomo's signature gun control law, saying that it did some "interesting things and important things," he has since changed his tune, the Journal News reported. He chose Chemung County Sheriff Christopher Moss, an outspoken SAFE Act opponent, to be his running made.
"The SAFE Act made no one safer in New York," Astorino said in a March speech. "All it did was make criminals out of law-abiding citizens."
On abortion, Astorino vetoed a bill that would have created a buffer around abortion clinics where no protesters would be allowed. The bill would also have "increased penalties for threatening or violent behavior," according to the Journal News. Astorino, who is anti-abortion, said the bill would have infringed on protesters' first amendment rights and led to lawsuits against the county.
Astorino opposes Cuomo's Women's Equality Act, or at least its tenth plank, which would codify Roe v. Wade in state law. Astorino says it could open the door to increasing abortion and allowing later term abortions, which Cuomo denies.
"Abortion is not going anywhere in this state," Astorino said. "It's used as a boogeyman by the governor so he doesn't have to talk about...why this state is in rapid decline."
And on immigration reform, Astorino opposes the DREAM act, which would let some undocumented college students receive state financial aid. Cuomo has expressed support for the bill, which narrowly failed to pass the State Senate in March.
The two candidates also disagree on same-sex marriage. Cuomo played a crucial role in making same-sex marriage legal in 2011. Astorino opposes it, although he says it is settled law.
In a state where voters are becoming more liberal on social issues, Astorino could be seen as out of step. Unlike his opposition to HUD, "his position on guns, on abortion, and other conservative issues doesn't play nearly as well with moderate swing voters, especially women," Levy said.
One possible winning issue for Astorino, Levy said, is Common Core, the new public education standards. While Cuomo supported Common Core in the past, he has distanced himself from the standards after parent outcry surrounding tests associated with them. Astorino, whose wife is a public schoolteacher and whose kids go to public school, says he would drop Common Core. He even created the Stop Common Core ballot line, on which his name will appear in addition to the Republican and Conservative Party lines.
Taxes and spending
Astorino said the issue he was proudest of as county executive is reducing taxes.
"We brought a healthy balance back between what we can afford and what we want," Astorino said. "Taxes were going up exponentially each year. We brought some stability."
As county executive, Astorino cut or froze county taxes each year. But Westchester still has the highest property taxes in the nation, with an average tax burden of $9,647 a year, according to the Tax Policy Center.
Cuomo has attacked Astorino for not meeting his campaign promise of cutting county taxes by 20 percent. But Astorino says he's cut county taxes more than any other county in the state.
"He should be thanking me—I'm his county executive," Astorino said of Cuomo, who lives in Westchester, at the debate. "His county taxes went down. The other taxes went up."
Astorino reduced the county workforce and cut spending in Westchester by 5.2% over his tenure, although that invited controversy when he raised contributions required of low-income parents for subsidized childcare.
Borgia, the Democratic legislator, said Astorino's cuts to county engineers could harm Westchester's infrastructure in the future.
"He's always thinking of cutting, cutting, cutting now, not the long-term impacts of his decisions," Borgia said.
The county's credit rating was also downgraded by Moody's during Astorino's administration, from its highest to its second highest ratings. But Westchester still has the highest rating from Standard & Poor's and Fitch, and retains the highest credit rating of any county in the state.
As governor, Astorino says he wants to reform state regulations, reduce some optional Medicaid services, and cut taxes for all New Yorkers further than Cuomo has. His two-tier tax plan would get rid of some tax credits and result in the largest savings for millionaires. He also hopes to end the estate tax by 2020 and enforce a property tax cap.
A longshot with a political future
Lee Miringoff, director of the Marist College Institute for Public Opinion, said Astorino was a longshot at best.
"The polls suggest he has really not gotten any traction, he doesn't have the resources for the TV ads ... and he's in a state where there's two Democrats for every Republican," Miringoff said. "It may have been just too uphill a fight to expect anything different."
Republican George Pataki was also down in the polls just a few weeks before his upset victory over incumbent Democrat Mario Cuomo in the 1994 gubernatorial race, Testa pointed out. Mario's lead was much lower than his son's is now, however, and New York is more Democratic than it was 20 years ago. No Republican has held statewide office since Pataki left in 2006.
Even if he comes up short next week, Astorino will retain his seat as county executive, and could very well have political influence in New York in the future.
"He's a smart guy," Levy said. "If he does well enough, even losing, he can set himself up to be his party's leader in one of the nation's largest states."
[Related: Read our series on Gov. Cuomo's record]
***
by Casey Tolan, Gotham Gazette
@caseytolan