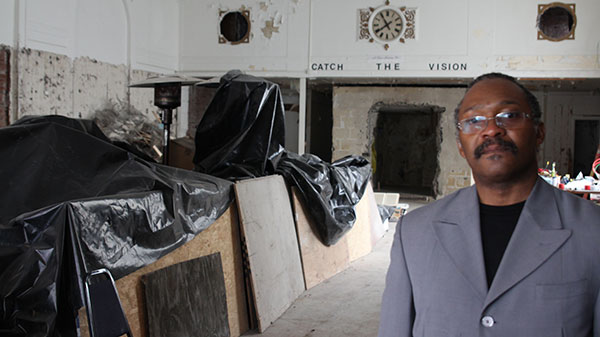 Pastor Connis Mobley in his Sandy-wrecked Coney Island church (photo: Chauncey Alcorn)
---
CONEY ISLAND - There has been much attention this week on still-suffering Sandy victims and efforts to rebuild their homes. Nearby many of those homes, the wrath of the 2012 superstorm was also felt by houses of worship, many of which remain in disrepair.
Marking the two-year anniversary of Superstorm Sandy, local political leaders led by Rep. Hakeem Jeffries (D-Brooklyn, Queens) gathered in Coney Island Wednesday where several houses of worship severely damaged by the storm remain in disrepair two years later.
Jeffries called on the banking industry to help save these storm-ravaged churches, mosques, and synagogues, but local clergyman like Connis Mobley, pastor of United Community Baptist Church on Mermaid Ave., say slow-moving government aid programs are as much to blame for their troubles as private banks, and that endless bureaucracy is hurting his congregation.
Mobley's church has existed in Coney Island for 43 years and is considered by locals to be an important part of the community. Prior to Sandy, the church had about 100 active members. Now it only has about 30.
"This past Sunday, I celebrated my 17th year as pastor of this church and had no service. I couldn't. I had no place to go," Mobley said at a press conference outside his unfortunately vacant and dilapidated church. "I don't know any pastor in all of the U.S. that [has] a service for their anniversary and isn't able to be inside their building."
Inside, the pastor's church looks like a scene from the Chernobyl disaster. Naked concrete, paint chips, dust, and debris line the floor while peeling paint and exposed brick decorate the walls. Stacks of trash bag-encased supplies and plywood stand where pews should be. The words, "Catch the vision," sit ironically below a dead clock embedded above the church's former pulpit. Outside, the pastor points to a rust-colored line running about six feet from the ground along the front wall of the church's exterior.
"That's how high the water was," he said sternly.
In stark contrast, a few blocks away resides the fully-restored – and profitable – Coney Island boardwalk, where on Wednesday squealing thrill-seekers could be heard taking advantage of the unusually warm October weather by riding the Cyclone and catching views of the Atlantic Ocean from the apex of the famous Luna Park Wonder Wheel, which re-opened right on schedule following Sandy in March of 2013.
"It's a shame," said Jeffries. "Houses of worship have been largely ignored in this assistance equation. Two years into the recovery process, it's just time to publicly say, 'That's a shame,' and we're going to do everything we can to assure houses of worship get the assistance that they deserve."
Jeffries, State Assembly Member Alec Brook-Krasny, and Brooklyn Borough President Eric Adams want the banking community to create low interest loan programs for religious institutions like Mobley's, which they said do not qualify for federal aid.
Prior to the press conference, Jeffries sent letters to the CEOs of four major U.S. banks – JPMorgan Chase, Wells Fargo, Bank of America, and Citibank – asking them to develop the programs to assist local religious institutions.
Chase, Bank of America, and Citi did not return calls for comment. In an email response, Spokesperson Kevin Friedlander said Wells Fargo has no retail banks in Brooklyn, but did send "mobile response units" to aid and answer questions for mortgage customers in Sandy's aftermath.
"At the federal level, unfortunately, we are prohibited from providing direct financial assistance to houses of worship because of the separation of church and state doctrine," Jeffries said at the press conference, adding that Congress attempted to pass a related bill that ultimately was blocked by the Senate. "We have to do other things to get our houses of worship back up on their feet."
For Mobley, who emphasized he's grateful for the congressman's advocacy, church and state separation is not an issue. His biggest problem has been delays from the SBA, a federal agency, which lends money to Sandy victims who operate small businesses, including religious institutions.
After battling the SBA for months, Mobley said he was approved in August for a $416,000 loan, but he doesn't know when he'll receive the money. While waiting, he said the church has been forced to pay about $20,000 for attorney fees to file building, plumbing, electrical, and demolition permits.
"We've paid that out of pocket because the SBA [loan] was so slow being released," he said. "We were denied three times before being approved."
SBA Spokesperson Carol Chastang said the agency does grant physical disaster loans to charitable and religious organizations like Mobley's, but that the maximum payout for those loans is $200,000.
Private banks have offered no help either. Mobley claims clergy members throughout Coney Island have been denied loans from banks because traditional businesses, viewed as less-risky ventures, received priority for Sandy recovery-related loans over religious institutions.
Mobley said he was denied a loan because his church was not in debt.
"We own the building, been paid off since 1984," he said. "We've been debt free since 2005. Banks say to me, 'You need to be in debt to show something, that you're able to pay something.'"
Other clergy members at the press conference said, unlike in Mobley's case, that by using charitable donations from their own congregations, their houses of worship have rebounded since Sandy – minus some critical repair needs.
"We didn't get help from no banks or anything like that. It was just really donations and fundraisers at the church," said Ruth Morales, community coordinator for Coney Island Tabernacle, whose congregation was displaced for about a year following Sandy.
"Our church is a lot smaller than [Mobley's] church. This church has history and I guess with the new [building] codes and where [the church is located] and being hit twice [by Irene and then Sandy]...Mr. Mobley has been in the community for a very long time. It's not just a place of worship. They do a lot of community service here."
Morales commended Jeffries for trying to help Mobley.
"I'm actually very proud of him, that somebody finally decided to come out of the box and say this is a shame," she said.
Imam Mahdi Din Muhammad, leader of the Bab-Us-Salam Mosque on Neptune Ave., one block from Seagate, said his congregation was displaced by Sandy for more than six months, but membership has actually increased since the storm.
He added that his mosque still needs renovation and a new boiler system, but its small size allowed it to recover faster than Mobley's relatively large church.
"We were able by the grace of Allah to come back," Din Muhammad said. "We still need some assistance from anyone who can help us re-establish the [mosque] in Coney Island like it was before Sandy came."
***
by Chauncey Alcorn for Gotham Gazette
@GothamGazette