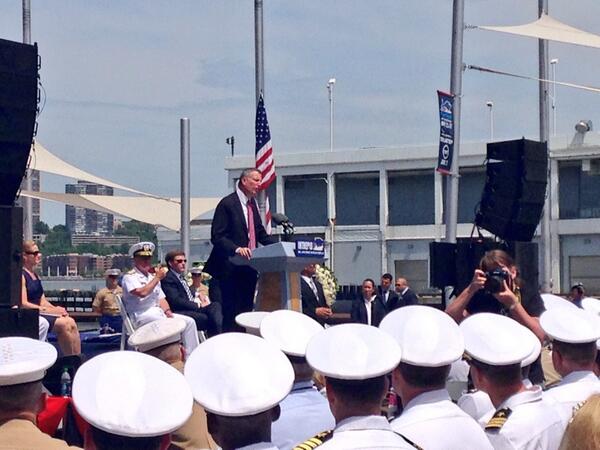 Mayor Bill de Blasio speaks at a veterans event (photo: @AlexSilverman)
---
In 2010 the U.S. Interagency Council on Homelessness rolled out the Opening Doors initiative, a federal program aimed at ending military veteran homelessness by the end of 2015, among other goals. It is the first comprehensive, national strategy to address the chronic problem of homelessness among military veterans.
The plan, which has been updated each year since it began, focuses on increasing leadership, collaboration, and civic engagement across all levels of government. It not only aims to address the obvious issue of finding affordable housing for veterans, but to ensure assistance with employment opportunities and, when needed, healthcare options. Perhaps most importantly, the plan aims to change the paradigm to a crisis response system.
In New York City, the measures appear to be working. While homelessness in the city continues to rise, homelessness among the city's military veterans has decreased by 64 percent (a total of 3,032 veterans) since 2011, according to HUD's 2014 Annual Homelessness Assessment Report to Congress. Speaking at a Women in Housing and Finance panel on Monday evening, Julie Irwin, Homeless Care Line Manager with the U.S. Department of Veterans Affairs, put the number of homeless veterans in New York City at roughly 1,300.
For its efforts, New York City will be among 14 communities honored by the National Alliance to End Homelessness on Wednesday in Washington, D.C.
According to his public schedule, Mayor Bill de Blasio will be in New York City on Wednesday and a spokesperson for the mayor did not respond to inquiry about whether any representative of the administration would be attending the D.C. event.
It would appear New York City, with its dense urban population and severe shortage of affordable housing, would struggle to meet the lofty goal set forth by the plan. But on the contrary, the city has found its footing in combatting veteran homelessness, and is in fact leading the nation with its efforts.
"New York has really held up as a model for success," Holly Leicht, regional director for HUD, said Monday evening.
Leicht said the biggest asset has been the effective use of data for everything from identifying issues and investment opportunities, to tracking the effectiveness of programs afterwards. She also pointed to the strategic ability to maximize federal dollars including knowing when to combine with other grants.
"It becomes very strategic, which is why the interagency collaboration is necessary," Leicht said.
One area in which New York City has excelled is utilizing NYCHA to house homeless veterans. Leicht said the VA Medical Center is now identifying homeless veterans and sending them to NYCHA, something that did not happen before.
"That took a little while to get working, but now it is working pretty well," Leicht said.
With limited space in NYCHA, the City will need to find other options with private landlords to complete the mission. Leicht pointed to City partnerships with the Robinhood Foundation, which is funding housing with private landlords.
Tori Lyon, executive director of the Jericho Project, gave a presentation showing two recently completed projects in the Bronx and Brooklyn specifically designed as supportive housing for homeless veterans with another expected to come online in the Bronx in late 2016.
"It is that global approach that has defined the successful cities and New York has certainly been one of those." Leicht said.
How the program will continue under new leadership at City Hall remains to be seen. The numbers for the point-in-time HUD survey were conducted in early January, just days after Mayor Bill de Blasio took office. With his office primarily focused on launching his universal pre-kindergarten program, de Blasio waited until August to appoint former U.S. Army Brigadier General Loree Sutton as Commissioner of the Mayor's Office of Veteran Affairs (MOVA).
Sutton will issue a 90-day assessment of MOVA along with a plan for moving forward on December 1. On Monday Sutton, who also spoke on the panel, did not tip her hand as to what those plans would be regarding addressing homelessness, but she did sound confident in the mission.
"I am confident we have everything it takes in New York City to end chronic veteran homeless by the end of 2015," Sutton said. "There is no doubt in my mind."
***
by Kristen Meriwether, Gotham Gazette
@MeriwetherK
---