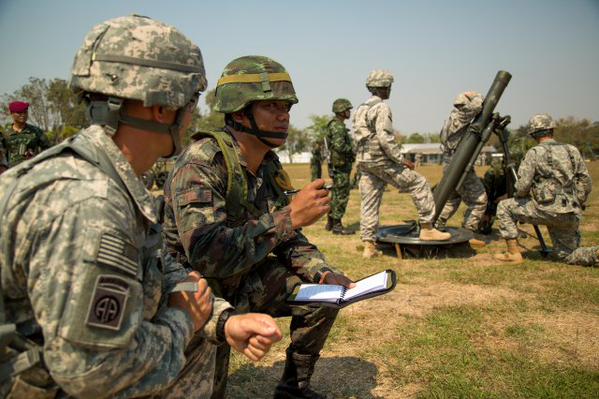 Wounded Warriors honored in Kabul on Nov 1 (photo: @USArmy)
---
When Retired Army Captain Scott Davidson decided to headquarter his business, Veteran Soldier Management Services, in New York City in June, he believed there would be plenty of opportunities to do business with the City.
Davidson, who was medically retired from the Army due to a combat-related injury sustained during his second tour in Iraq in 2007, was opening a business that would not only employ, but train veterans returning from war. He planned on soliciting city, state, and federal contracts to employ some of New York City's roughly 200,000 veterans, providing them with the corporate experience many returning veterans lack on their resumes and entrepreneurial mentoring for those hoping to one day start their own businesses.
Davidson spent years in Washington D.C. navigating the waters of contract procurement for veterans at the federal level for URS, an engineering and design company. But after seeing Gov. Andrew Cuomo sign a bill in May setting a goal that three percent of New York State contracts be for service-disabled veteran owned businesses, Davidson decided to strike out on his own in New York.
But as he began to speak with New York City officials over the summer, he was surprised to find that many procurement officers had not even heard of the State's new law and that there were hardly any State contract options through the City. Worse yet, he found that New York City does not have a procurement goal of its own for military veterans, leaving Davidson with unlikely to win City contracts competing against larger, more established companies.
"I absolutely would never have come to New York City if I had known this was the type of reception I was going to receive," Davidson said in a recent phone interview. "It is discouraging to walk into agencies and they say, 'we love you, we want to help you, we love your mission, but we just can't help you.'"
New York City has procurement goals for minority and women owned businesses (which vary based on race and contract value), although a recent report issued by City Comptroller Scott Stringer showed in fiscal year 2014 the City only hit 3.9 percent, which earned it a "D" from Stringer. Davidson is a white male and therefore does not qualify for M/WBE status.

Outside of M/WBE status, businesses in the city can apply as an Emerging Business Enterprise (EBE), but must prove they are socially or economically disadvantaged to do so. The requirements are extensive and detailed according to a spokesperson for the City's Department of Small Business Services (SBS), leaving limited interest in the program. Davidson said he does not fit the requirements for EBE status.
Davidson said several procurement officers at city agencies suggested he let a woman or person of color take over his business so he could qualify under M/WBE status. Davidson has not chosen that route, saying instead New York City should be following other cities around the country that offer a special socio-economic status to veterans just like to women or people of color. He said none of the city procurement officers he spoke to made mention of the EBE program as an alternative option for his business.
"They have stacked the deck. It just doesn't make sense," Davidson said. "If you look at other cities that are even a quarter of the size of New York, they are setting aside."
San Antonio, Nashville, and Chicago all offer procurement goals for veterans as well as states like Indiana, New Jersey, and, most recently, New York. The percentage of contracts and whether or not disability is required to qualify differ by location. Well over a decade ago, the federal government passed the Veterans Entrepreneurship and Small Business Development Act of 1999 requiring three percent of all federal contracts be awarded to veteran owned businesses.

"We should be leading the rest of the country. We shouldn't be following them," Robert Piechota, director of Brooklyn Small Business Development Center (SBDC) said in a recent phone interview. "But here we are, New York City, the greatest city in the world, arguably, and we have nothing in place for veterans."
"The city is committed to ensuring that Veterans have the services they need to build strong businesses and find good jobs," Merideth Weber, spokesperson for SBS said by email. She added the City offers a variety of services through NYC Business Solutions, "including pro-bono legal services, access to capital, navigating government, and business courses with a course specifically for Veterans looking to start a business."
"We encourage Veterans to learn more about how the City can help," Weber said.
Help on the Way
While there may not be procurement goals for veterans now, changes could be on the horizon. At the end of last year, the City Council passed Local Law 144 of 2013 which required SBS to commission a study that would analyze veteran owned business enterprises and determine if there is a need for procurement goals for veterans in the city.
Former Council Member Diana Reyna, who was the lead sponsor on the bill, said in a recent phone interview she consistently heard from veterans about the lack of options while she was in office. Reyna, now Deputy Borough President in Brooklyn, said there was a lack of data about businesses owned by veterans. Instead of drawing up legislation demanding the City create procurement goals for veterans, they chose instead to first commission a study.
Piechota, who testified in favor of the bill at the December 2013 hearing, said he welcomes the data and hopes the City will move forward with a proposal. He believes veterans will jump on the opportunity to bid for City contracts because it is such big business. In fiscal year 2014 the City spent $17.8 billion on procurement contracts. If the City followed the State's lead with the three percent goal, veterans could see $534 million worth of business.
But Piechota warned that getting certified by the City for special status is a painful process. He advised that to expedite the process the City automatically certify veteran owned businesses already approved by the federal or state government.
The SBS study is due to the Council on Dec 1. Council Member Eric Ulrich, chair of the Council's Veterans Committee, said there would be an oversight hearing to discuss the findings of the study in December. Both Piechota and Reyna said they had not seen a copy of it as of our interviews. On October 29, Gotham Gazette submitted a FOIL request to obtain a copy of the report prepared by a third party vendor, which multiple sources said was already complete. SBS has not yet responded to the request.
In hindsight, Davidson said he wishes he would have done more research on the City's procurement rules before setting up shop, but he said the move to New York City has not been a total loss. His business is up and running and he has plugged into the local veteran network. He said he is helping transitioning veterans by trying to provide resources, mentoring, and networking.
Davidson has also done a lot of work reaching out to companies on Wall Street, which has been making its own concerted effort to employ veterans. Davidson also continues to lobby at the national level for a variety of veteran issues. He will add changing the City's procurement rules to include veterans to his advocacy list.
"We are not going to stop," Davidson said. "I'm not someone who is going to give up."
***
by Kristen Meriwether, Gotham Gazette
@MeriwetherK