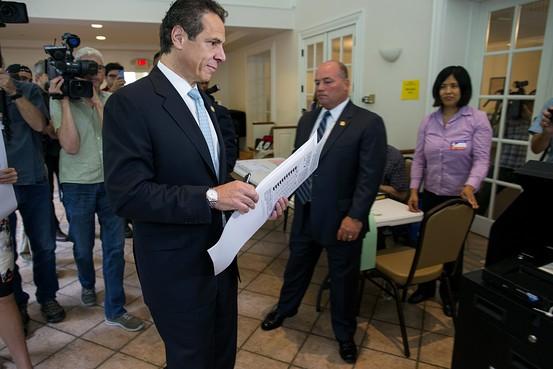 Gov. Cuomo voting in September's primary (photo: @WSJNY)
---
Voter turnout in New York State is in freefall. Last week's gubernatorial election saw the smallest number of voters make it to the polls in the four decades since the state Board of Elections was formed and began tracking voting. Few reports have noted the extent of the decline: Cuomo's 52.5 percent of the vote on election night may have seemed like the typical erosion of an incumbent's margin - down from 61 percent in 2010 - but it obscures a fall of nearly one million votes.
"New York has always been lousy," says New York Public Interest Research Group (NYPIRG) legislative director Blair Horner. "It's getting worse."
It's especially acute in New York City. Mayor Bill de Blasio's landslide victory a year ago came without the participation of many voters of cycles past. While de Blasio racked up more votes than his predecessor did in any of his three elections, the turnout for mayoral contests has steadily declined since 2001, now hovering at just over 1.1 million voters.
And, the percentage of city voters turning out for gubernatorial elections has been consistently lower than the statewide turnout.
According to figures obtained by Gotham Gazette from the State Board of Elections, 75.4 percent of registered voters went to the polls to vote for governor in 1974. Since then, voter registration has vastly outstripped turnout, with the number of registered voters rising from 7.4 million in '74 to 11.8 million today, while the number of voters who show up on Election Day has declined from 5.5 million in '74 to an anemic 3.7 million this year.
Still, these numbers actually paint a rosy picture: political scientists often measure turnout in relation to the voting eligible population (VEP) or the voting age population (VAP), both of which are inevitably larger than the number of registered voters. Dr. Christina Greer, assistant professor of political science at Fordham University, says that VEP "is the calculation that needs to be used."
Since VEP tells you the number of people who eligible to vote, registered or not, Dr. Greer says it is "a more accurate measure of... a democratic, participatory election."
Using VEP, as The New York Times editorial board did this week, paints an even more dismal picture. Taking stock of turnout nationally, the Times wrote, "In 43 states, less than half the eligible population bothered to vote, and no state broke 60 percent. In the three largest states — California, Texas and New York — less than a third of the eligible population voted. New York's turnout was a shameful 28.8 percent, the fourth-lowest in the country, despite three statewide races (including the governor) and 27 House races."
Governor Cuomo was asked in a post-election interview why he thought turnout was so low in the state he's been re-elected to lead. On with Susan Arbetter of WCNY's Capital Pressroom, the governor himself declared there was nothing to see here: "The temptation is to view the world through the lens of New York. Sometimes it's not about us, sometimes it's not about New York....It was an historically low turnout nationwide. Something like not since 1942...has the turnout been that low."
Jerry Skurnik, a partner at Prime New York, a political consulting firm that supplies data to electoral campaigns, agrees: "There's a national trend. It's not Andrew Cuomo's fault that turnout in California dropped, and it's not [California Governor] Jerry Brown's fault that turnout in New York dropped."
"There's no denying that's true," says NYPIRG's Horner, "but New York is consistently ranked among the worst states in the country, and that is what's different about New York."
Both Horner and Greer argue more debates might have invigorated turnout; there was just a single general election gubernatorial debate, two weeks before the election. "Did Cuomo inspire people to really be passionate about this particular race?" asks Greer, rhetorically. "No. Most Democrats, and even a lot of Republicans, felt like this race was over before it began."
[Related: Solving Our Voter Turnout Crisis]
On the radio with Arbetter, Cuomo added that his race was uncompetitive and that there weren't really major issues at stake, though he said otherwise when he campaigned on the Women's Equality Agenda. The governor said, "There was no real state issues or state excitement or state energy. My race was never close, there were no big issues that were driving a state turnout that would overwhelm the national phenomenon."
Skurnik is skeptical on the role of debates: "I doubt more debates would have made a difference," he said. "The people who pay attention to debates; those aren't the people you have to motivate to vote."
Of Cuomo's lack of interest in a series of debates, he said, "You can't blame a candidate for following a strategy that helps get them elected. Their goal is to win, not to increase turnout."
On that count, Greer questions whether the major parties have any genuine incentive to get voters to the polls. "Yes, in theory, everyone says they want more people to participate," she says. "If we step back and look at counties across the state, how many elected officials who are in their second, maybe third decade – no matter what party, Democrat or Republican – how many of them really genuinely want more people in the political process? They don't. Because they're winning their districts solidly. They're keeping their incumbency advantage."
The effects of the Supreme Court's decision in Citizens United only skew the playing field further, with nominally "independent" groups shoveling $17.8 million into state legislative elections. Instead of mobilizing new voters, they inevitably focus on energizing the base, and one of the surest ways to do that is by demonizing opponents. Horner sees the discourse as "increasingly toxic," and says that "For the vast bulk of voters, who are not driven by ideology, they end up looking at the campaign as the choice between two demons. I think it turns voters off."
As Skurnik puts it: "Voters turn out for exciting, competitive elections. This [New York gubernatorial] election wasn't either exciting or competitive."
Unfortunately, as NYPIRG's Horner observes, "You can't legislate competitive elections." Advocacy groups such as NYPIRG and the Brennan Center have inevitably focused on an array of familiar reforms: Election Day and online registration, early voting, and pre-registration, to name a few.
Nonetheless, as Horner says, "You can legislate a fairer redistricting process, you can legislate campaign finance systems, but in some parts of the state there are more cows than there are Democrats, and in some parts of the state there are more telephone polls than there are Republicans. In those parts of the state, competitive elections, if they occur at all, occur in the primaries. And most people can't vote."
The Brennan Center's DeNora Getachew sees the whole problem as more straightforward: "The reason that they [turnout rates] keep falling is that New York has one of the most onerous requirements for voter registration."
The Brennan Center, which advocates for voting rights, has backed the Voter Empowerment Act of New York, which would modernize the state's voter registration procedures. The bill was introduced to the state Legislature in 2012 but killed by the Republican-controlled State Senate's election committee. Prospects for reform with a state Senate now firmly under Republican control seem distant at best.
Dr. Greer points to another factor in the decline of voter participation: sheer exhaustion. Voters have gone (or been asked to go) to the polls several times a year for the last three years, and the ensuing voter fatigue means many are less inclined to bother choosing between demons.
"New York has historically been at the bottom of the national pile," when it comes to turnout, says NYPIRG's Horner, "and that's something that has to be fixed."
***
Nicholas Jahr is a freelance reporter based in Brooklyn. He has worked as an election observer in west and north Africa. You can read more of his work at his website and follow him on Twitter.
Graph prepared by Casey Tolan