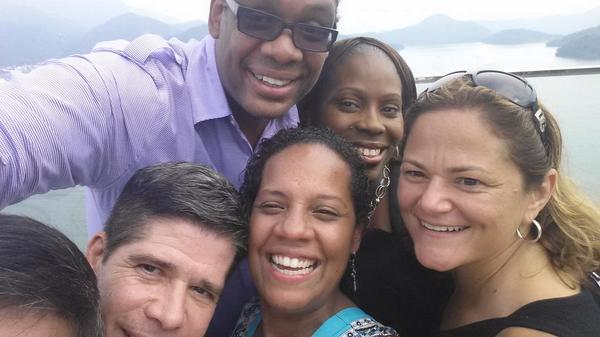 Speaker Mark-Viverito, right, with fellow council members in Taiwan (photo: @MMViverito)
---
Friday was a huge day for New York City Council Speaker Melissa Mark-Viverito. The speaker, closing in on the end of her first year in her new position of leadership, saw Mayor Bill de Blasio sign into law two pieces of legislation that she had sponsored.
The bills focus on reducing New York City's cooperation with federal immigration authorities, aiming to limit the number of deportations taking place. The bill signing came on the heels of a strongly worded statement from Mark-Viverito excoriating the U.S. Congress and President Obama for a failure to act on immigration reform and urging the president to use his powers accordingly.
In a statement about her legislation, the speaker said, "This is an important moment for our city's immigrant community. This bill sends a strong message that while our nation's leaders have dragged their feet on immigration reform - New York City can and will lead."
In an interview with Gotham Gazette on Friday evening, Mark-Viverito was asked to put her bills becoming law into the larger context of her first year as Speaker.
"Personally, the immigration work is really dear to me - the municipal ID program, now this," said Mark-Viverito, who was born and raised in Puerto Rico. "It's things that help families," she added, "like universal pre-k, the work addressing inequality, injustice."
Mark-Viverito went on to name several other pieces of legislation she sees as highlights of her tenure thus far, including the expansion of paid sick leave, which was the first legislative action the Council took under her leadership, and the Astoria Cove real estate development deal, which, along with her immigration-related bills, is among the most recent work of the body.
"I'm very proud of the time that I've been the Speaker in the change that we've implemented," Mark-Viverito said over the phone Friday evening, "we are working to make New York City a model of how government can work on behalf of those we represent."
While she demured on the question of what she may have done differently this year, saying, "Life - personally and professionally - is always a work in progress," the speaker had a lot to say about what she's proud of in her first year in the position.
Last year at this time, Mark-Viverito was campaigning to become the Speaker of the City Council. As New Yorkers braced for life with Mayor-Elect Bill de Blasio and to say goodbye to Michael Bloomberg, members of the City Council prepared for their own leadership shift. A consensus emerged among new and returning members, who would be voting in January on a new speaker to lead the body: they were looking for a change not unlike the one taking place in the mayor's office.
The majority of council members wanted a "progressive" and they were eager for reform of the Council's internal rules whereby the Speaker would not wield power over members in a stifling or vindictive manner, as some, including Mark-Viverito, had alleged was the practice of outgoing Speaker Christine Quinn.
As the candidates for Speaker engaged in a series of public forums and an exhaustive number of private conversations, a coalition emerged behind Mark-Viverito and she was ultimately chosen by her colleagues in a unanimous vote on January 8. In the ensuing months, Mark-Viverito has been largely praised by her colleagues, with the main criticisms of her coming from commentators who see her as too close with the mayor, too far to the left, or both.
Not only does Mark-Viverito feel positively about the progressive legislation she has helped enact since taking the helm, but she also believes the desired procedural and cultural shifts have taken place too.
"Changing the organizational culture has been challenging," she said, but adding that major progress has been made. "Some of that work is reflected in the rules reforms we made, the way we consider legislation...the way committees are run; discretionary spending, of course."
Mark-Viverito also pointed to more informal changes, noting that she has "engaged with my colleagues one-on-one, more so than I've seen in the past."
"I'm making a personal effort to touch my colleagues as much as I can, having one-on-one time with them," she continued, "I'm going into the districts with them...having dinner, meeting with community leaders, hearing from them first-hand."
Again drawing a distinction with her predecessor, she said, "I've been on the other side of how districts were treated unequally and that's been something really important to me."
While she said that she believes the Council is more transparent than it was in the past and that it is engaging with constituents more than ever, including through a major expansion of participatory budgeting and by holding council hearings in the field, Mark-Viverito also foretold that there is much more to come on these fronts.
"We're creating mechanisms...to engage more directly with constituents," she said. "We want to improve the [council] website, expand the capacity of the website, and use it more as a tool to ask constituents for feedback, make it more of a proactive site than a passive site."
Mark-Viverito said more on this could be expected in the new year and that it would be done in phases, partly due to financial limitations, but that the details are being fleshed out. Reform of the Council site was a part of rules reforms passed earlier this year.
On what else to expect moving forward, Mark-Viverito said a wide net will be cast, but she did say that there would be a focus on low-wage workers and new policy agendas akin to the climate-related package that the Council released and acted on this fall. She indicated that one such "legislative and policy agenda" was likely to be unveiled this week.
On the topic of encouraging open discussion around policy, the speaker said, "There's been a lot of inclusive dialogue on any agenda we develop, how we discuss bills, a lot of healthy debate....A bit different than what it was when I was not speaker."
The key to much of the work, Mark-Viverito explained, has been developing relationships.
When asked if the position was more demanding than expected, she said "Look, I clearly understood that this was a big responsibility, especially when you're dealing with 50 other individuals and their priorities and particularities (laughs), it's a lot."
***
by Ben Max, executive editor, Gotham Gazette
@TweetBenMax
@GothamGazette