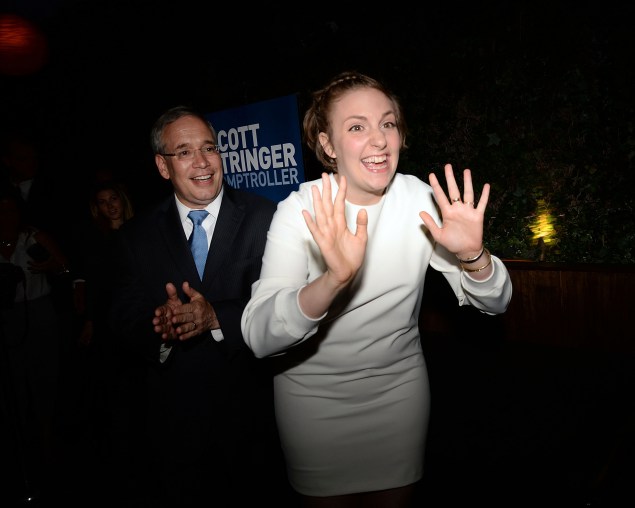 Come 2017, Lena Dunham will be able to text $10 (or more) to Scott Stringer (photo: Andrew Walker/Getty)

---
NEW YORK—We are a few years from the local elections of 2017, but changes to the campaign fundraising process are well underway.
By year's end the New York City Campaign Finance Board (CFB) is expected to pass new rules that will govern how campaigns accept contributions via text message. The rules stem from Local Law 11 of 2013 which allows candidates running for local offices to accept contributions through what is typically a cell-phone-based format. If a text-message donor is a New York City resident, the given funds will be eligible for public matching dollars from the CFB.
"Text message contributions provide candidates with the potential to engage a wider set of contributors and the Board with an opportunity to expand the reach of New York City's landmark small donor matching funds program," CFB Chair Rose Gill Hearn said on Monday at a public hearing on the proposed rules. "There are, however, practical challenges to text message fundraising."
The CFB held Monday's hearing on the proposed rules to address some of those challenges with stakeholders. The proposed rules will limit text message contributions to $99, a cap the CFB says will help ensure eligibility compliance. There was no objection to the donation limit at Monday's hearing, but there was a hearty discussion about the rules regarding the timing of texted contributions and how candidates will verify donors are using their own phones.
Text message contributions will be fairly easy to make, but the process is more complex than a simple credit card or cash donation. For starters, the fees for such donations are exponentially higher than credit card fees, in some cases reaching 50 percent. Non-profits like the Red Cross, which was among the first to use text message donations in 2010 following the disastrous earthquake in Haiti, are able to negotiate a lower rate because of their humanitarian missions.
But campaigns do not have that ability (at least not yet). The question for the CFB is how to take a fee into account when establishing limits and matching funds. With credit card fees, which are significantly lower than text messaging fees, the CFB currently counts the amount delivered to the candidate, not the original donation amount. The fee is considered an expense and goes against candidate spending limits. When considering matching funds, the CFB matches the full contribution to the candidate, not what is delivered after fees are deducted.
"Though there are strong advantages to text contributions, there are certain drawbacks to new technology," Peggy Farber, legislative counsel for Citizens Union, said in her written testimony. "The public should not compensate for drawbacks in service."
Citizens Union, a good government group, wants to see the credit card rules continue with text messaging. Since the technology is new, it is unlikely the CFB will stray far from its current rules, although that could change before 2017 when text message donations may be used widely.
Another thorny issue the CFB must consider is the timing of its release of matching funds. Text message donations are not paid to campaigns until the cell phone bill of the donor is paid, leaving a much larger gap than traditional credit card or cash donations.
To help get money to campaigns faster a third party messaging vendor is often used. The messaging vendor buys a campaign's accounts receivables at a discount, giving the campaign a portion of texted donations up front. Once the cell phone bill is paid and the balance received, the messaging vendor gives the rest to the campaign (this is, in part, why fees are so high on text message donations).
The CFB will have to decide when eligible funds are to be matched: at the time of donation, when the messaging vendor pays the campaign, or when the cell phone bill is paid. No decision on this matter was reached at Monday's hearing, but guidance is expected in the final rules.
(All of the specifics of the CFB's current public matching fund program can be found in its website.)
Lauren George, associate director of Common Cause New York, another good government group, suggested campaigns focus on soliciting text message donations earlier in election season to allow for the longer process.
"Candidates who reach their matchable contribution limit earlier in the campaign will receive their matching funds earlier, alleviating the end-of-campaign scrambles and delay, but will also be freed up to engage in that most effective campaign tool, extensive voter contact," George said.
Verification, especially for funds a candidate is trying to have matched, will be a critical step in the text message donation process. But how that will be done is still up in the air - simply using the name and address on the cell phone bill as verification does not always work.
Many cell phone users are a part of family plans where the bill comes under one name and address, but users may live elsewhere. Robert Bishop, a lawyer representing several candidate committees, pointed to his own family plan with his wife and three daughters as an example. The bill is in his name, but his children live all over the country.
"Taking into account the overwhelming popularity of family plans among the wireless community, the Board should define a registered user as not only the plan's subscriber but also the users whose phone numbers are covered by the account," Bishop said in his written testimony.
The Board is expected to adopt a set of rules for text message donations by the end of this year, but those rules may change drastically depending on how the technology is used in the 2016 presidential election. In 2012, President Barack Obama and his Republican challenger Mitt Romney both accepted text message donations. They were used, though, on a very small scale because the Federal Election Commission approved the regulations only a few months before Election Day.
As potential presidential candidates begin to ramp up their fundraising, text message donations are expected to play a factor in fundraising, although it is too early to tell how much of one. How the issues the CFB is facing locally are dealt with at the federal level could have a major impact on how the rules shake out in New York City for 2017.
"A lot of innovation for campaign technology is driven by the presidential campaigns," Eric Friedman, assistant executive director for public affairs, said following Monday's hearing. "[Text message donations] may need to go through 2016 for the market to change."
That could mean finding a way to lower fees or identifying an easier verification process.
"It is on us to make it as easy as possible so everyone can take advantage," Friedman said.
***
by Kristen Meriwether, Gotham Gazette
@MeriwetherK
Note: Gotham Gazette is an independent publication of Citizens Union Foundation, sister organization of Citizens Union