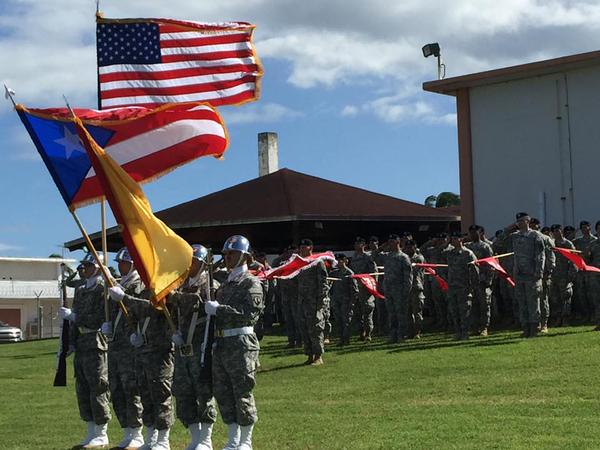 photo: @USArmyReserve
---
On a day when New York military veterans received welcome news regarding contract procurement at the state level, those looking to do business with New York City did not fare so well.
A report released on Tuesday, December 2 by a trio of city agencies recommends against creating contract procurement goals for businesses owned by service-disabled veterans, something advocates have been pushing for the last several years. The report, A Roadmap for Supporting Veteran Businesses, was authored by the Department of Small Business Services (SBS), the Mayor's Office of Contract Procurement, and the Mayor's Office of Veterans' Affairs.
"Given the limited pool of veteran owned companies able to do business with the City and the availability of other City certification programs like M/WBE and EBE, a goals program for veterans is not recommended at this time," the report says.
By contrast, Gov. Andrew Cuomo announced on Tuesday that 21 businesses qualified under the newly created Service-Disabled Veteran Owned Business Act, which passed the State Legislature in May. The act sets the State goal of six percent of State contracts going to veteran-owned businesses. At the federal level, the goal is three percent.
For years, advocates in New York City have been fighting to see a procurement goal for the City, which last year spent $17.8 billion on vendor contracts. Goals for minority- and women-owned businesses have been in place for years, although a recent report by Comptroller Scott Stringer showed most City agencies are failing to meet those goals.
A year ago, in December of 2013, the City Council passed Local Law 144 of 2013 which requires SBS to conduct a study to "analyze veteran owned business enterprises and opportunities for such business enterprises in city procurement." The report was due to the City Council on December 1 of this year and was made public late Tuesday. It will be the subject of an upcoming city council hearing.
The report cites a small population of veterans in New York City, saying the 235,000 veterans represents just 2.3 percent of the city's 8.4 million residents. The report shows Austin, Texas as a superior example with an 11.8 percent veteran population, but does not note that the figure only represents roughly 38,000 veterans due to Austin having a much smaller overall population than New York.
Using a survey of 150 veteran business owners (VBO) conducted by PricewaterhouseCoopers, the City estimates a veteran business owner population of approximately 15,400. It estimates only 700 city veterans would be eligible under the service-disabled designation used by the state and federal governments.
The report notes the difficulty of certification processes, which "would require the type of process veterans expressed concerns about in a survey." A certification process was designed and implemented in six months in New York State and has been ongoing at the federal level since the late 1990s. Cities such as San Antonio, Nashville, and Chicago have all implemented certification processes for their own veteran-owned business procurement goals.
The report includes seven recommendations for increasing outreach to veterans, better training VBOs on how to do business with the City, and creating a designation for VBOs who wish to be potential vendors with the City. There is currently no way for the Mayor's Office of Contract Services to track which businesses are veteran owned, so the recommendation in this regard would allow the City to eventually obtain a more accurate measure than the survey.
One of the recommendations suggests providing access to M/WBE or EBE certification for veterans. There is currently no exclusion for veterans to certify as M/WBE or EBE so long as they qualify, but as the story of a veteran recently profiled by Gotham Gazette shows, M/WBE and EBE categorization can leave some veterans out in the cold.
Retired Army Captain Scott Davidson recently headquartered his business, Veteran Soldier Management Service, in New York and hoped to do business with the City as a service-disabled veteran. But Davidson, who is a white male, found no contract opportunities. In fact, one procurement officer suggested he find a woman or person of color to take over ownership of his business so he could take advantage of the M/WBE program.
Davidson spoke to Gotham Gazette by phone Tuesday evening, calling the report's recommendation "shocking."
"Thank God we have federal work, because that is where we are succeeding tremendously," Davidson said. "But I can do that anywhere. I don't need to do that in New York."
He added, "[Being a veteran] is the only status that is earned. It is sad to see that is not recognized."
The report offers an odd dichotomy indicating in multiple instances how the City must choose to focus on contract procurement for veterans or helping VBOs start and/or maintain businesses, but not recommending the setting of procurement goals. The City has created and maintained multiple programs to help veterans find employment and for helping veteran-owned businesses, including the Workforce1 Veterans Employment Initiative, and NYC Business Solutions (which is not veteran specific, but can help veterans).
Workforce1 has connected veterans and military spouses to more than 10,000 career development and training services and nearly 2,500 job opportunities since July of 2012, according to the report. This has led to a 150 percent increase in veterans matched to employment annually since 2011.
But the report gives no indication of the resources (manpower or dollars) that it would take to implement a procurement goals program, nor, more importantly, does it explain why setting these goals would have negative effects, whether on the ability of SBS or other agencies to help veterans with employment or business opportunities or some other kind.
At a recent city council committee hearing on an unrelated veterans issues, Councilman Eric Ulrich, chair of the council veterans committee, mentioned his committee would be holding a hearing on this report and the issue of contract procurement on December 15. The hearing is on the council website calendar, though no agenda has been included as of press time.
"The Department of Small Business Services has prepared a realistic roadmap for helping veteran entrepreneurs in our city," Ulrich said of the report by email Tuesday. "While we can always do more, I believe this is a positive step in the right direction and one that will allow us to assist veteran business owners who wish to do business with the city."
***
by Kristen Meriwether, Gotham Gazette
@MeriwetherK