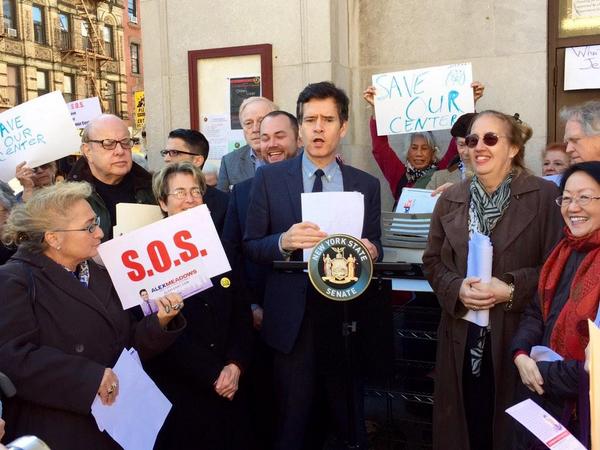 State Sen. Brad Hoylman, center, is outspoken about legislator pay (photo: @bradhoylman)
---
New York state legislators haven't had a raise since 1999, when they traded major policy points like allowing the creation of a charter school system in the state for a whopping 36 percent pay hike. Now, with the days ticking down for this lame duck legislature to enact a raise for the next class, legislative leaders are looking to make another trade to hike their salaries and possibly that of executive staff and commissioners. It's a process that critics insist highlights Albany's quid pro quo nature.
Sen. Brad Hoylman, a Democrat from Manhattan, says the bargaining must look "terrible" to the public and that the practice is "intellectually dishonest." He says that there is major resistance to finding another way to do pay raises because "Some people don't want to give up the convenient trade to get big issues passed."
This year a bevy of issues have been linked to a potential legislative pay raise including a minimum wage hike; the DREAM Act; and major campaign finance reform. Republican Leader Dean Skelos has rejected calls for trades on those issues, but said he would support "other reforms" in trade.
"We haven't seen any proposal," said Michael Whyland, spokesman for Assembly Speaker Sheldon Silver. "The Speaker supports a pay raise for members." Spokespeople for Gov. Andrew Cuomo and Senate Republicans did not respond to requests for comment.
A minority of legislators, Albany denizens, and good government groups have quietly pushed for a commission on pay raises that would examine the pay levels of other similar positions in the state, inflation, and cost of living; and recommend salary adjustments every four years.
On Monday, Comptroller Tom DiNapoli announced his support for such a commission, telling reporters: "[A]s other governments have done [it] probably would make the most sense to have a commission take care of that question. It's something that probably should have been done a long time ago instead of happening at the end of the year with a lot of other horse trading being talked about."
Hoylman, who editorialized in support of a pay raise commission in the Daily News earlier this month told Gotham Gazette that a commission could address a number of concerns connected to pay raises.
"The commission would establish whether a raise was needed in the first place. There would be experts who would look at other government offices, consider cost of living, and other factors," said Hoylman, who would want the commission to include a limit on how much outside income a legislator could make and ban certain conflicts of interest.
Hoylman and good government groups point to the state's Quadrennial Commission on Judicial Pay Raises - a group of experts that meets every four years to examine judicial pay raises. The commission is made up of appointees by the Governor, legislative leaders, and Chief Judge. Their recommendations go into effect unless overruled by legislation passed by both houses of the Legislature and signed into law by the Governor.
Dick Dadey, executive director of good government group Citizens Union, has repeatedly called for any pay raise passed this month to be connected to a series of reforms including a quadrennial commission
Hoylman notes that California and Pennsylvania both have this type of commission, but that their legislatures are full time. New York legislators are the third-highest paid in the nation behind those two states, but New York legislators are considered part time.
California's commission actually trimmed legislative salaries during the state's budget crisis in 2009, but last year it recommended a 5.3 percent increase to the current $90,526 base salary.
In New York City, the mayor's commission recommends pay adjustments every four years. The City Council voted itself a raise in 2006. Members are currently paid a base salary of $112,500 a year, but can bring in unlimited amounts of outside income.
Massachusetts Governor Deval Patrick is currently in a showdown with the state Legislature in his state over salary recommendations by a commission created in this year's budget. The commission made up of academic leaders and business heads recommended raises for the Governor, Lieutenant Governor, Attorney General, and heads of both houses of the Legislature. The Governor would get a raise of over $30,000 and a housing stipend of $65,000. However, Patrick, who is leaving office, has refused to approve the raises unless the Legislature makes budget cuts to alleviate a major shortfall. So the commission has not done away with horse trading for raises.
"The commission would put an end to passing pay raises in any sort of legislative 'big ugly,'" said Dadey, referring to the end-of-session deals that often include all sorts of compromises. "But this is Albany, you are never going to remove politics from it completely."
E.J. McMahon of the Empire Center, a fiscal policy think tank, told Gotham Gazette he does not support a pay commission. "I would resist the gimmick of having some commission set in motion automatic pay increases," said McMahon. "This is something that should be voted on each discrete time it is done."
While any commission on pay raises would likely be touted as independent, the track record of other commissions in Albany indicates that interested parties would stack it with their lackies in order to get the results they desire.
Hoylman said that he is not in direct opposition to pay hikes for legislators and those in other government positions - he just wants to change the process by which they are decided. "Some of my colleagues are literally scraping by as the only breadwinner in the family. Seventy-nine thousand dollars is not a lot of money if it is the only income for a family living in the city or the suburbs. The commission needs to establish the need [for a pay raise] to give the public confidence."
Hoylman also echoed statements made by Cuomo about executive staff and Chief Judge Jonathan Lippman on judges, saying, "There is the thought that a better salary could attract better candidates."
***
by David King, Albany editor, Gotham Gazette
@DavidHowardKing
Note: Gotham Gazette is an independent publication of Citizens Union Foundation, sister organization of Citizens Union