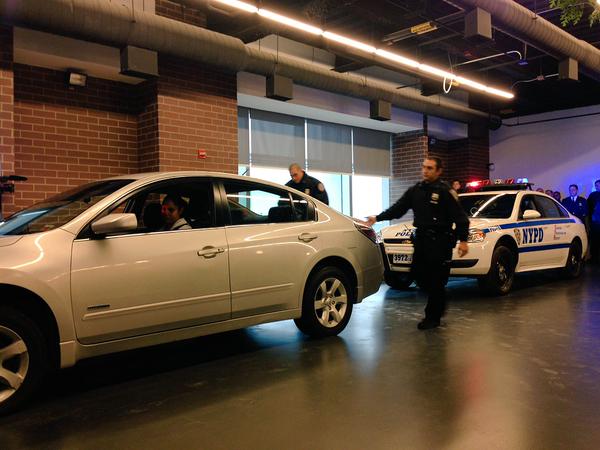 Scene from the NYPD demo of a traffic stop using body cameras (photo: @NYPDNews)
---
QUEENS, NY—Beginning Friday some members of the NYPD will, for the first time, use body-worn cameras while patrolling the streets of New York. This high-tech tool is the latest rollout in a series of police reforms promised by Mayor Bill de Blasio, but one that, at least for now, has many unanswered questions.
The pilot program will begin Friday in the 120th and 40th precincts as well as PSA 2. Next week members of the 23rd, 103rd, and 75th precincts will receive training and then begin to use the cameras. The program will include 54 officers and supervisors, all of which volunteered for the pilot program, and test two different types of cameras.
"We believe this will be an important step forward for our police department and for our city," Mayor Bill de Blasio said from the new Police Academy in Queens where officers will undergo body camera training. "This pilot program is a sign of great hope and possibility and something that will not only give us that additional information, but will give people greater confidence."
Police Commissioner William Bratton, who has been eyeing the new technology since 2005 in his days with the LAPD, said the pilot program will last for three months. During that time the largest department in the nation will navigate many of the thorny issues that police departments around the country are grappling with.
When Bratton first announced the pilot program at One Police Plaza in September he mentioned the extraordinary cost of storing the terabytes of data that will result from camera use. As the NYPD is set to begin its use of body cameras this week, the issue of storage still has not been worked out.
Comments by Bratton and his Deputy Commissioner of Information and Technology, Jessica Tisch, indicate the City will use cloud storage, a method of storing information remotely.
"There is no way for us to store the volume of data that we will be collecting on premise which means we will likely have to use a cloud solution the Commissioner was referring to, which means you pay by the amount of data that you store," Tisch said.
[Related: Pre-Pilot Program, a Test Run for One NYPD Body Camera]
Cloud storage has become much more commonplace in recent years, although security concerns regarding the relatively new technology have also cropped up. Tisch was not asked and did not address security concerns regarding the use of cloud technology.
Tisch said during her study of the LAPD body camera program their officers typically came back with four hours of video for a ten hour shift. She said the pilot program will give the department a good idea of how much storage they will need as the program expands and at that point they will be able to determine a cost estimate associated with storage.
In an interview in October, Captain Michael Skillern of the Houston Police Department said the 100 cameras his department was using captured roughly 1 terabyte of data per day. At the time, they were storing their data on physical servers, but Skillern said due to the large amount of data, they would be moving to a cloud service.
Another unanswered question is how long the NYPD would be keeping the data, another issue to be sorted out during the pilot program. Public Advocate Letitia James, who has led the push for the use of body cameras by the NYPD, said her office will be looking at policies around the country and working with civil liberty and advocacy groups to find best practices.
She urged the video data be stored "for as long as the statute of limitations for filing a claim against the department, which in New York is about three years."
James argues that the use of body cameras could save the city millions in settlement money. Last year the City spent $212 million in legal costs settling police-related lawsuits, according to James, and almost $1 billion in the last five years.
James also discussed access to video, another thorny issue that has been particularly sticky in Seattle. An anonymous requester has been testing the freedom of information laws by requesting police video from body cameras by submitting Freedom of Information Act (FOIA) requests for "any and all videos" to departments around Washington State. He posts some of the videos on YouTube.
Due to privacy laws, the Seattle Police Department has to obscure some portions of the videos, a laborious process that the department says is unsustainable due to cost and time. As a result of this anonymous requester the Seattle Police Department is considering abandoning the program altogether.
Commissioner Bratton acknowledged the problems in Seattle at Wednesday's press conference, but stopped short of saying if the NYPD would be unable to handle similarly large volumes of requests.
When asked if the videos made during the pilot program would be available by FOIL request, Bratton, Tisch, and de Blasio did not directly answer the question.
"That is part of why we are doing the pilot to understand what the legal issues are to," de Blasio said. "We have a lot of lawyers. They will be looking at this."
He added, "The Commissioner raised the point, there are some ways that this could create an untenable situation in terms of someone requesting tens of thousands of hours of data when we are trying to keep up with it. We have to sort that out."
De Blasio said that while these details had not yet been ironed out, the only way to figure them out is to "get started down the road."
"We are dealing with a lot of unexplored territory on this issue that the public, you in the media, and we in the police profession and the courts for that matter don't fully understand," Commissioner Bratton said. "We are going to all learn together."
[Related: Pre-Pilot Program, a Test Run for One NYPD Body Camera]
***
by Kristen Meriwether, Gotham Gazette
@MeriwetherK