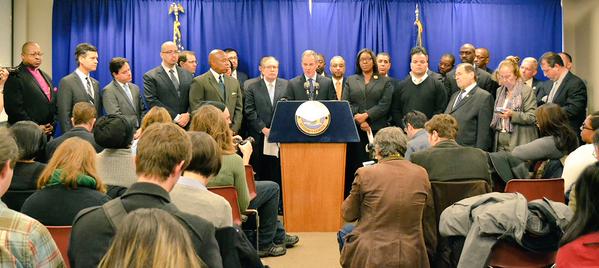 AG Schneiderman at Monday's press conference (photo: @AGSchneiderman)
---
Attorney General Eric Schneiderman requested on Monday that Governor Andrew Cuomo sign an Executive Order giving the Attorney General's office jurisdiction to investigate police killings of unarmed civilians. The move comes after Cuomo has said he plans a review of the criminal justice system and New York City sees day after day of protest in the wake of the decision by a Staten Island grand jury not to indict NYPD officer Daniel Pantaleo in the chokehold death of Eric Garner.
"The horrible events surrounding the death of Eric Garner have revealed a deep crisis of confidence in some of the fundamental elements of our criminal justice system," said Schneiderman.
"Nothing could be more critical for both the public and the police officers who work tirelessly to keep our communities safe than acting immediately to restore trust and confidence in the independence of reviews in any case involving an unarmed civilian killed by a law enforcement officer. While several worthy legislative reforms have been proposed, the Governor has the power to act today to solve this problem. I strongly encourage him to take action now," Schneiderman said.
The attorney general made the announcement in New York City on Monday backed by city officials including Comptroller Scott Stringer, Public Advocate Letitia James, borough presidents Eric Adams and Gale Brewer, as well as a slew of state legislators and advocates.
For some the push is a reflection that many advocates and officials don't have faith that Gov. Cuomo will move fast enough or look deep enough into the justice system in his promised review of the system. Cuomo has appeared on national media since the Garner verdict promising a "soup-to-nuts" evaluation of the state's justice system, but he has made sure not to show too much bend toward reformers or law enforcement officials.
Schneiderman's press conference and the reaction to it is also likely a preview of the battles to come between law enforcement unions partnered with Senate Republicans on one side and reform advocates and Assembly and Senate Democrats on the other. It isn't clear where Cuomo will land.
NYPD Commissioner Bill Bratton refused to comment on Schneiderman's proposal when asked by reporters on Monday evening. And yet, he addressed the underlying issue fairly directly. "The issue is between the DAs and the AG," Bratton said, according to Capital New York. "I'm very confident in the capabilities of the district attorney I get to work with. Again the issue is between the D.A.s and the A.G. We'll work with anybody."
Legislators and advocates point out that Cuomo was mum on the case for months after Garner's death in July and that the governor declined to empanel a special prosecutor - which some called for in light of the relationship between Staten Island DA Dan Donovan and law enforcement unions and constituents. The odds that Cuomo actually takes Schneiderman up on his request are slim to none. The two have a bitter relationship despite both being Democrats. "We are reviewing the Attorney General's proposal as we pursue this broader approach that seeks to ensure equality and fairness in our justice system," wrote Melissa DeRosa, Cuomo's spokesperson.
Team Cuomo has rejected previous requests from Schneiderman to take action allowing him to better pursue corruption in state government.
Meanwhile, Senate Republicans have indicated they are not interested in Cuomo's proposed review and could very well block any proposed reforms.
Senate Democrats, on the other hand, are set to reveal a package of legislative proposals on Tuesday at 11 a.m. Insiders say that the conference will deal with "common sense" legislation designed to "restore trust between law enforcement and communities."
Senate Minority Leader Andrea Stewart-Cousins has said she does not support addressing reforms in any special session that might manifest this year around legislative pay raises.
Special session may be too soon for members, but a number of legislators want to ensure action takes place as quickly as possible, whether from the AG or elsewhere.
"Fundamental change is desperately needed, both for justice to be served and for public confidence in our legal system to be restored," said Sen. Jose Peralta. "We need to know that when a police officer kills an unarmed civilian, we can expect a just, fair and unbiased legal process. I look forward to working with my colleagues in the Legislature in producing that kind of fundamental change. Until we can arrive at a legislative remedy, however, we cannot tolerate the status quo."
It appears the stage is set for a battle over measures that will be labeled anti-law enforcement by one side and "trust-building" by the other.
A number of Assembly and Senate Democrats support appointing special prosecutors in the place of local DAs in cases where police kill unarmed civilians. It is an issue that has come up in the Legislature before, only to be successfully opposed by Senate Republicans.
A number DAs have spoken out against this plan and Schneiderman's request, saying that communities are best suited to handle the crimes committed within them.
"[A]cts of police brutality are not only crimes against the individual victim but also are attacks on the communities in which they occur," Brooklyn District Attorney Ken Thompson said in a statement opposing Schneiderman's proposal. "Therefore, local prosecutors who are elected to enforce the laws in those communities should not be robbed of their ability to faithfully and fairly do so in cases where police officers shoot, kill or injure someone unjustly. The people of Brooklyn have voted for their District Attorney to keep them safe from all crimes, including those of police brutality. The Attorney General's proposal would override their choice – and that should not happen."
The fight over special prosecutors is likely to be a tough one.
Meanwhile, making grand jury deliberations more transparent is an area where there seems to be some agreement between Democrats and Republicans. Currently, New York law allows little from grand jury proceedings to be revealed without special approval.
Staten Island Sen. Diane Savino and Assembly Member Matthew Titone plan to introduce legislation that would ensure the release of the details of grand jury deliberations. State laws keep the process shrouded in secrecy. Advocates criticized the lack of available information on the decision made by the grand jury that looked into Garner's death. DA Donovan asked a judge to release some information relating to the decision, but critics still felt it wasn't enough.
The Savino/Titone bill would keep information about individual jurors secret but make public information about the evidence they reviewed. "There is no reason the public should be denied the opportunity to view information presented after the grand jury has made its final recommendations," Savino told The Staten Island Advance.
***
by David King, Albany editor, Gotham Gazette
@DavidHowardKing