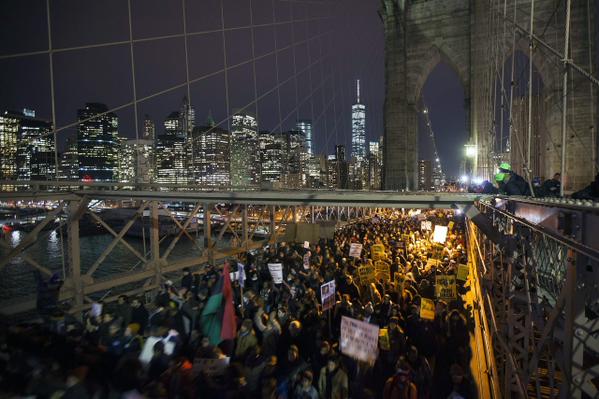 Protesters on the Brooklyn Bridge (photo: Michael Nagle/European Pressphoto Agency)
---
You can only take to the streets in protest for so long before people start asking, 'what is it that you want exactly?'
And so it has gone with the rallies and marches in response to the non-indictment of Police Officer Daniel Pantaleo by a Staten Island grand jury called to consider charges against him in the July 17 chokehold death of Eric Garner.
Everyone knew that the loud immediate response was based on disapproval of the Garner decision, but as the protests continued toward what has now been a week, the inevitable questions emerged. Beyond "justice" for Garner, some semblance of which is now left to federal and internal NYPD investigations, it was not readily clear what concrete steps protesters were calling on officials to take.
On Wednesday, clarity arrived in the form of two very similar lists of demands put out by two coalitions of reform groups who have been at the forefront of organizing protests.
One group, operating under the rallying cry of "This Stops Today" (after words spoken by Garner before his death) is actually made up of organizations known as Communities United for Police Reform (CPR) that have been calling for systemic criminal justice reform for years. On Wednesday, the This Stops Today movement announced the start of an "11 Days of Action" initiative (11 being the number of times Garner cried "I can't breathe" as he was dying with Pantaleo and other police officers on top of and around him). It also released an 11-point list of demands.
Some of the agenda is Garner-specific, but most aspects, such as an end to Broken Windows policing, are more broad and deal with long-term criminal justice reform issues. In a press release, This Stops Today explained that it aims to "intensify pressure on Mayor de Blasio, NYPD Commissioner Bratton, and other officials to implement real police reform and accountability measures."
Even before these lists were published, most who've been paying attention knew that calls to end Broken Windows policing were central to the critiques of the NYPD exacerbated by the Garner case. Broken Windows, for which Bratton is an apostle, dictates a strict focus on preventing and responding to low-level crimes because, the theory goes, doing so prevents major crimes. Garner was known to illegally sell single cigarettes and had had many run-ins with the police before the one that ended his life.
"Mayor de Blasio should end broken windows, and other discriminatory and abusive policing practices," reads part of point six of the This Stops Today agenda.
Meanwhile, Justice League NYC, another coalition responding actively to the Garner tragedy, released its own 10-point plan Wednesday at a high-profile event on the steps of City Hall that featured bold-face names such as Russell Simmons, Common, and Nas. The fifth point in Justice League's agenda reads "An immediate end to NYPD's "Broken Windows" Policing, which overwhelmingly targets black and brown communities with aggressive quality of life policing and enforcement tactics that could escalate to excessive force as in the case of Eric Garner."
Though they are not said to be directly coordinating, the two movements agree on quite a bit. Along with calling for an end to Broken Windows policing, both demand accountability for Pantaleo and other officers involved in Garner's death; an expedited federal investigation into the incident; the use of a state-level special prosecutor for similar cases; and city passage of the Right to Know Act. [see the two lists of demands side-by-side below]
The groups are calling on de Blasio and City Council Speaker Melissa Mark-Viverito to support the Right to Know Act, two bills that would mandate certain communications from police officers when interacting with civilians in specific circumstances. De Blasio has not expressed support for the legislation and Mark-Viverito, who supported it in the past, has also demurred. No city council committee hearing has yet been set for initial vetting of the bills.
To be sure, de Blasio and Bratton have taken steps to alter policing, reduce arrests, and curb stop-and-frisks. They are putting the police force through retraining with a focus on bettering police-community relations and are implementing a body camera program to improve police conduct and increase accountability. More money and effort is also being put toward mental health treatment.
The mayor and commissioner argue that the NYPD can continue an assertive policing style while doing so without racial bias and while improving relations with the communities officers serve. Advocates want more.
Those calling for greater change cite stats that show racial disparities in arrests, stops, and incidences of police brutality. They want, as Justice League NYC puts it in its sixth point, "An end the criminalization of young people in the NY school system." Citing the so-called "school-to-prison pipeline," they recall that de Blasio "made this a hallmark of his historic campaign, but has yet to adopt necessary reforms." The City is due to release a new school discipline code soon, but advocates have been waiting months.
And, of course, as the Garner case has brought front and center, these reformers and protesters want more accountability for officers who injure or kill civilians. To this end, the City Council announced the first two steps in its policy response to the "Eric Garner incident" on Wednesday, including increasing opportunities for New Yorkers to file complaints against the NYPD.
State officials also come into play, with groups calling on the governor, attorney general, and state Legislature to take action. Governor Andrew Cuomo has promised a full review of the state's criminal justice system, and there is already much discussion and a couple of bills related to changing grand jury transparency laws and, more controversially, prosecutorial jurisdiction in cases where police officers kill.
Attorney General Eric Schneiderman has requested that Cuomo give him the power to prosecute cases when police officers kill unarmed civilians, something advocates support and the governor has said he's reviewing. Legislators have outlined bills to create a Special Prosecutor for these purposes, which Schneiderman and advocates support, but local district attorneys do not.
Police union leaders have been livid, expressing anger over what they see as a lack of support from elected officials such as de Blasio and Mark-Viverito, and unfair vilification by reformers.
As thousands have flooded streets, stopped traffic, and shut down bridges and tunnels, the NYPD has taken a largely passive approach under Bratton and de Blasio's direction, providing extensive leeway for protest activity that is technically illegal at times.
Collective action will continue, groups will apply further pressure for change in the names of Garner and others who have come before and after. The results of the NYPD's internal investigation into the actions of Pantaleo and his fellow officers will be coming. Other cases will be litigated. The fight for reform will march on.
***
by Ben Max, Gotham Gazette
@TweetBenMax
email: This email address is being protected from spambots. You need JavaScript enabled to view it.
| | |
| --- | --- |
| Below are 11 demands to #ChangetheNYPD from organizations involved in #11Days of Action: | WE DEMAND THE FOLLOWING: |
| Mayor de Blasio should insist on full accountability for all NYPD officers responsible for killing Eric Garner and Akai Gurley and all officers who brutalize New Yorkers. | The immediate firing of Police Officer Daniel Pantaleo and all officers responsible for the death of Eric Garner. |
| Department of Justice should convene grand juries to federally indict officers responsible for the killing of Eric Garner, as well as other NYC cases such as Ramarley Graham. | The State of NY will appoint a Special Prosecutor to investigate and prosecute all criminal cases involving the use of force, including deadly force, by police officers, and in particular, immediately appoint a Special Prosecutor in the wrongful death of Eric Garner. |
| Governor Cuomo should issue an executive order directing the Office of the Attorney General to serve as special prosecutor in cases involving civilians killed by police officers. | The City and State of New York Draft Legislation to clarify the rules of engagement between the police and the community to make illegal the use of lethal force, including the chokehold, except to protect against serious, imminent physical injury to the police officers or the public. |
| Governor Cuomo should veto legislation (S7801/A9853) that would allow New York police unions to make police disciplinary policies subject to contract negotiations. | NYC create a comprehensive NYPD Training Program for ALL officers - to include crisis intervention, harm reduction and de-escalation skills - to eliminate racial bias and police brutality. |
| New York City should end the NYPD Commissioner's exclusive authority over disciplinary decisions for officers in cases of abuse, misconduct, excessive and deadly force. | An immediate end to NYPD's "Broken Windows" Policing, which overwhelmingly targets black and brown communities with aggressive quality of life policing and enforcement tactics that could escalate to excessive force as in the case of Eric Garner. |
| Mayor de Blasio should end broken windows, and other discriminatory and abusive policing practices. This includes enforcement of low-level offenses, discriminatory arrests for violations (non-criminal offenses) and enforcement of possession of small amounts of marijuana; blanket surveillance of Muslim communities; and political activists. | An end the criminalization of young people in the NY school system. The "school-to-prison pipeline" targets primarily youth of color and has created a generation of youth growing up incarcerated. Mayor de Blasio has made this a hallmark of his historic campaign, but has yet to adopt necessary reforms. |
| Mayor de Blasio should work with the City Council to pass the Right to Know Act to protect New Yorkers' rights and improve daily interactions between NYPD officers and New Yorkers. | US Attorney General Eric Holder expedite the federal investigation into the death of Eric Garner. |
| Court-ordered stop-and-frisk Monitor Zimroth and Mayor de Blasio should give organizations led by and for communities impacted by discriminatory and abusive policing a formal role in NYPD reform. | Immediate passage of the Right to Know Act. |
| The Department of Justice should launch an investigation into broken windows policing and the use of force policies and practices of the NYPD. | NY State and all localities engage in complete transparency in regards to profiling, and search and seizure practices, and to provide all public data on other police practices including summonses, arrests and detention practices. |
| NYPD Inspector General Philip Eure should issue a report on use of deadly and other excessive force, to include review of disciplinary outcomes in these incidents. | We call on Mayor Bill de Blasio, Governor Andrew Cuomo and NY Attorney General Eric Schneiderman to meet with Justice League NYC in order to explore all avenues to make viable implementation of the above demands as immediately and efficiently as possible. |
| The NYPD should publish quarterly and annual reports of summons and misdemeanor arrests, as well as use of force, based on race, gender, age, precinct, and other demographic data. | |