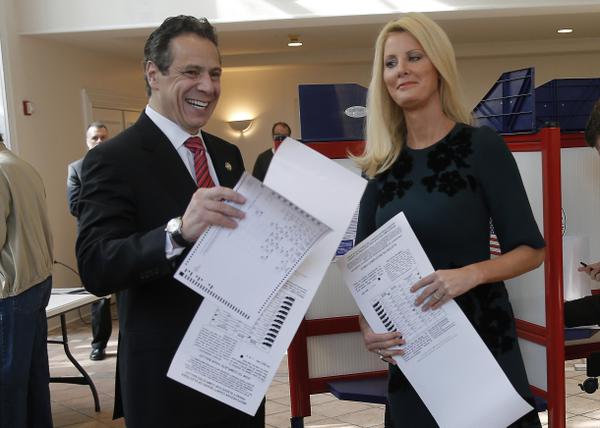 Gov. Cuomo and his girlfriend Sandra Lee cast their votes (photo: Reuters)
---
In the next two years, the New York City and State election boards may finally arrive in the 21st Century.
The New York City and New York State Boards of Election are planning major technological upgrades to their vote counting and finance disclosure systems, staff told State Assembly members at a hearing Friday morning in Manhattan.
By late 2015, voters in the city may know the results of most elections by 10 p.m. on election nights, thanks to tablets at every polling site that can upload vote counts just minutes after polls close.
And in late 2016 or early 2017, the state board plans to launch a new campaign finance filing system, replacing a two-decade-old network that candidates say is difficult to use.
No more waiting
On election night in New York City, poll workers and police officers usually transport memory sticks filled with vote count data to police precincts, where they are counted. It can take hours in some parts of the city for results to trickle in.
But at 216 polling sites in a pilot program this November, poll workers simply plugged the memory sticks into tablet devices and uploaded vote data onto the Board's servers. All of these sites posted their results by 9:35 p.m., just 35 minutes after the polls closed.
"I think we took everybody by surprise by how quickly the results were tabulated," City Board of Elections Executive Director Michael Ryan told Gotham Gazette. "It demonstrates the promise of the technology."
Now, the Board wants to bring the technology to all of the city's 1241 poll sites.
"In a non-presidential year, 90% of the results by 10 o'clock is not out of the question, based on what we saw this past election cycle," Ryan said.
Ryan said the Board will be meeting with the de Blasio administration in the next few weeks to discuss funding to expand the pilot.
"Our goal is to have it fully implemented for the September election of 2015," he said. The Board hopes to buy 1,700 to 2,200 new Windows tablet devices to distribute to polling sites - all of the software for the devices has already been developed.
But the BOE has had a rocky relationship with the City Council, which would have to agree to allocated funds. In March, Ryan accused the Council of trying to "starve" his agency for funding. His more ambitious proposal to retrofit old lever voting machines into high-tech voter kiosks was shelved after council members expressed skepticism over the high price tag.
Ben Kallos, the chair of the Council's Committee on Governmental Operations, did not respond to a request for comment.
"We are never going to be in a position that the government agencies are on the same cutting edge as technology agencies," Ryan said. "The question is whether we're doing enough to service our constituency."
State of the art
Meanwhile, the State Board of Elections is working on a "complete redesign" of its campaign finance filing system, which was set up in 1994.
Candidates complain about dealing with byzantine webforms and confusing instructions. At the Board, staff members have to manually edit incoming data in Excel.
"I don't think it was state of the art in 1994, and it certainly is nowhere near state of the art today," said state BOE Executive Director Robert Brehm. "Nobody would design a system like this now."
Assembly members at the hearing echoed his assessment.
"The system is very user-unfriendly," said Assembly Member Thomas Abinanti of Westchester. "We want to encourage people to run for office, we don't want to put stumbling blocks in their way."
The redesign is intended to make it easier for candidates to report how they're using money and for the public to access the data. The State has allocated $2.4 million for the project, and staff expect the new system to launch in late 2016 or early 2017. Any earlier would mean launching it in the middle of an election cycle, Brehm said.
Good government groups applauded the planned upgrades. Common Cause Associate Director Lauren George told assembly members that the state board's current software was "antiquated and precarious."
The inefficient way data is released "makes analysis and explanation of campaign finance realities immeasurably harder, more time-consuming and expensive for the public," she said.
Peggy Farber, the legislative counsel of Citizens Union, urged the state board to borrow the filing technology of the well-regarded New York City Campaign Finance Board.
"We don't think the upgrade should take two years, and we see a path that could be faster and less expensive," Farber said, indicating the desire to see a new system in place before the 2016 state election cycle.
Enforcing compliance
At the assembly hearing, Brehm also discussed the state board's new compliance unit, an office dedicated to investigate campaign finance regulations, which started work in July.
Created in a deal to close Governor Andrew Cuomo's anti-corruption Moreland Commission earlier this year, the compliance unit is led by a Cuomo ally and literally walled off from the rest of the election board offices.
The unit, which is still in its early stages, has so far taken a more collaborative than confrontational approach, with an emphasis on training and helping candidates correct errors. Since July, the office sent out 1,957 deficiency letters, letting candidates or committees know that they were in some way behind in meeting finance regulations.
"Overall, treasurers want to do it right and do do it right," Brehm said. The new unit works to train candidates and treasurers to make the most accurate disclosures possible.
The state BOE has faced criticism for its inaction in enforcing regulations in the past, as the New York Times reported last week. According to a preliminary report from the Moreland Commission, the Board "largely abdicated its duty to enforce our election and campaign finance laws."
Some say that the compliance unit has already made a change.
"I have never seen this level of scrutiny," Abinanti said. For the first time ever, he said, his campaign was notified during this election cycle about a filing error it had been inadvertently making for years.
Farber of Citizens Union said that while helping candidates catch errors was important, the compliance unit should be more proactive at investigating improper disclosures. The unit "should actively look for omissions by sectors, by committees, and individuals," Farber said.
"If it does not, who will?" she added.
***
by Casey Tolan, Gotham Gazette
@CaseyTolan
Note: Gotham Gazette is an independent publication of Citizens Union Foundation, sister organization of Citizens Union