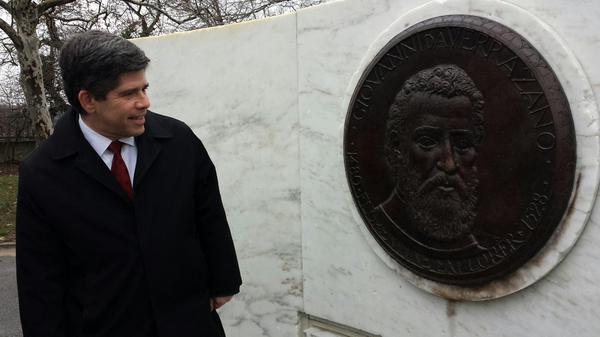 CM Gentile eyes a Verrazano monument (photo: @VGentile43)
---
After Domenic Recchia's failed 2014 bid to unseat Michael Grimm, could Democrats nominate another Brooklynite to try and win the seat Grimm has now vacated?
New York City Council Member Vincent Gentile, a Democrat representing southern Brooklyn, is the latest addition to the list of possible Democratic candidates who may be his party's selected nominee for a one-on-one special election later this year in New York's 11th Congressional District, which includes all of heavily-Republican Staten Island and part of Brooklyn. According to a spokesperson for Gentile, the council member is set to meet with Democratic party leaders from both boroughs this week.
After pleading guilty last week to one felony count of tax evasion, Grimm resigned from Congress on Monday, setting the stage for a special election to be called by Governor Andrew Cuomo. Staten Island District Attorney Daniel Donovan is widely expected to be the chosen Republican nominee for the race. Meanwhile, the Democratic frontrunners were quickly named as New York Assembly Member Michael Cusick and former Congressman Michael McMahon, both from Staten Island. But, with talk that both Cusick and McMahon are hesitant to take Donovan on, especially in a special election, other names have emerged from the Brooklyn side of the district, including Gentile.
"Councilman Gentile has been truly humbled by the outpouring of support he has received over the past few days and people urging him to run to fill the vacancy in the 11th Congressional District," Gentile's Communications Director, Justin Brannan, told Gotham Gazette on Monday afternoon.
Gentile has been a council member from Brooklyn since 2003, representing Bay Ridge, Bensonhurst, Dyker Heights and Bath Beach. Although Recchia, the Democrat who lost the election to Grimm, was also from Brooklyn, Gentile has a stronger link with Staten Island, representing part of the borough as a State Senator from 1996 to 2002.
"Indeed, with over a decade serving as an Assistant District Attorney, many years representing Staten Island as a New York State Senator, a strong legislative record and an unparalleled constituent service operation, Councilman Gentile is confident that he has a lot to offer the people of New York's 11th congressional district and is giving the race to replace Michael Grimm much thought," said Brannan. "Later this week he will meet with Democratic Party leaders on both sides of the Verrazano to further discuss the race," he added.
Any Democratic candidate, be it Gentile, Cusick, or another, is expected to face Donovan, the DA who recently presented the grand jury case against Police Officer Daniel Pantaleo in the death of Eric Garner. Being a Republican, Donovan has strong support in his home borough, but faces his own challenges with the spotlight on him from the Pantaleo-Garner case.
A key question is whether a Brooklyn candidate has any real chance in the 11th Congressional District. While Recchia proved an especially weak candidate, his being from Brooklyn certainly set him at a disadvantage to begin with. "There's resistance here to vote for somebody from the other side of the bridge," said Tom Shcherbenko, a district leader and president of the Staten Island Democratic Association. "My gut feeling is that we're not going to go with a candidate from Brooklyn," he added.
Making the race more complicated will be Governor Cuomo's decision of when to schedule the special election. Some say the governor may act quickly, setting a date in March, but if he opts to follow his precedent from 2014 when he did not call special elections to fill vacant state Legislature seats, he could choose to have the special on November's Election Day. This would be the same date as the election for Richmond County (Staten Island) District Attorney, and thus change the candidate equations drastically for both parties.
***
by Samar Khurshid
@SamarKhurshid
---