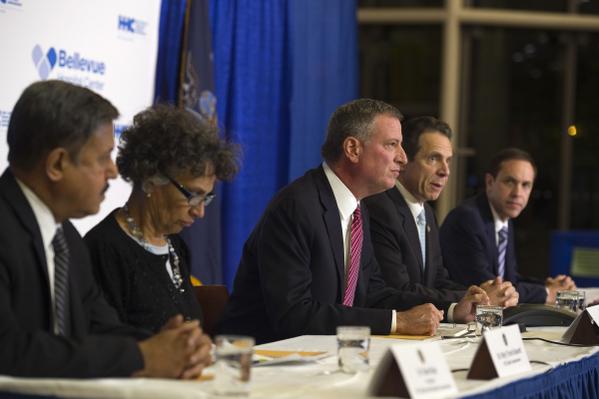 De Blasio & Cuomo side by side in Oct. at an ebola press conference (photo: @nycmayorsoffice)
---
An emboldened and strengthened Republican majority appears ready to block some of the biggest items on New York City Mayor Bill de Blasio's Albany agenda after his failed fall bid to help win the Senate for Democrats. There are major issues at stake for the city as rent laws and mayoral control of schools are set to expire and the mayor has invested political capital in pushing for an increased minimum wage.
De Blasio will soon have a chance to reset the tone of his relationship with Senate Republicans, led by Dean Skelos, who has not had kind words for the mayor of late. On Wednesday, Jan. 21, Gov. Andrew Cuomo will give his State of the State Address, in which he will discuss several issues important to de Blasio. De Blasio's comments immediately following Cuomo's speech will be telling. Last year, de Blasio offered Cuomo nothing but support despite tensions over pre-kindergarten funding.
Shortly following the State of the State, de Blasio will likely travel to Albany to address legislators as part of budget hearings and make a plea for the city's needs. At that point, we will get a much clearer picture of what de Blasio is prioritizing and thinks may be attainable in a more hostile 2015 environment.
Insiders say they expect de Blasio will be much less confrontational than he was last year during his fight for expanded pre-k and a city tax to fund it.
However, insiders note regardless of de Blasio's attempts to defeat Senate Republicans he had already become a target of theirs because of his progressive stances and growing national popularity. But now things are personal, and de Blasio is expected to be forced to move his agenda through proxies in the Assembly and grassroots organizations. And all while the governor is likely to ally himself with Republicans on issues like increasing charter schools and not allowing minimum wage home rule for localities.
Indicative of the icy relationship, Republican Majority Leader Skelos even took time on the first day of session to chide de Blasio for his troubled relationship with the NYPD. "I think that Mayor de Blasio has to be more sensitive in terms of the words or statements he makes concerning the police," Skelos told reporters.
"I went to those two funerals. Those policemen were assassinated...[A]s public officials we have to show strong support of our police officers and our conference will do it," he added.
This isn't the way the 2015 state legislative session was supposed to start for Mayor de Blasio. A number of pundits and Democrats thought de Blasio's relationship with the Legislature would be in stark contrast to that of his predecessor, Michael Bloomberg.
Upon de Blasio's taking office, city-based Democratic legislators said they had been shut out of policy discussions with the Bloomberg administration and felt de Blasio would be more welcoming to discussions. The de Blasio administration successfully worked with legislators on pre-k and the mayor's traffic safety platform known collectively as Vision Zero. They noted that the Bloomberg administration made its presence felt by donating vast sums of money to Senate Republicans, a conference with few members hailing from the city. Now de Blasio has alienated those same Republicans and they remain as powerful as they were during most of the Bloomberg administration, if not more so.
Diane Savino, of the Independent Democratic Conference, members of which faced primary threats from de Blasio-backed candidates last spring before agreeing to caucus with Democrats if they won the majority (some still faced primaries), had a warning for the mayor in November 2013.
"I think the new mayor needs to understand that legislators have their own constituencies to answer to," Savino told Gotham Gazette. "It doesn't have to be a war. That didn't work too well in Washington."
Savino insists that despite any bad feelings, de Blasio's major issues are not at risk. "We've renewed the rent laws and mayoral control with a Republican Senate in the past. No one is going to look to jeopardize tenants because of a political grudge with the mayor," she said.
"On mayoral control of schools," Savino continued, "I think we should look at changes to make it better, like doing away with the Panel for Education Policy, which is essentially a staff meeting for the mayor's office. We aren't gonna end mayoral control. It's funny 'cause I think if you asked Councilman de Blasio 10 years ago whether he supported mayoral control of schools he would have said "no," but now I assume he is going to come out in support of it because he is in charge."
Other insiders insist de Blasio still has a strong lobbying presence in Albany and long-term personal and working relationships with major players on both sides of the aisle. "The mayor is still positioned really well. He has relationships on both sides of the aisle that span decades. He has experience working with Jeff Klein, Marty Golden, the Speaker, and his personal relationship with the governor," said Sen. Brad Hoylman, a Manhattan Democrat.
In the end, though, de Blasio may very well find himself at Cuomo's mercy (again). Last year as de Blasio pressed for pre-k funding and sought to stop charter schools from being co-located with district schools, Cuomo rallied with charter school advocates and even indicated that mayoral control might stand in the way of the charter school movement.
In December, however, the Cuomo administration sent out an open letter questionnaire to Board of Regents Chancellor Merryl Tisch and outgoing State Education Commissioner John King asking for their takes on extending mayoral control of schools to upstate cities and what "improvements" they would make to New York City's version.
Cuomo appears poised to help renew control, but with changes that win him points in the charter schools sphere.
The governor's willingness to expend political capital on de Blasio's biggest issues will be a major factor in what gets done this year. "I think this amounts to the fact that this is divided between Republican and Democratic chambers and a Democratic governor," said Hoylman. "This will come down to what the leaders are able stomach."
One insider questioned how much Cuomo would go to bat for major city issues when he will need to bargain with Senate Republicans for his own policies like the Women's Equality Agenda.
This could spell trouble for de Blasio and others in the city when it comes to rent regulations. Cuomo is seen to be a major ally of landlords because of his close relationship with the Real Estate Board of New York.
Senate Republicans, meanwhile, bring in millions of dollars each election cycle from the New York City-based real estate industry despite having few city-based members.
"We do have vacancy decontrol, which I think is appropriate," Skelos told the Daily News this week. "Certainly I think I'd like to modify it to make sure that those who can afford to pay higher rent are paying that rent." In an earlier interview with City & State NY, Skelos reiterated his belief in free-market principles.
There is a large segment of allies that de Blasio can count on this session: progressive grassroots organizations that will likely turn out en masse to support increasing the minimum wage, mayoral control of schools, and rent regulation renewal. The Working Families Party and other progressive groups are still bitter at Cuomo and blame him for Republicans winning outright control of the Senate. De Blasio may technically be a Cuomo ally, but the Cuomo administration remains concerned about maintaining the governor's position as the premier Democrat in the state. And Cuomo is clearly comfortable with legislating in a bipartisan fashion.
Senate Republicans have announced they will hold hearings this month on both police and public safety. Some Democrats fear Republicans will use the hearings to drag de Blasio's relationship with the NYPD over the coals.
Much of 2015 for de Blasio and his Democratic allies in the city and Albany will likely be about ensuring their "must" items, not necessarily pursuing a more ambitious agenda. In the end, most legislators expect mayoral control of schools and the rent laws to be renewed - but the devil will, as always, be in the details.
"The short of it is that the world isn't gonna end, the children aren't gonna die, and we are gonna do our jobs," said Savino.
***
by David King, Albany editor, Gotham Gazette
@DavidHowardKing