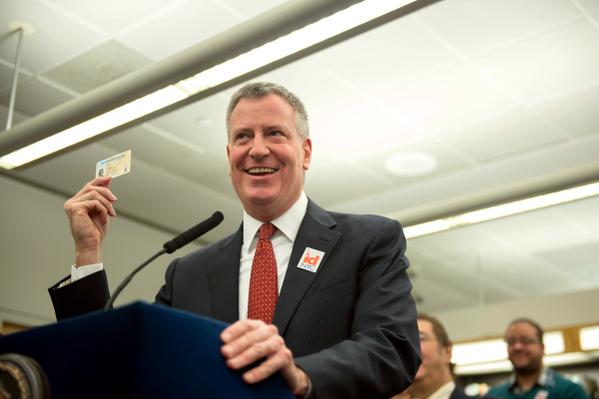 Mayor de Blasio launching the IDNYC program (photo: @NYCMayorsOffice)
---
On Monday New York City officially launched its new municipal identification card program, called IDNYC. The new form of ID, which will be accepted by city agencies including the NYPD and some financial institutions, gives a new opportunity to New Yorkers currently unable to get state or federal identification due to immigration or housing status.
During the press conference announcing the roll-out of IDNYC, Mayor Bill de Blasio made special reference to the benefits military veterans would receive with the new ID.
"We want to make sure that every veteran gets all the support and the benefits due to them, so there will be a special veterans designations on this card to help each and every veteran get the benefits they deserve," de Blasio said at the press conference.
But the cards being issued this week will not have a military veteran designation. In fact, the only mention of anything related to veterans on the two-page card application is the use of a military ID as one form of documentation that can be used to apply.
Gotham Gazette reached out to the mayor's press office for clarification and was told the veterans designation will be added "later this year," according to an email from a city official who would only communicate on background. The official said neither a veteran-identifying logo nor a date for availability had yet been determined.
It is unclear at this point how the City will identify veterans for the new ID. Beginning January 1, 1950 the Defense Department issued all veterans a DD214 form upon being discharged (honorably or otherwise). But veterans who deserted their posts (which happened with some frequency during the Vietnam War) did not get DD214 forms. In addition, homeless veterans may no longer have the papers.
It is also unclear if veterans with dishonorable discharges will be allowed veteran status with IDNYC cards. Veterans with dishonorable discharges are not allowed to receive VA medical benefits.
When asked by Gotham Gazette what paperwork veterans would need to identify as a veteran and if dishonorable discharges would be accepted, the city official said, "We will make that information available at the time of designation launch."
The official added the City would be reaching out to the veterans community for input on these issues in the coming months.
***
by Kristen Meriwether, Gotham Gazette
@MeriwetherK