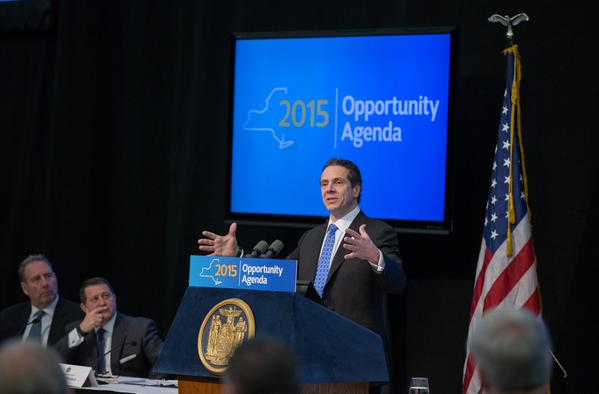 Gov. Cuomo gives a pre-State of the State speech (photo: @NYGovCuomo)
---
Governor Andrew Cuomo's decision to combine his 2015 State of the State Address and budget presentation appears to be a move that will play to the governor's strengths. Not only should what he's calling his 2015 New York State of Opportunity Agenda showcase the governor's skills as a public speaker, but it should also work to his advantage at the negotiating table.
Cuomo's past State of the State addresses show a governor less given to the soaring oratory of his famous father, instead comfortable with boardroom-like pep talks built around carefully-designed PowerPoint presentations. Combining his budget presentation and policy agenda could very well allow Cuomo to tightly connect his platform - which, based on history, could very well be passed in large part through the budget anyway.
Cuomo has displayed a willingness to do away with tradition to fit his own style - in 2011, his first year in office, he began holding his State of the State in the Empire State Plaza Convention Center, rather than in the Assembly Chamber like his predecessors. Many legislators took it as a sign of disrespect, others took it as a message that Cuomo would be playing by his own rules, setting his own agenda.
Cuomo has won many of his major State of the State proposals in his first four years as Governor, and he has at times been rebuffed by the Legislature and walked away from high-profile policy proposals. At other times the governor has abandoned his own ideas seemingly because they no longer served him politically.
This year, Cuomo comes into his major January speech walking his usual tightrope, governing as both a fiscal moderate and social liberal - a dichotomy the governor himself boasts of, even using the word conservative to describe his economics. Cuomo has made his legacy on that dichotomy, which has led to many compromises, returning New York to sound fiscal footing, and a fair share of both praise and consternation as he often leaves many pleased and no one pleased.
As Cuomo gets set to take the stage next week, a review of his first four State of the State Addresses shows the types of initiatives the governor has prioritized, where he has been successful and where he has not, and several themes that are sure to inform the speech and path ahead.
Compromise will surely be necessary again this year as Cuomo works with a Democratically-controlled Assembly and a Republican-controlled Senate. Governing from the middle with occasional leaps to the left and to the right is where Cuomo appears comfortable. How much he can convince Senate Republicans to let him leap left is important to watch, especially as they harbor resentment toward New York City Mayor Bill de Blasio and note that some of their former colleagues who lept with Cuomo on marriage equality and the SAFE Act are no longer in office.
But this year, unlike in the past, Cuomo has a serious pot sweetener: over $5 billion in settlement cash that a number of legislators hope will be used for infrastructure improvements across the state - or, more specifically, in their districts.
It is a safe bet that Cuomo's 2015 address will feature some more-than-familiar moments to those who've watched the speeches of years past.
In each of his State of the State speeches Cuomo has used the capitol building as a metaphor for something that was once glorious and can be restored; he has said he wants to re-establish New York "the progressive capital of the nation"; he has touted the number of on-time budgets he and the legislature have delivered (this year he'll say four in a row and counting); he has demanded more teacher accountability but explained new changes he's seeking; and, he has stressed a need for ethics rules overhaul and campaign finance reform while mentioning unsavory headlines.
A closer year-by-year look at Cuomo's past State of the State addresses and major proposals therein:
2011
In a cold, impersonal convention center, backed by a large video screen Cuomo gave his first State of the State, and announced: "We need radical reform, we need a new approach, we need a new perspective, And we need it now."
Cuomo went on to attribute the state's $10 billion deficit to chronic overspending by the Legislature and announced a number of fiscal austerity measures, including a salary freeze on public workers and drastically cutting Medicaid spending. He also pushed for a property tax cap.
He further announced that he wanted increased accountability in education, with school funding based on performance.
Cuomo said that the notion that the Legislature is corrupt is an "aberration" and proposed full disclosure of outside income by legislators and public financing of campaigns. Both those things are still on Cuomo's agenda today, but face extreme opposition from legislative leaders. However, in June 2011 Cuomo reached a deal with the Legislature that started a new ethics body - the Joint Commission on Public Ethics (JCOPE) - and passed a law to require stricter disclosure on legislators' outside income.
Promising to return New York to the "progressive capital" of the nation Cuomo announced his backing of marriage equality. The bill would pass the state Senate in June and become law in July of 2011. By many, it is still seen as the governor's crowning achievement.
With juvenile offenders having a recidivism rate of 90 percent Cuomo pushed for major reforms to the justice system, including focusing on alternative punishment and treatment. He also famously said, "An incarceration program is not an employment program," something that deeply worried upstate legislators who represent districts where prisons had been the major employer. Cuomo noted that the state had many empty prison beds throughout and went on to shutter seven prisons across New York. Not all of them were in the most obvious locations upstate, two were in New York City. Still the move upset many Republicans.
2012
Cuomo took his time in 2012 to relish in his major early victories, which included marriage equality, ethics reform, closing the $10 billion deficit, establishing regional economic development councils, renewing rent laws, and eliminating nearly 4,000 prison beds.
The fresh proposals Cuomo outlined in 2012 did not turn out to be as easy to deliver on as 2011's.
Cuomo led off by proposing the "nations largest convention center" in Queens. The idea came out of left field for most observers. The New York Times later reported that Malaysian casino operator Genting proposed the idea to Cuomo at a fundraiser in Westchester. Genting also made major donations to the Committee to Save New York - a group formed at Cuomo's urging to back his agenda.
Plans for the convention center were eventually scrapped.
However, Cuomo did announce some of what became signature issues, including $1 billion in development funds for Buffalo, allowing casinos across the state, and creating a DNA database for anyone convicted of a felony or misdemeanor.
Cuomo also famously doubled down on tying education funding to performance and pushing for greater teacher accountability, saying: "l learned that everyone in public education has his or her own lobbyist. Superintendents have lobbyists. Principals have lobbyists. Teachers have lobbyists. School boards have lobbyists. Maintenance personnel have lobbyists. Bus drivers have lobbyists.The only group without a lobbyist? The students. Well, I learned my lesson. This year, I will take a second job - consider me the lobbyist for the students."
Cuomo is still pursuing these education goals, though he's made some slight progress toward them.
The governor was not able to deliver on his push for campaign finance reform or for legislative district lines being drawn through an independent process. Nor was he able to successfully push for the Reproductive Health Protection Act which eventually became (and remains) the most controversial plank of the Women's Equality Agenda.
Cuomo mentioned hydraulic fracturing, or fracking, in the Southern Tier only to say the Department of Environmental Conservation was still conducting its review.
2013
Cuomo's third State of the State contained a number of highs and lows for the governor. The speech came shortly after the Sandy Hook Elementary School massacre and Cuomo focused on his seven-point SAFE Act that featured the toughest assault weapon ban in the nation, required more stringent background checks for gun sales, and banned direct ammo sales over the internet. The Legislature moved to pass the bill only days later.
Cuomo was also able to deliver on his promise to set a path toward increasing the minimum wage. Progressives pushed for a much more significant bump, but what they got in the end was a staggered increase to $9.00 an hour by December 2015.
The governor's 10-point Women's Equality Act proved much more divisive. "Maybe its a man's world, but it is not a man's world in New York. Not anymore," Cuomo said after unveiling the agenda that included protections for domestic violence victims, greater penalties for human trafficking, and a measure that would make Roe v. Wade part of New York law. "We are going to pass this Women's Equality Act. We are going to change the lives for my daughters and your daughters and your sisters and your nieces and your wife..." Cuomo said with a fervor absent from most of his public speaking. And yet the act remains contentious in Albany because Senate Republicans refuse to act on the abortion plank and the Assembly refuses to act on the rest without it. Cuomo created the Women's Equality Party last year to push the agenda, not being able to move it this year could prove embarrassing.
Another item Cuomo was unable to deliver on was his promise to reduce penalties for possession of small amounts of marijuana."There is a challenge posed by the stop and frisk police policies." Cuomo said, noting that marijuana arrests make it hard for people to find jobs and get into college. Cuomo was challenging a major policy of Mayor Michael Bloomberg, who he had a contentious relationship with. The Legislature resisted and later Cuomo said that the city had addressed stop-and-frisk on its own, making State action unecessary.
On education, Cuomo lamented what New York gets for its investment. He called for longer school days and universal pre-kindergarten, as well as again calling for tougher teacher evaluations and suggesting performance bonuses.
2014
Cuomo's first election-year State of the State lacked some of the big ideas of previous addresses and focused heavily on taxes and the upstate economy.
On infrastructure, Cuomo stressed the need for a new Tappan Zee Bridge and proposed renovations of JFK and LaGuardia Airports. He also discussed preparing for extreme weather events and "hardening our transit system."
Cuomo touted the need for the Moreland Commission to clean up corruption in Albany, saying: "The argument by some members of the Legislature is that we created JCOPE and that should solve the problem. But there has been a string of bad acts, almost on a daily basis. Open up the newspaper, even today, and you see more and more stories of individual legislators who have done bad acts. And it reflects poorly on all of us, because people don't distinguish: it's an Assemblyman, it's a Senator, it's a Democrat, it's a Republican - it's just a politician."
Cuomo cut a deal to shutter the commission a few months later. It was also revealed his office played a hand in crippling investigations.
This Year
The Cuomo balancing act has caused a few bumps in the road for him of late. Although he ran on several progressive issues and said he supported a Democratic Senate, he faced major backlash from his Democratic base on fiscal issues and is working with a Senate that is still controlled by Republicans unlikely to let him veer very far left.
Senate Republicans are seemingly unwilling to address most of the progressive issues touted by Cuomo's left-leaning constituents, such as campaign finance reform, a further minimum wage increase and control by localities, and the abortion plank of the Women's Equality Agenda. Rent laws governing New York City will be of special significance this year.
Republicans are angry that Mayor Bill de Blasio led a major effort to unseat them (with the less-than-enthusiastic help of Cuomo). But more than being angry, some Republicans are extremely hesitant to stick their necks out for Cuomo because they or their colleagues have taken serious lumps from constituents over support for same-sex marriage and the SAFE Act, two signature first-term, liberal Cuomo accomplishments. All four GOP members who voted for same-sex marriage after lobbying from Cuomo and his allies have lost their seats.
The SAFE Act came to a vote in the Republican-controlled Senate and passed with the help of a number of prominent Republican votes. It was a major issue upstate during the 2014 gubernatorial and legislative contests.
As always, what might be palatable this year will largely depend on what is being offered in exchange.
[Read our detailed preview of the governor's State of the State/budget presentation speech, which includes a look at key aspects of his "Opportunity Agenda" that he has unveiled in the week prior to the speech]
***
by David King, Albany editor, Gotham Gazette
@DavidHowardKing
Research contributed by Jarad Sassone-McHugh