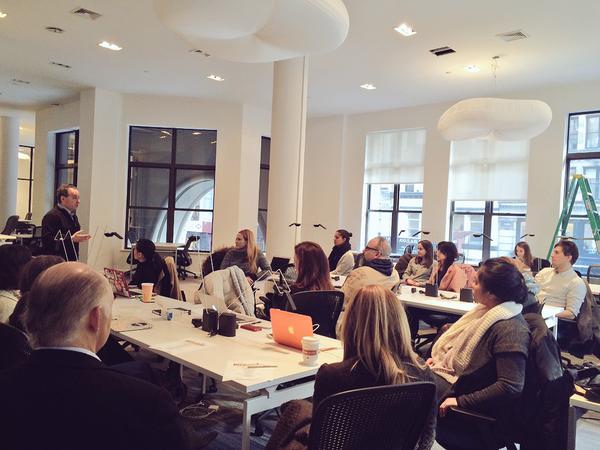 An early Civic Hall presentation for beta members (photo: @VeronicaLudwig)
---
NEW YORK—On Tuesday Andrew Rasiej and his business partner Micah Sifry will open Civic Hall, a 21st century community center and event space for New York City's rapidly growing civic technology sector. The space will be a central hub where hacktivists, data geeks, and government officials can regularly meet to collaborate on ways to address civic problems—a space missing in the city until now.
For those in the civic technology arena, it comes as no surprise that Rasiej and Sifry have taken on the project. The duo started Personal Democracy Forum (PDF) in 2004 as a one-day conference to bring together those interested in how the internet and technology was changing politics and governance. PDF has grown from an initial one-day conference of 200 people at the New School in 2004, to multiple two-day events in cities around the globe attended by thousands in person and online.
PDF and now Civic Hall are all about sharing ideas, solving problems, and improving government. The new space and membership to it are designed to enhance collaboration, innovation, and all the key elements of what makes the civic tech community so impactful.
Rasiej and Sifry have cultivated this community for over a decade, and now the pair will fittingly be the ones to build, open, and operate a center for the community each has become so immersed in.
But the inspiration for Civic Hall wasn't born out of a hacknight, or people bugging Rasiej and Sifry about the lack of space for people interested in civic tech. Sure, those conversations happened, but the seed was planted years earlier on two separate, but equally powerful trips to Poland.
Poland, 2004
Community centers have been in Rasiej's family for nearly a century. He just didn't know it until he was in his forties.
Rasiej had not been to his family's homeland of Poland since childhood and decided to go with his father, Steve Rasiej, to his birthplace of Nehrybka in 2004. There, father and son were driving from the two-room house without running water that the father had been born and raised in to Parish Church of Nehrybka, two miles away, where he had been an altar boy.
It was on this road where they passed a red brick building with "Community Center" painted in white on a wooden sign outside. Rasiej's father pointed to the building and said, "I laid the bricks for that building."
Rasiej was puzzled, having never heard the story growing up and asked his father to explain. Rasiej's grandfather, Zygmunt Rasiej, was a local police captain for the small township which had a mix of Catholics, Jews, and Russian Orthodox residents. He noted these groups were meeting in churches and temples to discuss local issues, but had no secular place to safely meet together.
So Zygmunt asked for funding from the government to build a local community center which would give these very different groups with equal stake in the community a place to meet. They were given enough money for materials, but not labor to build it. So Rasiej's grandfather called on his family—including Rasiej's father, who was nine years old at the time—to help build the community center. It was completed in 1936.
Shortly after the community center was erected, World War II broke out. In 1940 Rasiej's grandfather was one of the 22,000 leaders arrested and killed in the Katyn Forest Massacre and Rasiej's father was sent by the Soviets to the labor camps in Siberia. Rasiej never met his grandfather, but decades later he saw his family's legacy of community building right where it started.
"This desire to build community is in my genes," Rasiej said during a recent interview at Civic Hall, which will hold a kick-off open house on Tuesday, January 20.
"It is very moving and gratifying that Micah understands that this [Civic Hall] is actually an extension of my family's work," he added, as tears filled his eyes.
It wasn't until another trip to Poland in 2013, this time with Sifry, that Rasiej finally got the ball rolling on a community center of his own.
(Zygmunt Rasiej)
Poland, 2013
For years civic tech enthusiasts from Warsaw had been flying to the United States and neighboring European countries to attend PDF. They asked Rasiej and Sifry for a conference to be held in Warsaw, Poland, and in 2013 the pair obliged.
Following that first PDF in Warsaw, Rasiej and Sifry had a few extra days before returning to the U.S. and decided to visit Auschwitz. The trip was very personal for both men. Like Rasiej, Sifry's family also suffered during World War II, his at the hands of the Nazis. Sifry's mother is a holocaust survivor and both his and his wife's families lost dozens of members during the war.
The visit was, for obvious reasons, very powerful for both men and initially the car ride back was quiet as they contemplated what they had seen. But as they drove further away, their thoughts slowly began to return to the real world and their most pressing question: what would they do next? They were at something of a crossroads and had what they say was a "what do we want to be when we grow up" moment in the car.
"Do we want to just keep doing a conference (PDF) and a website and being community weavers in our personal time?" Sifry said they asked themselves. "Or what can we do that is more institutionally valuable?"
With images of Auschwitz still fresh in his mind, Sifry's thoughts turned to Rasiej's grandfather's story, which he had heard before. A lightbulb went off. What about a community center for those in civic tech they had been working with for over a decade?
During their ten years in business together, Sifry said he had often bugged Rasiej about having a "store front" for their civic tech community. But the timing had never been right for a variety of reasons and the idea was always shelved.
The conversation in the car accelerated and the initial plans for Civic Hall began to take shape.
Civic Hall
The idea for Civic Hall began to become a reality shortly after that 2013 trip to Poland. The duo took their idea to Omidyar Network, Google, Ford Foundation, and Microsoft, and received initial funding. They spent a year doing research, speaking to over 150 key players in the civic tech ecosystem, not just in New York City, but around the world.
"What we were trying to figure out is what does civic tech need, what are we particularly good at doing, and what does the civic tech community in New York City, in particular, need?" Sifry said during last week's interview. "That is where Civic Hall was born."
Sifry said they looked at successful models in other cities with robust civic technology communities, including 1776 and Open Gov Hub in Washington D.C., the Berkman Center in Cambridge, and 1871 and Smart Cities in Chicago.
"One of the things we saw was that the whole ecosystem benefits when there is a central hub," Sifry said.
Chicago's co-working space, 1871, is a prime example of how a central hub has benefited the tech community. The 50,000 square foot space opened in January of 2012 and has become the most prominent co-working technology space in Chicago.
"Having that physical meeting space is valuable," Derek Eder, co-founder of Chicago's Open City hacking group and partner at DataMade, said in a phone interview last week. "The community would not be what it is without that central place."
1871 is where the Open City hacknight was based for two-and-a-half years before recently moving to a larger space (albeit in the same building). What started as a small group of like-minded civic technologists interested in solving some of Chicago's perplexing civic problems with data, has grown into the go-to place for all things civic tech.
Eder said the current Chief Data Officer for Chicago, Tom Schenk Jr., is a regular attendee of the hacknight, along with a bevy of other government officials from across multiple agencies. He said having the meeting on neutral ground, outside a government building, allows for more open and frank conversation.
"If we were all meeting somewhere on government premises, I think it would change the dynamic of how people would act," Eder said. Fully engaging, thinking creatively, and speaking candidly are all key to making such communities flow.
"That is an important thing to having the success of the community," Eder said of open, frank conversation.
Civic Hall aims to be that "safe zone" for collaboration among government and civic technologists here in New York. How much the de Blasio administration will buy in to Civic Hall remains to be seen, but it appears at the outset the administration is supportive.
"Mayor de Blasio has set forth a goal to make New York City the most tech-friendly and innovative city in the world. Collaboration with our vibrant civic tech community is vital to this success," Chief Technology Officer Minerva Tantoco said by email. "As CTO, I look forward to working together with Civic Hall to harness the creativity of all New Yorkers to bridge the digital divide, foster an innovation economy, and incubate the next generation of government technology."
Supporting the Civic Hall endeavor is low-risk for the de Blasio administration and may be why it is willing to lend early support. Few city governments around the country are willing to build or lead an innovation project like this, largely due to their political risks.
"The capacity to use failure as a way to learn inside government is close to zero," Mark Headd, former CTO for the City of Philadelphia, said during an interview at Civic Hall last week. "[Failure] is really one of the core ingredients of innovation. You have to be able to fail without it being the end of the world."
Sifry and Rasiej openly acknowledge Civic Hall is an experiment and, like the other innovation projects they have collaborated on in the past, they are sure it will evolve to ensure its longevity. The fact they won't have the ravenous New York City press corps waiting to feast on any misstep will allow them breathing room, a luxury City Hall would likely not be afforded.
Rasiej sees Civic Hall working with or without buy-in from City Hall, although he is optimistic based on how the de Blasio administration broached tech in the new mayor's first year. He has already watched government benefit from collaboration with civic technologists on projects using MTA data and numerous successful apps coming from the City's BigApps competition.
Civic Hall will offer city agencies a place to flock when ready to enlist the help of the civic tech community, on data projects for example.
Memberships are tiered, running from $30 to $550 per month depending on how much access is desired.
"If I was still in government, I wouldn't want to have to go hunting around to try and find these people [civic technologists]," Headd said. "If I could find a place that brought them in, it would be really attractive to me."
Community building legacy
Rasiej didn't lay the physical bricks for Civic Hall, but like his grandfather did with the community center in Poland, he did have a hand in a key piece of the infrastructure—albeit a more modern version. Civic Hall is wired with blazing fast Wi-Fi, something Rasiej has long been advocating for improving everywhere.
The sign on the door at Civic Hall isn't wood or painted white. In fact, city laws prohibit signage outside of 156 Fifth Avenue, in the Flatiron District, where it is located. But in the digital age, the word is spreading virtually with the hashtag #civichall, which is etched in frosted glass on the front door of the second floor entrance.
The building is different and so is the sign, but much like his grandfather, the idea of bringing together those ready to make positive change in the community is very much behind Rasiej's community center. He and Sifry are nothing if not community builders.
"I think that idea of creating a community center for our community, the community we have been building, that is really at the core of what we hope Civic Hall will be," Sifry said. "It is a chance to do something new and challenging that we think can really make a contribution."
[Read: De Blasio Admnistration, City's Tech Community Look Ahead to Big Year Two]
***
by Kristen Meriwether, Gotham Gazette
@MeriwetherK
Note: this article has been updated.