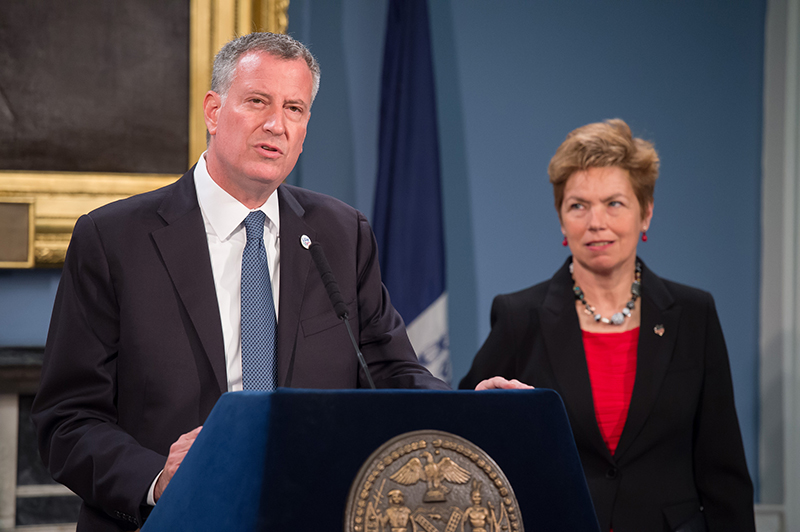 Mayor de Blasio and MOVA Commissioner Sutton (photo: Mayor's Office)
---
A little over a month after Mayor Bill de Blasio appointed retired Army Brigadier General Loree Sutton as the new Commissioner of the Mayor's Office of Veterans Affairs (MOVA), she was called before the City Council to testify. In late September of last year, the committee was hearing a much-anticipated bill, Intro. 314, that would turn MOVA into its own department instead of a poorly-funded office under the mayor.
It is a plan advocates had been pushing for a while and they were eager to hear what the new commissioner would say regarding the legislation. But they didn't get much from Sutton that day - in her short testimony, she declined to take a position on the bill.
"Introduction 314 deserves all due consideration as we dedicate ourselves to the historic journey that lies ahead," Sutton said during her testimony on Sept. 29, 2014. "After completing my assessment and sharing my findings with Mayor de Blasio, I look forward to following up with the New York City Council Committee on Veterans to discuss this important proposal in further detail."
Sutton set out on a 90-day review of her department and several pieces of relevant legislation introduced by the Council, including Intro. 314; while also learning about the veterans community in New York City. Following the 90 days, which expired on Dec. 1, Sutton was to submit a report to de Blasio with recommendations. When asked by Gotham Gazette earlier this week, de Blasio said the report had been submitted, but he had not yet reviewed it.
Sutton's report has not been made public, so it is unclear if the commissioner recommended to back the bill. De Blasio said he thinks the intention behind the legislation is a good one, but still appears cool to the idea.
"I have never been convinced that turning an office into a department in any subject matter is really the way to get things done best," de Blasio said during a briefing with reporters on Tuesday. "I am certainly going to look at it. But my central question, which I will wait for more guidance from General Sutton on, is what is the best way to serve veterans?"
De Blasio may be lukewarm on the legislation, but nearly 30 council members feel Intro. 314 is the best way to serve veterans. It would allow the Council to hold preliminary and executive budget hearings on veterans issues and services, a move many feel could lead to more funding, as well as contracts being awarded to veteran service providers directly instead of through other city agencies unfamiliar with veterans groups.
"This bill will fundamentally change the city's capacity to meet the demand of a growing and diverse veterans' community," Council Member Eric Ulrich, chair of the Council's Veterans Committee said by email Wednesday. "Aside from the symbolic significance, it will allow for more funding to support VSOs and direct providers who serve veterans and their families."
The bill has been quietly gaining steam in the last several weeks and as of Tuesday Intro. 314 had 27 sponsors. That's enough to get it passed by the City Council and close to the magic number of 34 votes needed for a veto-proof majority of the Council's 51 members.
Speaker Melissa Mark-Viverito, who actively supports veterans and veterans issues, has not added her name to the bill yet, but she is considering it.
"Anything we can do to really bolster that office to do its function and serve on behalf of our veterans is something I would seriously consider," Mark-Viverito said at a recent press conference. "We want to continue to help that agency, that division, to help function as strongly as it can. We will look at it aggressively and see if we can move forward."
The time for consideration, however, is becoming thin. The mayor must submit a preliminary budget by February 24 and a final Fiscal Year 2016 city budget must be passed by June 30. Funding for the new department would need to be included in the budget to avoid delays in setting up the department until the following budget cycle.
The Veterans Committee will next meet on February 10 to hear legislation that will reform the Veterans Advisory Board. While all five members of the committee are sponsors on Intro. 314, there is no scheduled vote for the bill.
With the backing of the majority of his fellow council members, Ulrich will continue to push for Intro. 314.
"It is something that should have been done years ago and it will be a game changer in how we help local vets and transitioning service members," Ulrich said.
***
by Kristen Meriwether, Gotham Gazette
@MeriwetherK