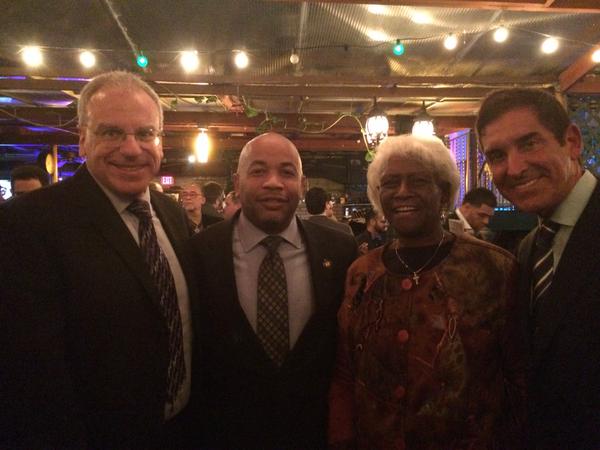 Heastie, second from left, at a Thursday rally in the Bronx (photo: @RandiMartos)
---
The race to replace Sheldon Silver as Assembly Speaker appears to be narrowing to two main candidates. One is from New York City and one is from upstate New York. Assembly Member Carl Heastie, who serves as the Bronx County Democratic Committee Chair, has the backing of Mayor Bill de Blasio. Assembly Member Joseph Morelle of Rochester, who serves as Assembly Majority Leader, has the backing of Gov. Andrew Cuomo - and is set to take over as interm speaker on Monday.
Heastie has quickly wrapped up support from former speaker candidates Assembly Members Keith Wright of Manhattan and Joe Lentol of Brooklyn, who have in turn asked their supporters to back Heastie. Assembly Member Catherine Nolan from Queens, also still in the running for speaker, appears to be losing the support of her borough's Democratic establishment.
But even as Democratic Party leaders coalesce behind him, not everyone from the city is sure Heastie is the right choice. Heastie carries baggage from his work as Bronx County Chair, wherein he has backed a number of ethically-challenged candidates. Heastie stayed neutral in the race between now-convicted State Sen. Pedro Espada and the man who replaced him, Sen. Gustavo Rivera.
Heastie is known as a consensus builder and has worked with those who beat his incumbents or preferred candidates. However, many advocates and legislators are worried that Heastie is concerned not with reform, but with consolidating power. Watching the party bosses rally support behind one of their own has many questioning how much of an improvement Heastie would be over Silver in terms of transparency and member empowerment. A number of Bronx legislators claim that Heastie and long-time ally Bronx Borough President Ruben Diaz Jr. have designs on Heastie becoming speaker and Diaz Jr. running for mayor. Diaz Jr. is a vocal supporter of Heastie for speaker.
Perhaps alarming to many Democrats, especially reform-minded progressives, Heastie has also made public statements seemingly supporting the Supreme Court's Citizens United decision - he has insisted that campaign donations do not influence politicians. Heastie also voted against marriage equality in 2007, but did vote for it subsequently.
The election of a new speaker will have untold impact on city issues this year and beyond as Mayor de Blasio finds himself in a particularly tough spot in Albany. De Blasio needs an ally in the speaker's office, and seems willing to go with Heastie even if he may not perfectly line up ideologically.
2015 was already going to be a tough year in the capital for de Blasio and his agenda. And then his closest ally, Assembly Speaker Sheldon Silver, was arrested on federal corruption charges.
Now, with Silver on the way out from the position and his replacement unclear, de Blasio's agenda could be in even further jeopardy. With the race in full sprint and a vote set for Feb. 10, a great deal is at stake for the mayor and the city as jockeying intensifies. It may be difficult to overstate how important it is to de Blasio that he has a close ally running the Assembly, which is part of why he appears staunchly behind Heastie, though without saying so publicly.
De Blasio bet big when he decided to openly challenge Republican control of the State Senate during last year's elections. He wanted the city to be able to decide its own minimum wage, take back rent control from the State, and more - all with the impending sunset of both mayoral control of schools and key rent laws.
He bet big and he lost - leaving scorned Senate Republicans more eager than ever to block his proposals and Gov. Andrew Cuomo emboldened, co-opting de Blasio's progressive rhetoric and pairing it with more moderate and conservative proposals.
Silver's demise is trouble for de Blasio and many in New York City as the long-time speaker was set to fight Cuomo's education reform agenda, push for a higher minimum wage, and act as the counterweight to Senate Republicans in negotiations over rent control. Whoever replaces Silver, the popular wisdom goes, will be significantly weaker in budget negotiations with Cuomo and Republican Senate Leader Dean Skelos. Nevertheless, how de Blasio- or New York City-friendly the next speaker is will be immensely important and there are major differences among the candidates for speaker in this regard, and others.
The mayor's office did not respond to request for comment about de Blasio's priorities and the Albany landscape, though de Blasio has told reporters this week that he is not personally in contact with candidates. De Blasio appears invested in Heastie despite some issues in the Assembly member's profile and ways in which the two may not see eye to eye.
Heastie, the 47-year-old Bronx County Democratic Party Chair, has a reputation for being flexible. Under Heastie's leadership the Bronx Party has generally backed its own establishment candidates - even when they face legal trouble or corruption charges - but welcomed newcomers into the fold. Heastie has insisted in interviews on the TV program BronxTalk that he doesn't choose which candidates to back on his own but goes with the consensus of other Bronx politicians.
In a statement declaring his candidacy, Heastie insisted that he is interested in reform and transparency: "Voters deserve an Assembly that will not only fight for all New Yorkers, but will enact the type of lasting reforms that will increase accountability and transparency in our state government."
But Heastie faces skepticism from the Assembly's burgeoning reform caucus, which is calling on speaker candidates to answer some very pointed questions about democratizing the body and improving transparency. "I don't know what Carl believes," one member told Gotham Gazette. Another Bronx member admitted that they aren't "particularly fond" of Heastie or "what he stands for," but said that those sentiments are outweighed by the fact that if Heastie takes the reigns, "guys from the Bronx won't have to beg and scrape to explain what our districts need."
The establishment groundswell around him is also being questioned by The Daily News Editorial Board, among others.
Good government groups are calling for an open, public hearing wherein the speaker candidates are vetted, going on the record on reforms of the body and the role of the speaker.
Heastie is known for being particularly close-lipped with the Albany press corp, relying on his spokesperson to get his message out. On Tuesday he told reporters while leaving the Assembly conference, "You all know my favorite term: No comment."
Gary Axelbank, host of BronxTalk, said that isn't the Heastie he knows. "He has been on the show nine times starting in 2000," Axelbank said. "I've enjoyed a long relationship with him from the start of his public service. He has always been an excellent guest and he has never said 'I don't want to talk about someone who has been indicted or why the county backed an indicted official.' I really see him as a stand-up guy willing to represent what he does."
Heastie has cosponsored legislation on housing, immigration, corrections, education, and discrimination, but his largest focus has been stopping wage theft.
But, Heastie drew outrage when he sponsored legislation that allowed pay-day loan lenders to charge up to 200 percent interest. Advocates said the loans take advantage of Heastie's most vulnerable constituents. The Daily News reported that Heastie's Bronx Committee received a $10,000 donation from the check-cashing industry. Heastie countered in later interviews that the donation was only for the committee dinner.
His campaign finance reports show that he takes in significant cash from the medical industry. City & State reported last year that Heastie's campaign accounts were examined by The Moreland Commission on Public Corruption because he had over $25,000 in unitemized expenses. "I've heard nothing from them. I'm not concerned whatsoever. You're not required to itemize expenses under 50 bucks," Heastie told City & State.
Heastie's take on campaign finance also appears to be at odds with the Democratic Majority in the Assembly (and a good many Democrats everywhere). During a 2013 interview on BronxTalk, Heastie argued that political contributions do not influence elected officials.
Axelbank first asked if it hurts democracy to have some candidates running with the support of outside PACS. Heastie responded, "I guess thats a better question to ask the Supreme Court 'cause they're ones that ruled we can have these independent expenditure. It's difficult to say that people that want to express an opinion in an election should not be heard."
Axelbank went on to ask whether money makes a candidate more likely to support a donor.
"No, that's another one of problems I have. The press seems to do - and people running against elected officials say - they believe that because someone supports you or contributes to your campaign someone owns you or you've taken a bribe. I've received contributions from someone I disagreed with. Gotta start looking at individuals."
An astonished Axelbank replied, "Certainly money to campaigns buys influence. Who could deny it?"
To which Heastie replied "I'm never gonna admit to that."
Axelbank pushed further on Heastie's support of pay-day loan vendors. Heastie responded that the press writes to fit its agenda.
On key issues to Mayor de Blasio and many New York City Democrats and residents, Heastie, Morelle, and Nolan offer a mixed bag:
Housing
Michael McKee, of Tenants PAC, expressed a sentiment that defies conventional wisdom. "I think in a crazy way this is good for us," said McKee of Silver's impending replacement. "What would we expect from Shelly Silver? A half-baked compromise. Frankly we are happy that the focus is now on reform and making the process more Democratic."
Furthermore, McKee isn't sure that a speaker from upstate wouldn't be especially helpful to New York City and its many tenant-friendly Assembly members.
"Even a speaker from upstate will need votes from city members. It's just how the math works. It is ironic in a way that a speaker from upstate would have to deliver more for the city because they can't just say 'Of course I support New York City, I live there.'" McKee declined to voice a preference in candidates.
Conventional wisdom would say that Heastie would be the better ally (over Morelle) of de Blasio when it comes to a push on rent regulations.
McKee is urging tenants to contact their legislators, "to let them know the new leader has to stop the phaseout of the rent laws or there will be no affordable housing left in New York City because the Senate is owned lock and stock by the real estate lobby."
McKee and other tenant advocates are concerned that de Blasio will significantly curtail his demands on the rent laws in Albany in an effort to focus on other areas. Gov. Andrew Cuomo, whose own agenda also hangs in the balance of the speaker turnover and who is also surely looking to influence who takes the Assembly reins, didn't even mention the expiration of the rent laws in his State of the State address this year - which didn't go unnoticed by advocates. Cuomo is said to favor Morelle for speaker.
When asked by Gotham Gazette about Cuomo's omission de Blasio's response was cautious.
"I think [rent regulations have] been one of the things that has preserved what affordability we do have in New York City – and we have an affordability crisis in New York City – it's a lot of what we talked about in the last year – it's a lot of why we have the most expansive affordable housing plan in the history of this country – to build or preserve 200,000 units of housing – because we have a profound affordability crisis in New York City," de Blasio said immediately following Cuomo's speech. "And you can't address income inequality without addressing the affordability of housing, which is the number one expense. So, I'm going to work to protect rent regulation. I'm going to look for ways that we can expand upon it and strengthen it. We've had a huge number of units lost from rent regulation or from other programs that protected affordability, and we have to address that – and I'm hopeful that we can get something done."
Education and Women's Rights
When it comes to education policy, union members and liberal advocacy groups tend to favor Nolan who serves as the Assembly education committee chair. Nolan has criticized Cuomo's plan to revamp the teacher evaluation system and make it easier to fire failing teachers. Nolan has lead Assembly members in challenging Cuomo's cuts to education funding over the past years. Of course, Nolan's chances are looking slimmer by the day, though she has said she's staying in the race.
Morelle and Heastie are thought to be closer to Cuomo on education but not so much that they would accept his reform plan. Even Morelle, who would be much more likely to align with Cuomo and Skelos on education, would have to answer to Assembly members who are largely tied to the teachers unions. There is little doubt, though, that Cuomo could very well get more of what he wants on education with Silver out of the picture - how much more remains to be seen.
Nolan has also asserted that she would be better for the Assembly on women's issues. De Blasio has pushed for the legislature to pass the stalled Women's Equality Act.
Nolan stressed in her announcement of her speaker candidacy that electing her could help alleviate the Assembly's sexual harassment issue. "Lost in the names that have been mentioned as potential candidates for Speaker is that of a woman," Nolan's announcement reads. "A woman has never served as Speaker of the Assembly. The press has written extensively and derisively about the sexual harassment cases that have occurred in the legislature over the last few years. It is past time for that 'culture' to end once and for all. I am committed to doing just that."
Whether Nolan is still being seen as a viable candidate and how much support she has is unclear. Meanwhile, there has been a public outpouring for Heastie.
Economics
As for de Blasio's minimum wage push, the governor has already thrown him a major bone by calling for an advanced scale even beyond the one currently phasing in over time. The governor did not match the mayor's requests in his proposal, but did call for a statewide $10.50 minimum wage and an $11.50 minimum in New York City within a couple of years.
Nolan and Heastie being the remaining city-based candidates are likely to be on board with Cuomo's plan, or even a push beyond if de Blasio even seeks one. It would appear that de Blasio may be wise to drop his call for local control of the minimum wage. Nolan and Heastie have both advocated increasing the wage in the past. Morelle is considered to be more concerned about the business-side of policy, where opposition to minimum wage increases has been prevalent, but he has backed previous wage increases.
Independence
Morelle, of Rochester, may be the most removed from city issues, but according to McKee's logic he might have to deliver in ways city-based legislators wouldn't if he's elected and wants to maintain support. Morelle is scheduled to take over from Silver on an interim basis starting Monday, Feb 2. He is considered business-friendly and moderate compared to his more liberal city-based competitors. He enjoys strong ties to Cuomo, another more moderate Democrat, which concerns many in the city, and many legislators believe it is the Assembly's duty to combat the suburban and upstate-focused Senate. Historically, Assembly speakers have been virtually exclusively from New York City - and today 63 of the 150 members hail from the five boroughs.
A number of reform-minded Assembly members have expressed concern that all three of the remaining candidates are Silver loyalists. None of them called for his resignation in public and they all have been relatively close to him.
With good government groups weighing in that they want a transparent process and the new Assembly reform caucus looking for reforms that allow individual legislators more freedom to bring their bills to the floor and increased input in the budget process, it is possible that reformers will be looking for a strong sign of independence.
***
by David King, Albany editor, Gotham Gazette
@DavidHowardKing