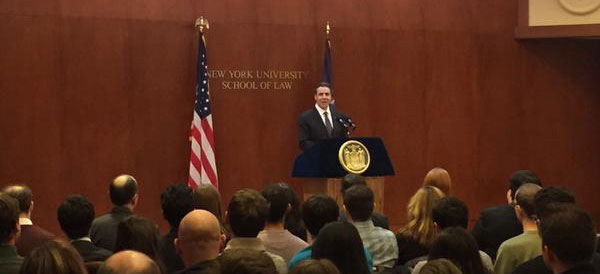 Gov. Cuomo delivering his new ethics plan Monday (photo: @NYGovCuomo)
---
On the day Sheldon Silver would step down as Assembly Speaker, Gov. Andrew Cuomo told students at New York University Law School that he will hold the state budget hostage until the Legislature agrees to a package of major ethics reforms. "I will not sign a budget that does not have an ethics plan as outlined in my proposal," said Cuomo, who detailed a five-prong plan.
Cuomo's plan would require legislators to disclose all outside income; strip pensions from legislators convicted of corruption; change the way legislators are reimbursed for travel; prevent campaign funds from being used for personal gain; patch major loopholes in campaign finance law; lower contribution limits; and make campaign donations more transparent.
"He battled the dragon of corruption for 12 years. The dragon, obviously, survived," Cuomo said referencing his father, former Gov. Mario Cuomo, who passed away earlier this year, and making the fight against the corruption seem all-the-more personal.
The Governor's speech was an attempt to regain the high ground on ethics that he lost last year after he shuttered The Moreland Commission on Public Corruption and after yet another lawmaker was arrested for impropriety. Cuomo only dedicated a few seconds to ethics reform in his State of the State Speech - an address quickly knocked from the headlines by the arrest of Assembly Speaker Sheldon Silver and U.S. Attorney Preet Bharara's intimation that more legislator shoes would soon drop. Albany has remained entranced by the Assembly Democrats' rush to replace Silver - whether they will deliver actual reform and a replacement for Silver who is truly interested in changing the system is also the cause of whirring speculation.
The notion of giving up an on-time budget is no small thing for Cuomo, who made his four on-time budgets his political calling card during his reelection campaign. Advocates have told Cuomo to hold the budget hostage for a number of issues, but Cuomo had previously focused on proving he could get Albany to function in its most basic duties. "This means in all probability that we will not have a fifth on-time, amicable budget," Cuomo said on Monday. "I think that's safe to say because these reforms are going to meet with significant resistance, but I am OK with that. I think New Yorkers know after four on-time budgets, we could perform collegially to accomplish a fifth if that was the goal. But there are different ways to pass a budget, first of all, and it is more important to me to prove that we have corrected the [ethics] problem and restore trust then just check a box of getting another budget done on time."
Cuomo's proposal came as Assembly Democrats appeared set to anoint Bronx Assemblyman Carl Heastie as Silver's replacement despite the fact that he has made questionable use of campaign funds, collected more per diems and mileage reimbursements from the State than most other legislators, and appears to oppose campaign finance reform. On Monday Democrats rushed to build consensus around Heastie, eventually agreeing to vote him in as speaker at 11 a.m. on Tuesday.
Cuomo himself has taken advantage of some of the loopholes his ethics reforms would ban. The governor exploited all varieties of permissible avenues and lax donation limits in the state's campaign finance rules to amass an incredibly large campaign war chest that he used to win re-election.
Cuomo confused some observers saying, "Public finance is the only option to ensure democratic access to the system." Many advocates thought that meant enacting a system of public financing of elections is part of Cuomo's ultimatum, but documents Cuomo's press office handed out do not list a public financing system as part of his ultimatum, nor do they list closure of the state's LLC loophole. It is said that this is because they are both already part of the governor's budget proposal.
"Any reasonable person who heard what the Governor had to say sure would have thought public finance was part of his ultimatum," said Blair Horner of the New York Public Interest Research Group referring to some system in which public dollars are provided to candidates who meet certain qualifications. Many have called for the state to implement a version modeled after New York City's public matching funds system.
Senate Democrats hailed Cuomo's proposals as they mirror ones the Conference has endorsed previously. Good government groups also reacted positively.
Horner issued a statement welcoming Cuomo's speech but adding, "Yet the governor did not describe any significant changes in the oversight and enforcement structure. Without changes to the ethics and campaign finance systems, no real changes will occur. The best laws are only as good as their administration. New York cannot continue to rely on the US Attorney's office to walk the ethics and campaign finance 'beat' in Albany."
Dick Dadey of Citizens Union praised Cuomo's proposals adding: "Citizens Union is pleased to see the governor taking a strong stand to correct the misstep of closing down the Moreland Commission before its work was completed. Let's hope that this is the time that New Yorkers see the promise of a wholesale change to Albany happen."
Karen Scharff, executive director of Citizen Action of New York, kept her response simple, emailing a statement saying only, "We agree with the Governor when he says deeds matter more than words. Any budget that doesn't include public funding of elections is a corruption budget."
Cuomo's speech came as Assembly Democrats met to discuss when to vote Heastie in as speaker. Some called for the vote to come at midnight despite some members' concerns that Heastie should have more vetting and calls from good government groups to hold an open hearing on reforms to the Assembly's rules. Cuomo himself advocated the Assembly change its rules, saying, "The rules of the state Assembly centralize power so that individual members are virtually powerless to move legislation. This is the Assembly's opportunity to enact a new, fair and open system."
Heastie offered a reform plan earlier in the day that included the creation of an office of ethics and compliance to provide members with guidance on adhering to ethics rules. He is on board with reform of the per diem system (which he has generously taken advantage of), working to cap legislators' outside income, and increasing disclosure requirements. Heastie also pledged not to accept any outside income himself. "I believe we must seize this opportunity for reform, and enact the type of lasting change that will make the Assembly more open, transparent and accountable to the voters. I look forward to working with my colleagues to develop and implement reforms like these, and others, so that the Assembly can regain the voters' trust and start a new chapter."
Heastie met with the Assembly's reform caucus earlier in the day but refused to comment about what transpired, telling reporters: "It wouldn't be a private conversation if I told you about it."
Press was actually forced out of a public area around where Heastie met with members later in the day, ensuring Heastie did not have to answer questions as he walked the halls.
Meanwhile, good government groups held a press conference criticizing Assembly members for choosing Silver's replacement in such an opaque manner. The Brennan Center for Justice, NYPIRG, Common Cause, and Citizens Union unveiled a series of reforms they said would allow the Assembly to operate in a more transparent and Democratic manner.
Some of the reforms overlap with Cuomo's plan, like disclosing all outside income, stricter oversight of lobbyists, and closing loopholes in the campaign finance law. Reformers also want to overhaul the legislative oversight commission, empower rank and file members to introduce and get votes on their own legislation, and distribute resources more equitably among members.
Dadey told reporters he felt the Assembly was missing an opportunity created by Silver's legal troubles by acting to replace him so quickly. "This would have been a great opportunity for the candidates in the Assembly to show a real sensitivity to the need for a public process, and they have failed," Dadey said.
***
by David King, Albany editor, Gotham Gazette
@DavidHowardKing