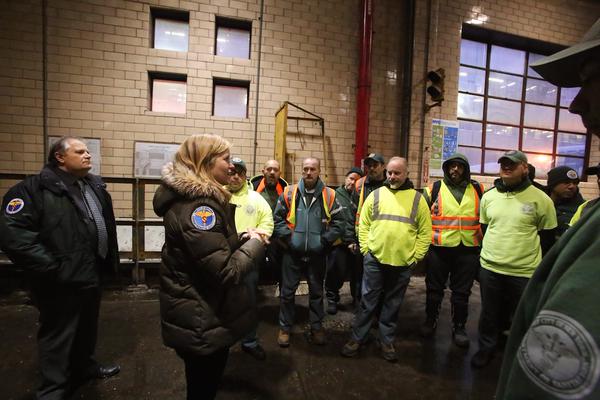 Sanitation Commissioner Garcia & some of her troops (@NYCSanitation)
---
On a frigid January night in Queens, the wood-panelled society clubhouse was full of people preparing for one of the most important tests they would ever take. New York's sanitation worker exam was only three weeks away and there was little time for small talk.
More than 40 exam applicants sat in rows of faded plastic chairs, shuffling through practice materials and asking what it was like to pick up the city's garbage. A group of stern-faced members from the African-American Benevolent Society (AABS) - all current or retired sanitation employees - stood up front and told them that the job could be tough, but the pay is steady and the pension is excellent.
"Once you're hired, you'll get a check for the rest of your life," said Superintendent Lyle Reid.
Many of the people in the room have been awaiting this coming weekend for years. On Saturday, Feb. 7 and Sunday, Feb. 8, the Department of Sanitation (DSNY) will hold its first employment exams since 2007.
During a one-month registration period in October, more than 94,000 people applied to become one of "New York's Strongest." DSNY hires an estimated 500 people per year, so applicants are doing whatever it takes to get the highest score possible. Yet passing the exam is only the first of many obstacles on a multi-year journey toward landing one of the city's most competitive and coveted civil service jobs.
In their Jamaica clubhouse, surrounded by pictures of the Obama family, Public Advocate Letitia James, and other prominent African-American figures, the AABS members tried to prepare the applicants for the process ahead. They repeatedly emphasized the importance of getting as close to a perfect score as possible on the exam.
"Don't even ask me what's the passing. 'Cause if that's what you're concerned about you're wasting your time," said David Shelborne, AABS president.
The group listened attentively. One woman was still wearing her FedEx uniform, while another man sported an orange ballcap with an elaborately stitched image of the New York skyline. A Brooklyn native had even flown up from her office job in Charleston, South Carolina with dreams of moving back and working for the city. Both of Reid's young sons were studying, even though one will soon become an MTA track worker.
A few young men had questions about criminal records or meeting parole requirements. The AABS members assured them that as long as they were honest with DSNY they would be fine.
"There's nothing, literally, holding you back but yourself," said Gail Johnson, a civilian DSNY employee.
The Gig
Unlike the police, fire, or correction departments, working in sanitation doesn't require any college credits. Applicants need to have a GED certificate and be 21 years old by the time of employment. A Class A or B commercial driver's license (CDL) is also required, but DSNY will train employees for an additional cost if they don't have one.
The annual salary for a new sanitation worker starts at $33,746, but anyone who lasts five and a half years will earn at least $70,000. These numbers could increase if a new labor contract is negotiated this year. They also don't include additional income, such as differential pay and overtime. Amounts vary depending on a worker's job duties, the severity of snow season and other factors, but extra money of some kind is guaranteed.
For example, all truck crews receive a shift bonus as part of a 1980 labor agreement that reduced collection teams from three to two workers. Workers also receive additional pay for working outside of their normally scheduled shifts and are guaranteed at least eight hours of pay at time-and-a-half for emergency situations such as snowstorms. They also receive a uniform allowance, paid holiday time, paid sick days, health insurance for their families, and a pension plan. DSNY has many other job opportunities beside collecting garbage, though that is the agency's primary function.
"You don't necessarily have to be a doctor, a lawyer, or an airplane pilot to earn a decent living," said Reid.
The Independent Budget Office estimates that the average sanitation worker with more than five and a half years on the job makes an average of $119,000 per year, including health benefits. This does not include annuity payments, pension payments, and other fringe benefits.
This salary is for entry-level sanitation workers who collect garbage and recyclables, sweep the streets with mechanical brooms, and clear snow. Numbers are based on the most recent contract for the Local 831 Uniformed Sanitationmen's Association, which was negotiated in 2007 and expired in 2011.
If a worker is then promoted to become a supervisor or superintendent, the pay grows accordingly. Both positions also require exams. The AABS and other department societies - known as fraternal organizations - traditionally hold study sessions for promotional exams.
Superintendent Andrenia Burgis has helped run the promotional exam study sessions at AABS for years. She's known as one of the best teachers in the department and DSNY employees come from all over the city for her guidance. Reid, who is white, enjoyed her classes so much that he joined AABS and is now the group's corresponding secretary.
Due to the volume of applicants, no fraternal organization had ever held study sessions for the sanitation worker exam. This time, Burgis decided to change that and help people in low-income communities apply for a job that could help them establish better lives.
When the exam was announced last fall, Burgis led information sessions throughout Brooklyn and Queens. She thought that if local politicians could come support a new Target opening up, they should help promote a well-paying civil service job.
"Those are just minimum wage jobs. These are jobs that can change your life," she said.
Working with Senator John Sampson, whom she knew from church and is currently under indictment on corruption charges, Burgis found ways to get the $47 application fee waived and help people without Internet access apply online. Working with AABS, public housing tenant associations, local libraries and churches, Burgis estimates that she signed up at least 2,500 people.
DSNY reported that 34 percent of exam applicants identified as black, the highest percentage of any ethnic group.
Since the fall, Burgis has organized multiple study sessions in the Bronx, Brooklyn and Queens. She's also looking into the possibility of free CDL training. At the very least, Burgis said she's happy that people will now be working toward their GEDs and are registered with the Department of Citywide Administrative Services to apply for other civil service jobs.
"We're trying to move the people through the community for something positive for themselves," she said.
The Exam
While no one knows exactly what will be on this year's exam, or even how many questions it will have, the assumption is that it will follow a similar formula to most other civil service exams. No prior job knowledge is required. Instead, applicants are tested on written comprehension, problem solving skills, deductive reasoning, spatial orientation, basic math, and other similar areas.
Free study classes are far from the norm. Civil service test prep is a lucrative industry, especially in New York. Tens of thousands of people apply to become postal workers, court officers, notary publics, and more every year.
Angelo Tropea, a retired chief county clerk, sells test prep books. His latest, "Sanitation Worker Exam New York City," is currently the bestselling civil service test guide on Amazon. While Tropea has never taken the sanitation exam himself, he is familiar with basic civil service exams. He wrote the book with sanitation-related scenarios in mind and sprinkled in motivational quotes from the likes of Confucius, Abraham Lincoln, and Yoda.
Many current sanitation workers claim they barely studied for the exam, if at all, but Tropea cautions against that attitude.
"The greatest danger of taking this test is being overconfident," he said.
Tropea's company, Concept Review, has been holding study classes around the city leading up to the exam. On a rainy Sunday in January, 53 people came to the Arden Heights Jewish Center on Staten Island for an all-day session. For $169, attendees received a binder full of study materials and seven hours of instruction.
"When they design the exam, I assure you it's not gonna be as easy as many people think," Mark Spiritus, one of the day's teachers, told his class. "Remember they're trying to screen you out."
Working off a classic overhead projector, Spiritus stood in the front of the center's spacious Lynne Bloomgarden Social Hall. Mirrors covered the walls and a large crystal chandelier hung overhead. He riffed on test-taking strategies, study habits, and job potential.
His colleague, Stewart Feigel, told the class to sleep well the night before the exam, eat a good breakfast, and get to the testing site early.
"Stress is something you do not want that day," he said.
As the morning wore on, some attendees grew restless. One young man in a Superman T-shirt put his head down on the table and fell asleep. Others listened intently, looking for any chance to improve their odds on the exam. Some work in retail or drive trucks. All of them want a better job.
The group was mostly male - a trend in DSNY, which was the last uniformed city agency to hire women - but at least one woman in attendance had big plans for a career in civil service.
Tonya Parker, currently a DSNY clerical aide, had taken NYPD and state corrections exams in the past. During her time on the job so far, Parker has learned the agency's systems and met a lot of sanitation workers who encouraged her to apply.
"They told me if anything it's not as bad as you think it is," she said.
Joseph Bruno, an Army veteran who is currently a subcontractor for Time Warner Cable, has taken NYPD and FDNY exams with no luck yet. He would prefer sanitation.
"No one's shooting at you. You're not running into burning buildings," he said.
After the Exam
Even those who ace the exam will still have to wait until they can start the job. DSNY will continue hiring off the 2007 exam list until Feb. 2016.
At that point, applicants from this current exam will start being called based on their scores and corresponding list numbers. This number indicates when they'll be called for the next step and dictates their seniority in the garage once hired. If people receive the same score, which is common, their list number will be determined based on who signed up first.
Applicants can also qualify for a variety of score credits. Anyone who has been a resident of the five boroughs, Nassau County, or Westchester County for more than a year can get five additional points. Anyone whose parent or sibling died in the Sep. 11, 2001 World Trade Center attacks can use a legacy credit, which is an additional 10 points. Applicants can't receive points for more than one parent and one sibling, but they can potentially receive 20 points for a parent and a sibling. Veterans can receive five additional points and disabled veterans can receive 10.
The highest score from the 2007 exam was 123.75. A passing score is 70, but the lowest score to be called so far was 97.5.
While some applicants will get called in a matter of months, others may wait years. David Shelborne, AABS president, didn't receive a letter for nearly 10 years. At the time he was a senior specialist for an electronics company and ended up taking a nearly $60,000 pay cut to join DSNY. In the 25 years since, he has done well for himself within the department and his wife is now a sanitation police officer.
"I looked far off in the future," said Shelborne. "Best move I ever made."
Superintendent Burgis and Darlene Perez - a mechanical broom operator in the Bronx - both waited eight years. Robert Rammairone from Staten Island waited five years, during which time he worked at Home Depot and also applied to become a police officer.
Muhammad Shareef, president of the Islamic Council for the Department of Sanitation, remembers only waiting a year or two at most.
He attributes his success to an exam study book he borrowed from the library and read obsessively.
"I think I read it so much that I started to memorize what was on the next page," he said.
If You Get Called
Once called, applicants still face a battery of other tests. Obstacle courses have to be navigated while carrying heavy garbage bags, a doctor must give approval of physical and mental fitness, and a mountain of forms must be completed.
By the time sanitation workers finally make it on the job, they have an 18 month probationary period in which to prove themselves. Showing up late to work, failing a drug or alcohol test, and other infractions are all grounds for dismissal.
During this probationary period, neither the Local 831 Uniformed Sanitationmen's Association or any fraternal organizations can protect a worker. Once they've made the cut, workers may have a better chance of surviving a failed drug test or other issues with union support.
The first couple years can be difficult for even the most exemplary workers to adjust to. Many won't last until the five-and-a-half year mark when the money really starts to kick in.
Robin Nagle, an anthropology professor at NYU, experienced this firsthand when she became a sanitation worker to research "Picking Up," her book about life on the job. "You can read about it, you can even hang out with guys, but when you're in uniform and you're the one responsible for that truck, there is nothing that prepares you for that," Nagle said.
The physical strain of picking up multiple tons of garbage every day, potentially working in different boroughs for weeks on end without a day off during snow season, and contending with rats or maggots scares some people away.
Based on her own experience, Nagle said the job is well worth it. Sanitation workers share a camaraderie unlike anything she's seen in other jobs and take great pride in the important role they play.
"God forbid there were a strike tomorrow - or we get buried by snow tonight and you can't collect the garbage for the next little while - you feel it, immediately," she said of the key role sanitation workers play.
Nagle's words proved to be apt. AABS had to cancel a number of other exam study sessions after their Jamaica event due to Winter Storm Juno. Even though it didn't pummel the city as expected, DSNY employees were still working overtime for days to catch up on snow removal and garbage collection and will continue to do so this week.
The hours are long, but they're getting paid well and take the job seriously.
According to a 2013 report by the Bureau of Labor Statistics, being a sanitation worker is statistically more dangerous than being a police officer or firefighter. Their chances are high of getting hit by a car, knocked over by a projectile coming out of the truck's compactor, stuck with a needle inside a garbage bag, or experiencing any number of other hazards.
Yet when the exam notice went out last fall, DSNY employees spread the news to parents at Little League games, relatives, fellow worshippers, and anyone they met. With so many New Yorkers struggling to make a living wage and pay their bills, this kind of job can be life-changing.
All the applicants can do now is show up this weekend with sharpened pencils and give it their best. After that they will go back to their regular lives and wait.
"It's just a door," said David Shelborne. "The same way people go to a store and buy a lottery ticket."
***
by Cole Rosengren, Gotham Gazette
@ColeRosengrenNY