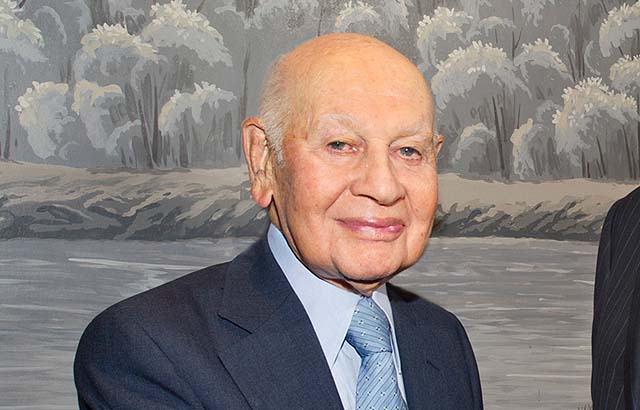 Leonard Litwin (photo via Jewish Business News)
---
Leonard Litwin is a major New York political donor who amplifies his political speech by making large donations through his network of LLCs. Via the LLC loophole, each company may contribute as if it is a distinct individual (with separate campaign finance limits).
Using a new database which automatically loads up all of the New York State Board of Elections campaign finance filing data, we have conducted a unique analysis of Litwin's political finance network in order to paint a picture of his sprawling influence - presented in graphic form below.
One problem with the public data is that when filers describe the counter-parties to their campaign finance transactions (such as donors and vendors), there is no objective standard for names and addresses. Any one name or address may be described limitless ways, accounting for truncation, abbreviation, punctuation, nicknames, typos and other errors. With that in mind, this research gathered up 302 different references to Litwin and his businesses. Litwin's home address and office address are collectively described 104 ways in the data.
With these selections in hand, our research to identify the Litwin network activity (going back to January, 2000) resulted in a product of 1,834 specific contributions totaling $13.2 million dollars. We tallied the dollar sums on the relationships between Litwin and each of his beneficiaries. The chart below sorts recipients of Litwin's cash from largest to smallest, by sum. First, the top five beneficiaries:
Top 5 Recipients from Leonard Litwin LLC Network, 2000-2014
1. NYS SENATE REPUBLICAN CAMPAIGN COMMITTEE $1,131,000
2. ANDREW CUOMO 2014, INC. $1,089,200
3. NEIGHBORHOOD PRESERVATION PAF $768,550
4. JOBS FOR NEW YORK, INC. $587,600
5. NYS SENATE REPUBLICAN CAMPAIGN COMMITTEE - HOUSEKEEPING $550,000
The full picture:


(click the image or here to see full size)
***
by Jon Reznick for Gotham Gazette
Data analysis performed using FTMSQL2 by Competitive Advantage Research, LLC