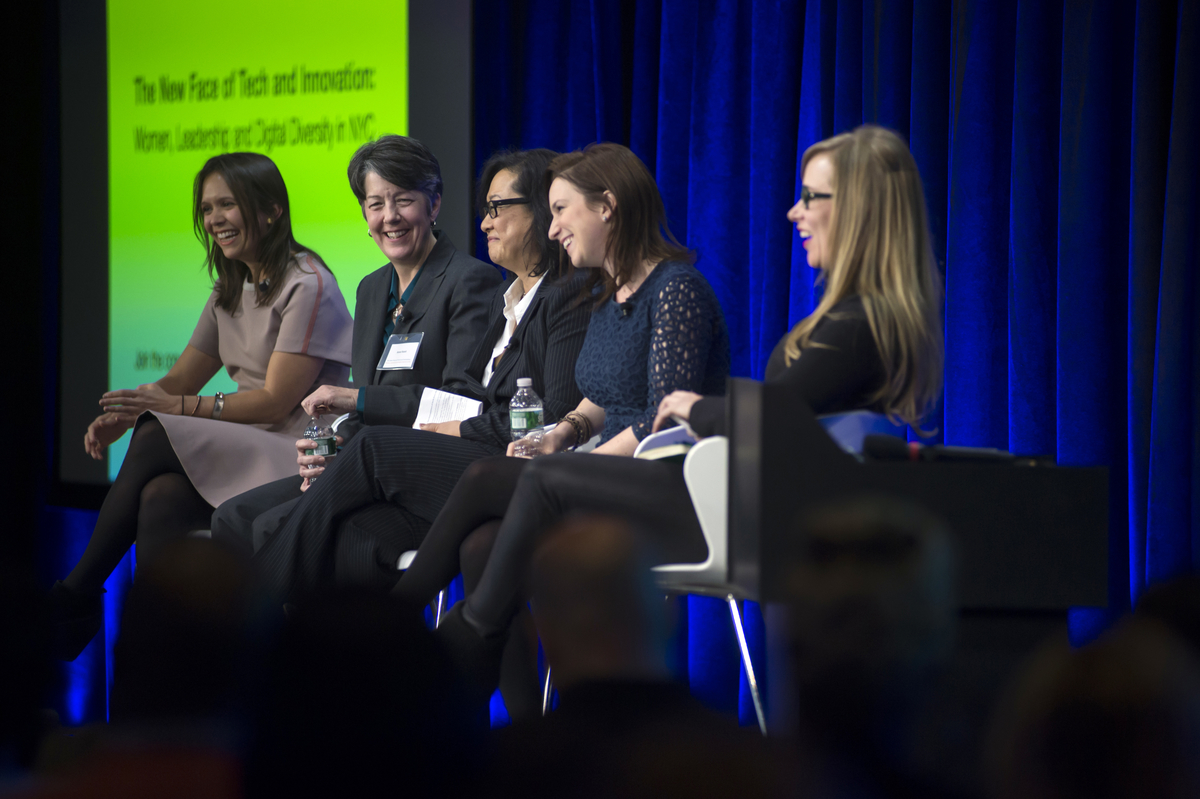 Members of the city's tech team at a recent panel event (photo via City Hall)
---
NEW YORK - The challenges facing women in the technology industry continue to run rampant despite years of lawsuits, academic studies, and media scrutiny. The stories coming out of Silicon Valley, most recently highlighted in February's issue of Newsweek magazine, are disturbing.
In the article, women describe Mad Men-style office culture, complete with male colleagues' inappropriate text messaging, use of sexual nicknames, and trapping women in their offices. Investors refused to put money into a female-owned company because they "don't like the way women think."
The article was meant to shine light on these important issues. But the magazine cover, which featured a graphic of a computer mouse cursor lifting up the short skirt of a woman, only further showed the uphill battle women face in being taken seriously and welcomed in the tech industry.
Some point to not only a lack of women being hired, but a lack of female executive leadership as reasons the "good old boys" culture continues to survive in the tech industry. Tech giants like Google (21%), Facebook (23%), Apple (28%), and Twitter (21%), all have embarrassingly low percentages of women in senior or leadership positions.
As New York continues to nip the heels of Silicon Valley as the second largest tech hub in the U.S., the City is trying to avoid making the same mistakes as its competition.
In doing so, City Hall is addressing the problem from the top.
Though it frustrated the New York City tech community, Mayor Bill de Blasio took nearly a year to fill out his tech team. But, by the time the latest appointment was made in September, de Blasio had a tech leadership team that was not only highly-qualified to meet his ambitious goals, but five of the six are women. As the sometimes hyperbolic mayor likes to say, it was, by definition, literally historic.
By the end of September, de Blasio's tech leadership team included: Counsel to the Mayor Maya Wiley; Department of Information Technology and Telecommunication (DoITT) Commissioner Anne Roest; Chief Technology Officer Minerva Tantoco; Founding Director of the Tech Talent Pipeline Kristen Titus; Digital Director for the City of New York Jessica Singleton; and Chief Analytics Officer Dr. Amen Ra Mashariki. It is a team that is not only almost all female, but also diverse, including three people of color.
According to Wiley, who was tapped to lead the push for more equitable broadband across the city, the mayor wasn't looking to make a statement by hiring nearly all women.
"One thing I appreciate about this administration is, the mayor didn't say to me, 'I want a woman responsible for broadband, so will you do it?'" Wiley said by phone last week. "He recognized the experience, interest, and dynamism that was available from the top candidates he could select for positions, which meant we got a very female leadership on tech."
De Blasio, who made it no secret during appointment press conferences he wanted his entire team to represent the diversity of New York City, concurred.
"Our senior tech team is comprised of mostly women because they're the best and brightest for the mission before them," de Blasio said in an emailed statement. "They got where they are because of their skills, drive, experience, and commitment to serve New Yorkers across the five boroughs."
Tantoco, who is the City's first CTO, has been in the technology industry since the early 1980s, working mostly in the private sector. She has thrived in the male-dominated industry, including co-founding a tech start-up and holding four U.S. patents. But it never slipped her mind she was often the only woman in the room. The new dynamic she faces at City Hall has been a refreshing change.
"Not being the only woman in the room for the first time in 30 years is mind blowing," Tantoco said at recent event at Google event, The New Face of Tech and Innovation. "It reminds me of the power of being around other people that look like you."
In her new role, Tantoco leads the Mayor's Office of Technology and Innovation. It's a new position and one that will be critical as the City tries to modernize, innovate, and form new partnerships with the civic technology community. She will play a very visible role in encouraging public participation in government.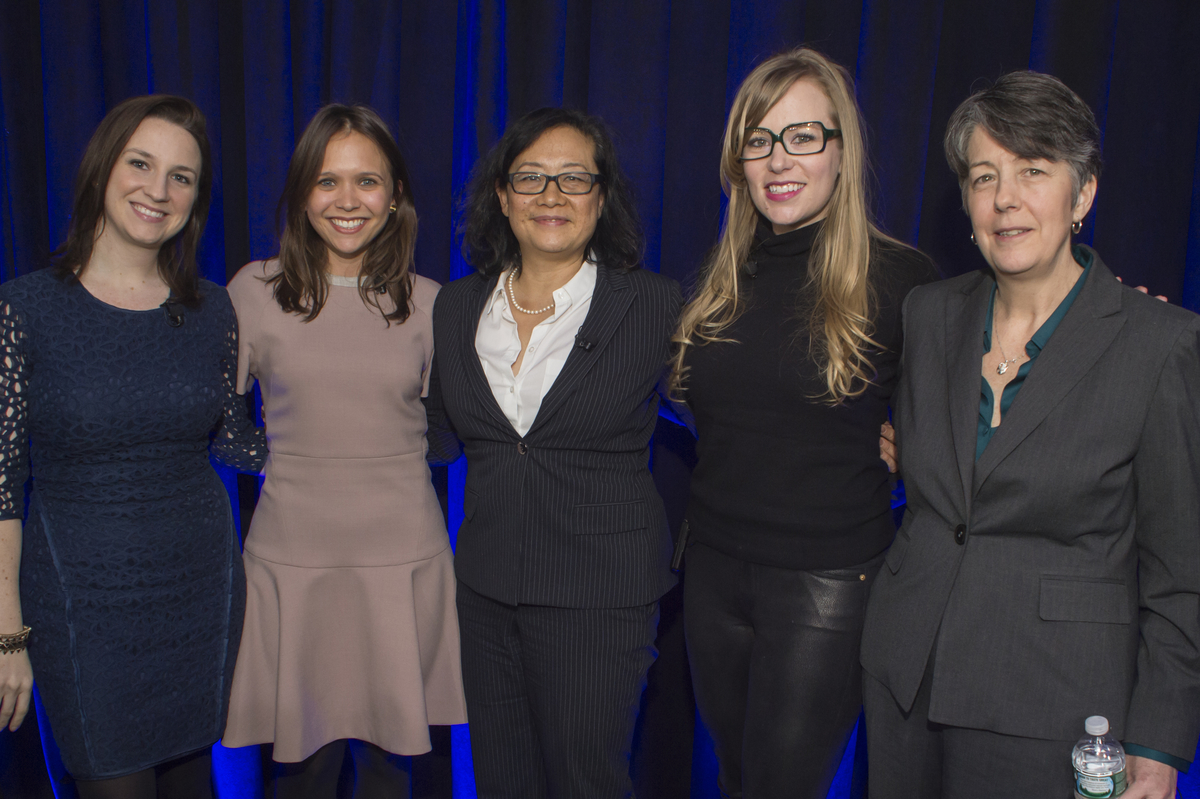 De Blasio's Tech Team (L-R): Titus, Singleton, Tantoco, (event moderator Leslie Bradshaw), Roest
Style Changes
The hiring process for women in tech can often be one of the biggest barriers to entry. At the Google event both Roest and Tantoco spoke about changes they will be making as they fill out their own teams.
Roest will use her years of relevant experience to ensure the City's IT infrastructure continues to tick, a tall order considering the modernization that is needed in some agencies. She will also oversee the some of the city's franchise agreements, which include the newly approved LinkNYC system set to turn the city's outdated payphones in Wi-Fi-equipped multi-use hubs.
"We need to be really affirmative about hiring women," Roest said. "It can't be a casual byproduct of the hiring process."
Tantoco pointed out the importance of having a woman in the interview process, something that shouldn't be an issue for the City with five women in tech leadership roles.
"Imagine having a series of interviews with only men. People don't think about it." Tantoco said at the Google event. "You have to think through what is the culture and how you are presenting yourself to the candidate in that critical moment."
Job descriptions have also proved troublesome for women in tech. Job postings often contain what is known in the industry as "brogrammer" language. At a job fair at Stanford University in 2012 Klout, a social media analytics company, posted a sign that read, "Want to bro down and crush code? Klout is hiring."
That type of language wouldn't necessarily exclude a women from applying, but it is not the type of culture that is inviting to women either. Studies have shown women are less likely to apply for a job unless they feel they are 100 percent qualified for the position.
To help lead hiring changes, the City is currently interviewing candidates for a Chief Diversity and Inclusion Officer that will oversee hiring practices for DoITT, as well as its sister agencies, NYC311, the Mayor's Office of Media and Entertainment, the Mayor's Office of Data Analytics (MODA), and the Mayor's Office of Technology and Innovation.
In addition to ensuring job descriptions remain gender and race neutral, and getting women engaged in the interview process, Roest hopes to see a focus on keeping mid-career women from falling out of the tech sector. A 2009 report from the National Center for Women and Information Technology showed that 56 percent of women in the tech sector quit mid-career.
Roest almost fell into that statistic in the mid 1980s while working in the private sector. As a single mother she found herself struggling in a less family-friendly environment. She moved to the public sector and began working at the New York State Department of Taxation and Finance. Her career flourished and she now mentors women in situations similar to what she faced, including those who work for her.
"Thinking about the approach to empowering an all-female tech team to lead this work and to collaborate is really walking the walk and addressing the problem head-on," Singleton said by phone last week.
Singleton used her savvy social media skills to develop a winning online strategy that helped propel then-Public Advocate de Blasio to a mayoral victory. She now runs a team of seven out of City Hall and is responsible for the creating the City's digital footprint, directing roughly 80 social media coordinators. As citizens are now getting more information online, particularly through social media, her role in creating and pushing content will only become increasingly vital.
"What this administration has done is give a platform, a voice, and space to what it means to be a women in tech," Titus said by phone last week.
"We are creating our own covers in that way," she added, referring to Newsweek.
Beyond City Hall
The City is also pushing the tech culture change beyond the walls of City Hall. Titus, who was hired to head up the Tech Talent Pipeline, is no stranger to empowering women in tech. She was the former executive director at Girls Who Code, a national organization working to close the gender gap in the tech sector.
In her new role, she will lead the City's push to fill what are often high-paying tech jobs with local talent. The mayor set a goal to have the majority of skilled tech jobs filled by New York City students within eight years. Diversity will be a key tenant of the program.
The third NYC Web Development Fellowship recently launched, which gives tech training to 18-26 year olds without a college degree. This program features 32 students, up from 28 in each of the previous two programs. In the first class, 50 percent of the students were people of color, and 57 percent were women. The five-month course take place at the Flatiron School and following the classes, students begin a 12-week paid internship at companies like BuzzFeed, Microsoft, and the New York Times.
"We have to break down some of those barriers and we have to reach the hardest-to-reach population with a message of, 'this is a real and viable career path,'" Titus said at the Google event. "That is what we are building out."
Moving the Needle
The tech leadership team has been in place for less than six months, so it is far too early to say what, if any, effects its members' presence is having on tech industry hiring practices here in the city. Stats on diversity in New York tech are hard to come by anyway.
A 2013 HR&A Advisors report titled, 'The New York City Tech Ecosystem," showed women holding 40 percent of jobs in tech industries, but only 20 percent of jobs in tech occupations (meaning women are often not necessarily doing the tech work within the industry - the report does not include an explanation for the difference).
Diversity stats for the larger tech team at City Hall are also hard to come by. Gotham Gazette asked the mayor's press office for the gender and racial makeup of the tech agencies, including DoITT, MODA, and the Tech Talent Pipeline. A spokesperson said there are six women working on the Tech Talent Pipeline (including one person of color), but, despite multiple email requests, the spokesperson did not provide diversity stats for DoITT or MODA.
"I think having women working in such visible technology roles means that young girls aspiring to work in technology have even more women to look up to as role models," Jessica Lawrence, executive director of New York Tech Meetup, said by phone last week. "It means people who are tech conference organizers who claim they can't find any female speakers will start to realize they are wrong and that there are actually women out there in leadership roles, in technology."
There is already some anecdotal evidence of the effect this change is having on young girls. Wiley said last summer her then-10-year-old daughter, Kai, attended the iD Tech Camp at NYU. Wiley said her daughter was the only female in the coding class and it made Kai uncomfortable.
"The fact she could come home and I could point to all these women who I work with and she could actually see...it was really important for her," Wiley told Gotham Gazette. "The fact you have women leading in all kinds of ways to connect all kinds of people to tech and the opportunities it creates makes a huge difference."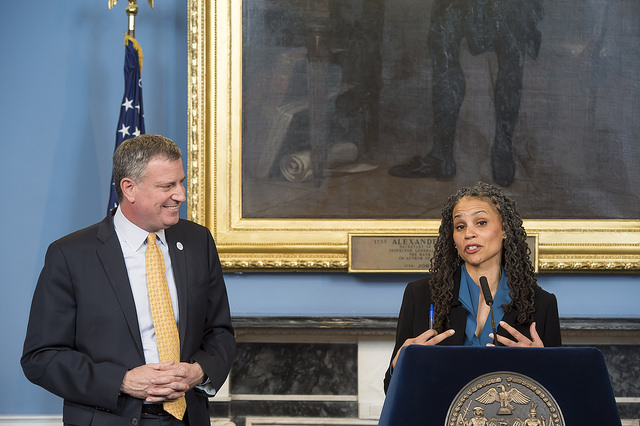 Maya Wiley (photo: Rob Bennett)
Since it has not yet been six months since de Blasio's tech team was formed, it is also difficult to see what implications the city's female tech leadership will have outside of New York. The mayor was careful in his response to the question, not naming Silicon Valley, but making his intentions known.
"The strength of our tech team signals to the rest of the nation—and the rest of the world—that New York City has anchored its place as a global tech leader," the mayor said by email. "With these talented and accomplished leaders on board, we're decisively forging our way to become the most progressive, tech-friendly, and innovation-driven city in the world."
As the problems for women in tech continue to persist almost unabated in Silicon Valley, the de Blasio administration hopes its approach will give New York City the competitive advantage needed to give the Valley a run for its money, especially in terms of drawing more talented women to the city.
"We are putting out the welcome mat," Tantoco said by phone last week. "I hope all the women techies on the West Coast decide to move to New York because you are welcome here, ladies. Come on over."
***
by Kristen Meriwether, Gotham Gazette
@MeriwetherK
Note: this article has been updated to more accurately capture the staff that Jessica Singleton oversees.