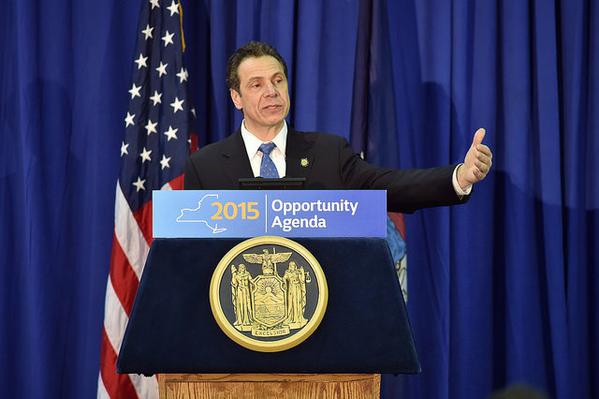 Governor Cuomo (photo: @NYGovCuomo)
---
A classic battle between law-and-order Republicans and progressive Democrats is brewing in the state Legislature as Gov. Andrew Cuomo pushes adoption of the recommendations of his Commission on Youth Public Safety and Justice - recommendations that include raising the age at which teens can be tried as adults.
Despite being thought of as one of the most progressive states in the nation, New York is one of just two in the country that try 16- and 17-year-olds as adults. (The other is North Carolina.)
"You put a 16- and 17-year-old into a state prison, there is no way they're not going to come out worse than they went in," Cuomo said over the phone to those gathered for a Martin Luther King Day event hosted by Al Sharpton.
Many of the state's most prominent law enforcement officials and criminal justice experts have advocated raising the age of adult criminality for some time. Manhattan District Attorney Cyrus Vance has promoted the move for four years and served on Cuomo's commission. "New York really does lag behind the nation on this," Vance told Gotham Gazette last week. "The message we are sending is that by raising the age at which teens are tried as adults, public safety really will be enhanced."
Advocates say that housing teens in adult prisons endangers their safety, increases their odds of suicide, drastically increases the chance that they recidivate, unfairly leaves them saddled with a criminal record that can cripple their abilities to land jobs or attend college, and denies them the chance for more therapeutic treatment.
"We're going to keep 16- and 17-year-olds out of prison. We're going to create juvenile facilities and get them the training in a safe environment so we can actually help them turn around their lives," Cuomo said of his plan in January. Just two days after Martin Luther King Day, the governor gave his budget presentation, in which Raise the Age legislation based on the commission's 38-recommendation report is included.
The governor formed the youth safety and justice commission following a major push by advocates to bring New York up to date with juvenile justice standards. Stephanie Gendell of the Citizens' Committee for Children said her group spoke to Cuomo's office about such a commission and insisted that the commission "have a time limit" and be about "how to raise the age, not if."
The governor's office said in a statement that teens under 18 in state prisons are significantly more likely than adult inmates to be raped or commit suicide. Officials point out that 82 percent of youth under 18 sentenced to adult prisons in New York are black or Latino. There were 800 inmates in local jails and state prisons under the age of 18 as of January.
A number of Senate Republicans including Martin Golden of Brooklyn say the system is working and have no interest in being more lenient on criminals. "Some of the most heinous crimes are committed by kids who are 16 and 17," Golden, a former police officer, told The New York Daily News earlier this month.
Lawmakers from both sides of the aisle expressed concerns over the legislation during a joint legislative budget hearing earlier this month. Roberto Valez, acting commissioner for the Office of Children and Family Services, was unable to answer a slew of questions from legislators including Republican Sen. John DeFrancisco and Democratic Assembly Member Jeffrey Aubry. Some of the questions regarded how many of the currently charged 16- and 17-year-olds would wind up in jail. Another question had to do with how accused rapists would be tried. Valez asked for a chance to get back to legislators with answers. When legislators expressed doubts about the bill in general, the Cuomo administration sent two officials with more direct knowledge of the proposal.
The incident has sparked some fear among advocates who are concerned whether the administration's support for the measure will hold if Republicans mount opposition to the plan in their home districts. Last year the administration abandoned a plan to provide some inmates with a college education after Republicans balked and negative local media coverage followed.
"Am I surprised? No," said Vance when asked about opposition to the plan. "When the state's crime rate is so drastically reduced as we have seen, people are going to ask: 'What is it that is broken that you are trying to fix?' I plan to push forward and advocate for this as I have and help educate people on why this matters."
Vance also notes that the change is no simple flick of the switch. The plan would move all 16- and 17-year-olds tried as adults into juvenile facilities immediately. Meanwhile, 16-year-olds would stop being tried as adults in 2016 and 17-year-olds would follow the next year. The only exception would be teens involved in the most violent crimes.
Accused teens aged 16 and 17 would be granted protections that younger suspects in the state currently see, including parental notification and videotaping of interrogations on felony offenses. Judges would be required in most misdemeanor cases to provide diversion from the justice system, more cases would be moved to family court, and more effort would be put into helping younger offenders reintegrate into society after prison.
The Osborne Association, which has provided behavioral therapy to every 16- and 17-year-old on Rikers Island, issued a statement praising the commission's recommendations. It reads, in part: "This new approach incorporates what science tells us about cognitive development and offers therapeutic alternatives to a traditionally punitive and costly response. When implemented, these proposals will change the odds for many young people."
Gendell said that the commission's plan might not be feasible if it wasn't for reforms to the justice system orchestrated by Cuomo that have seen major reductions in prison beds and individuals incarcerated. "Juvenile justice has been an important part of the governor's legacy," said Gendell. "Early in his first term he went to an empty facility and said kids are not going to be locked up as an economic generator. It has really been a big part of what he has done, through closing facilities and enacting Close to Home."
The Close to Home initiative saw the State hand over control of city residents housed in state juvenile detention facilities to New York City. Those juveniles were then mostly sent to alternative treatment facilities.
Gendell notes that Close to Home, which was enacted in 2012, lowered the population in state facilities and ensures there will be enough room to move 16- and 17-year-old inmates serving in adult prisons into juvenile facilities.
"I think having the governor's support is important so that he can guide the proposal through the budget negotiations," said Gendell. Her meetings with legislators on Raise the Age have "been positive; not so positive that it's a done deal, but the people we've met with understand that this would create better outcomes and increase public safety," she said.
Vance said he plans to educate law enforcement officials and legislators on why the plan will benefit them as well as offenders. He said he will be in Albany to help push the measure - which could give lawmakers, especially Senate Republicans, the assurance they may need. "When people ask about what this does, I can say honestly that it is a major step forward."
***
by David King, Albany editor, Gotham Gazette
@DavidHowardKing
Note: this article has been updated.