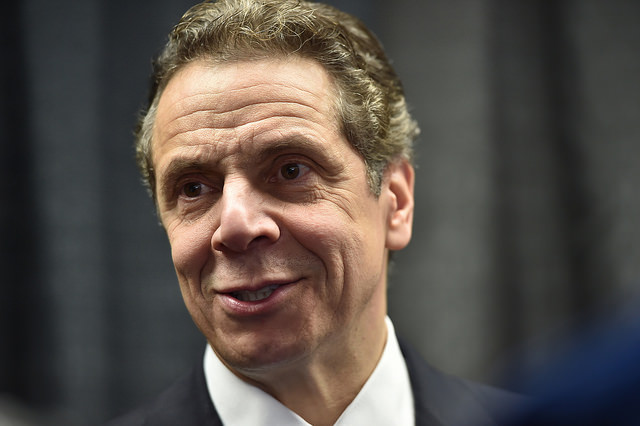 Gov. Cuomo (photo: Governor's Office via flickr)
---
Governor Andrew Cuomo's new 90-day email deletion policy for all state agencies is being met with widespread disapproval. Experts say it is terrible for transparency; the people who have to abide by the mandate say they don't feel qualified to implement it and that it isn't good for their productivity.
According to a number of state workers who spoke to Gotham Gazette on the condition of anonymity, regular work habits have been disrupted by the policy that sees emails purged after three months. They say that the policy costs them time because to abide by it they are forced to weigh the State's monumentally large email retention policy against the purge policy, and then ferret out and save important emails.
There is also concern that losing emails will disrupt workflow because employees won't be able to refer back to previous conversations by searching their inboxes, as people often do.
The State began the program after consolidating a myriad of email systems into Microsoft Office 365. Capital New York reported the start of the program last week. The program actually gives the administrator the ability to purge employee emails after one day. A coalition of technology- and transparency-minded groups including Reinvent Albany and the NYCLU wrote the governor last month to oppose implementation of the program, arguing that it would cripple Freedom of Information Act laws (FOIL).
"This policy was adopted without public notice or comment," reads the letter. "Furthermore, we are extremely concerned that the inevitable destruction of email records under your 90-day automatic deletion policy directly undermines other public accountability laws like the False Claims Act."
Cuomo's IT chief Maggie Miller was grilled about the policy during a budget hearing last week. She defended the policy, saying in part, "It's also a matter of, actually, encouraging good behavior, prudent and responsible use of state resources." In terms of concern over space issues and expense, Microsoft Office 365 offers decades worth of email retention.
The Cuomo administration has billed the deletion program as a way to improve efficiency, but workers say it's a hinderance and that they don't feel qualified to decide which emails should be saved in case of lawsuits or FOIL requests. "This just isn't my job," said one employee.
State rules pertaining to what emails should be saved are extensive - they take up 118 pages and 215 separate categories.
State Sen. Liz Krueger, a Democrat from Manhattan, told Gotham Gazette that she learned of the policy during that budget hearing and was "horrified."
"How many state employees understand the language in the policy about what should be preserved?" Kruger asked. "I asked three FOIL lawyers how complicated it is and whether a layman could interpret the rules and they laughed."
Krueger has a bill in the works that would overturn the 90-day policy and establish retention timelines for different areas of government. The bill would add electronic communication to the state's archive laws. She says her legislation will be complicated because it covers so many areas, but takes some inspiration from the Federal Capstone Email Management Policy. It would also make all branches of government, including the Legislature, subject to FOIL. Krueger said she expects bill drafting to be complete in about a week.
There is concern among some legislators and advocates who want to stop Cuomo's policy that Krueger's bill is too far-reaching to actually pass. One legislator told Gotham Gazette with condition of anonymity that they felt making the Legislature subject to FOIL is actually a "poison pill," and virtually guarantees it will not pass.
Krueger said that her bill is not designed as an attack on Cuomo. "I hope this is a situation where the left hand doesn't know what the right hand is doing. Maybe the governor made a mistake. This isn't a spat. I'm not here to go 'Ha, ha! I caught you screwing up!' I am here to repair [the situation] because I care about the democratic process."
Although the uproar over the policy has been sudden and sharp it isn't exactly surprising that the Cuomo administration implemented it. The administration is known for being extremely secretive, and has been working on the implementation of the program for years.
Zephyr Teachout, Cuomo's primary opponent from last year and author of a book on political corruption, has slammed the policy and pointed out that Cuomo is under federal investigation for tampering with The Moreland Commission on Public Corruption.
"Everyone knows that Albany - all of it, executive and legislative - has a corruption problem. Some of it's legal, some of it's illegal," Teachout told Gotham Gazette. " At this particular moment, with such low trust in Albany, there's no excuse for an email deletion policy. He should be opening the books, not burning them after three months. Transparency isn't the full answer. X-rays don't cure patients. But you need them to figure out what's going on."
***
by David King, Albany editor, Gotham Gazette
@DavidHowardKing