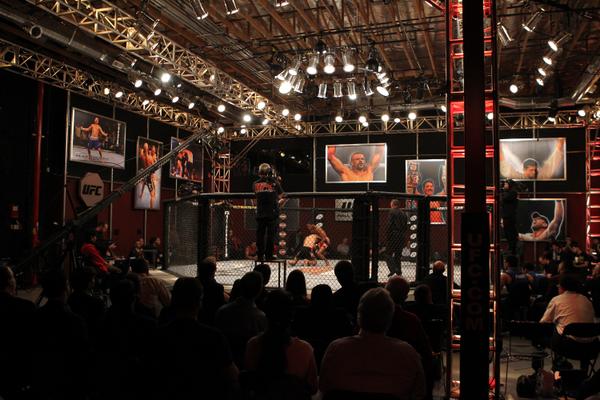 A UFC event (photo: @UltimateFighter)
---
The path to the legalization of mixed martial arts, or MMA, in New York got a major boost earlier this year in the form of the arrest of former Assembly Speaker Sheldon Silver. Silver was seen as the lone impediment to the state removing its ban on the sport and allowing the (notoriously underfunded) New York State Athletic Commission to issue regulations so that New Yorkers can reap the financial benefits of the large events that are now sanctioned in every other state in the nation. The State Senate has passed the bill five times; Silver blocked the bill from ever coming to the Assembly floor.

Silver's replacement, Assembly Member Carl Heastie, of the Bronx, has been a sponsor of the bill and he and the Bronx Democratic Committee he oversees have received donations from MMA interests. While Heastie took his name off the bill when he became speaker, many in the conference expect that with Heastie in charge of the chamber the bill will come to a vote and pass. Heastie has said any bill that comes through his chamber will do so on its merits, not because of his influence.
Assembly Members say that Joseph Morelle, now the bill's lead sponsor, got the OK from Heastie to add more sponsors to the bill. Some insiders say that Silver demanded that no more sponsors be added to the bill last year.
On Friday, Heastie spoke about the legislation during a radio interview on WNBF, of Binghamton, and said the bill would be dealt with in the spring. "After we pass the budget and come back from Easter recess, we'll probably conference MMA and if there's enough support from the conference, we'll bring it to the floor for a vote," he said, according to Politics on the Hudson.
A number of politicos insist that the real barrier to the legalization of MMA in New York still remains - and that it is the behavior of Zuffa, LLC, the parent company of the world's largest MMA promotion, the Ultimate Fighting Championships (UFC).
Lorenzo and Frank Fertitta, owners of Zuffa, LLC and Station Casinos have earned a reputation as union busters and their strong-arm tactics with the Las Vegas Culinary Union is reportedly what has bolstered Silver and other politicians' opposition to the New York bill. The Culinary Union had connections to The Hotel Trades Union that had been actively opposing MMA legislation until recently. But many legislators still carry their talking points against legalization.
Zuffa has spent over $1 million on lobbying efforts and donated over $500,000 to state politicians through its various subsidiaries since 2007 according to records with the New York State Board Of Elections. The major beneficiaries of Zuffa's largesse include Governor Andrew Cuomo, who has taken in $180,000 from the company - more than 30 percent of Zuffa's total donations in New York. The Assembly Democratic Campaign Committee brought in $110,000 despite Silver's resistance; Senate Republicans $95,000; and the Senate Democrats around $40,000.
UFC officials and convinced proponents of bringing MMA to New York say that the sport would bring $135 million annually to the state.
Some things have changed since 2007, when Zuffa began lobbying in New York. The UFC bought, absorbed, and shuttered some competitors, signed a 7-year broadcast deal with Fox, significantly increased the number of cards they put on around the world, and garnered increased attention from national sports media.
Despite its growth 2014 was likely the worst year for Zuffa since they acquired the UFC in 2001. The company's bond rating was downgraded due to significantly lower pay-per-view sales. That was attributed to an injury bug that hit many of the promotion's champions. But perhaps more significantly for the sport itself, 2014 was a year plagued by fighters involved in incidents of domestic violence, failed drug tests, reports about the long-term brain damage incurred by combatants, and backlash from jilted fighters in the form of a class action lawsuit claiming that UFC is a monopoly.
Lorenzo Fertitta, CEO of Zuffa, was in Albany last week talking up the benefits of legalization.
"When you talk about doing an event up in Buffalo or Syracuse where the border of Canada is right there, we'll be able to attract the significant fan base that we have in Canada, importing Canadian tourists," Lorenzo Fertitta told Auburn Citizen last week. "When we do an event in New York — it's such a worldwide, global city — we're going to have people from all over the world attending that event there. There's a huge appetite for the sport and there's really no reason that it shouldn't be allowed in this state."
When Zuffa first began dumping hundreds of thousands of dollars into campaign accounts nine years ago the pitch on legalization was that MMA represented a growing fight sport that was safer and less corrupt than boxing, and that would attract tourism dollars to New York. And, that regulation would ensure the safety of both amateur and professional fighters who now regularly take part in underground fights across the state despite the ban.
Fighters who are banned by athletic commissions in other states for any number of reasons from drug use to blood borne diseases can legally compete in amateur bouts in New York. No one in New York tests them or keeps track of their bouts. Amateur fights take place only a few blocks from the capitol in The Washington Avenue Armory and even in Madison Square Garden. Professional fights in New York, where health and safety regulations would be in place, are illegal.
"When we come in to an area that has been unregulated the first thing you see is the implementation of the correct safety measures," said Lawrence Epstein, Chief Operating Office of UFC. Epstein said regulation also means that amateur promoters actually pay fighters for their bouts. "We see fighter pay increase," said Epstein.
"It is really an odd situation in New York. These amateur bouts aren't underground they are totally out in the open. Meanwhile professional bouts are illegal," Epstein added.
Jordan Breen, executive editor of Sherdog.com, a site that has covered MMA since its infancy and has at times bumped heads with Zuffa because of its deep coverage of the company, said that the UFC has intentionally blurred the line between UFC the company and MMA the sport. "Thats the problem," said Breen. "The UFC has marketed itself as the sport and it is not a good approach when it comes to regulation. The two should be separate issues."
Breen said that given New York's reputation at the most union-friendly state it is "understandable how Zuffa's union-busting ways have come to haunt them" here.
UFC fighters are not covered by the federal Muhammad Ali Act that was passed in 1999 to protect the rights and welfare of fighters. While some fighters can make into the millions of dollars for one fight, most on the UFC roster earn a few thousand dollars per bout and can be released by the UFC on a moment's notice.
Their job as professional athletes requires daily training sessions and camps that can be costly. Once they get in the cage to fight they punch, kick, and wrestle to win three- and five-round affairs. Judges decide winners by a points system if one of the fighters is not knocked out, submitted, or saved from more damage by a referee stoppage.
The UFC used to award large bonuses, sometimes to the tune of $50,000, for knockout of the night, submission of the night and fight of the night. And UFC president Dana White's favorite phrase is "Don't leave it in the hands of the judges." In other words, 'Hurt your opponent enough so that there is no question about who won.'
The UFC recently changed the names of the awards to "performance of the night," apparently in an attempt to do away with the notion that they are advocating increased violence.
State Senator Liz Krueger of Manhattan is the sponsor of a bill that would create a two-year moratorium on MMA and have the Department of Health study the impacts of the sport.
"I call the fighters 'future brain damage victims,'" said Krueger. She says New York should take the moral high ground and uphold its MMA ban because of the negative health effects and because she says it promotes violence against women. She doesn't buy the economic pitch either. "Let's be adults. This isn't the golden ticket for the Western New York economy - just like casinos aren't either."
Krueger may be right about the brain damage. According to researchers at University of Toronto, a third of MMA fights end in knockout or technical knockout and result in more brain trauma than boxing. The UFC, for its part, began working with the Cleveland Clinic on another study that has enrolled 400 former and current fighters. Initial data indicate that UFC is safer than boxing and football.
Zuffa began providing healthcare for all of its fighters in 2011 - not an inexpensive undertaking given that they pay both men and women to do each other bodily harm.
Breen acknowledged that fighter safety is a major concern, but said that regulation was the only way to ensure better outcomes. "By not providing regulation you are enacting as an enabler, you are tacitly complicit in these underground shows where these guys beat the heck out of each other like Mad Max in the Thunderdome."
State Senator Brad Hoylman of Manhattan is also concerned about the health impact of MMA, but he has offered a bill that would allow the sanctioning of the sport but also create a tax that would go toward a fund for fighters who suffer brain injuries.
In Rochester on Wednesday, Governor Cuomo told reporters that any positive economic impact MMA could have for the state outweighs concerns about violence.
"This is a big sport and it's growing, and if it can create jobs and economic growth in the State of New York, then I'm interested in it," Cuomo said; later adding: "I understand the point [about violence]. I focus on that less. Football is a violent sport, rugby is a violent sport, some people say politics is a violent sport. So I get that point, but to me it's more about the economics and whether or not we create jobs."
Cuomo has publicly stated the he has watched UFC fights, joking that he watches fights after he has "a particularly frustrating session with the press." Epstein called the admission "bold" and said his company has had conversations with Cuomo about legalization.
Last year as the NFL dealt with the Ray Rice scandal, UFC president White claimed the UFC had a much more thorough approach to domestic violence incidents. On Feb. 7, 2014 UFC fighter Thiago Silva was arrested for menacing his wife and her friend at a gym with a gun. He faced charges of aggravated battery with a deadly weapon, aggravated assault with a firearm, and resisting arrest. In September the DA's office decided to drop the case because Silva's wife had apparently moved out of the country. The UFC quickly reinstated Silva. Then Silva's wife posted videos of him acting erratically and apparently sniffing cocaine. Two weeks after reinstating Silva the UFC terminated his contract.
Women's groups like the National Organization for Women (NOW) have campaigned against the sport saying it incites violence against women. Epstein said that the accusations are "meritless rhetoric," and "outright lies." He pointed to Ronda Rousey, UFC's bantamweight champion and Olympic medalist in Judo, who has headlined numerous events and has been hailed as an inspirational female athlete.
Perhaps the biggest blow to the UFC's mainstream reputation came this January. Coming off a horrible 2014 the company booked the biggest fights it possibly could. One of those cards featured Endicott, New York native Jon Jones, the company's light heavyweight champion, fighting his rival Daniel Cormier, an Olympic medalist in wrestling. Jones won the contest handily, and the event was hailed as a major success.
On Jan. 7 of this year it was revealed that Jones had tested positive for cocaine during a random drug test administered by the Nevada State Athletic Commission, the commission that sets the standards for regulation of the sport. Jones faced a meager fine, went to rehab, and left a day later. The UFC praised him for dealing with his illness. The athletic commission could not take action against Jones because their rules state that they can't discipline a fighter for street drugs found through out-of-competition testing. Jones is actually pondering legal action because he believes the results of the test should not have been released.
Only a month later two of the company's biggest stars, Anderson Silva and Nick Diaz, headlined a card in Las Vegas. Diaz tested positive for elevated levels of marijuana metabolites, as he had done numerous other times; and Silva, who is regarded in many circles as the sport's Babe Ruth, failed multiple drug tests, including a pre-fight test for steroids. Critics have wondered why the commission did not report the test before the fight to prevent the bout. Some have posited that the commission has no real interest in reporting the tests before an event because it would be required to cancel something that functions as a boon for the Las Vegas economy.
Epstein says that these positive tests prove that regulation and the UFC's safety protocols are working - major stars are getting caught because the UFC is testing them. The UFC also announced that it would fund random out-of-competition drug testing for its roster of over 600 fighters.
Former UFC champion George St. Pierre, perhaps the promotion's biggest star, retired from MMA and has refused offers to lure him back, insisting that he won't fight until performance enhancing drugs are less of a norm in the sport.
Zuffa also faces multi-million dollar class action lawsuits from former fighters who say the company prevented them from earning what they were worth by monopolizing the sport. The suit accuses the UFC of "illegally maintaining monopoly and monopsony power by systematically eliminating competition from rival promoters, artificially suppressing fighters' earnings from bouts and merchandising and marketing activities through restrictive contracting and other exclusionary practices." The lawsuit is backed by major law firms.
Breen said he believes legalization and regulation in New York could be much needed wins for the UFC and the upstate economy, "There is no denying there is a certain prestige to Madison Square Garden for the UFC. But with Broadway and New York's sports teams the UFC would just be a drop in a bucket. I imagine it would do extremely well in Buffalo where the Sabres play. It would draw a massive number of Canadian fans."
***
by David King, Albany editor, Gotham Gazette
@DavidHowardKing