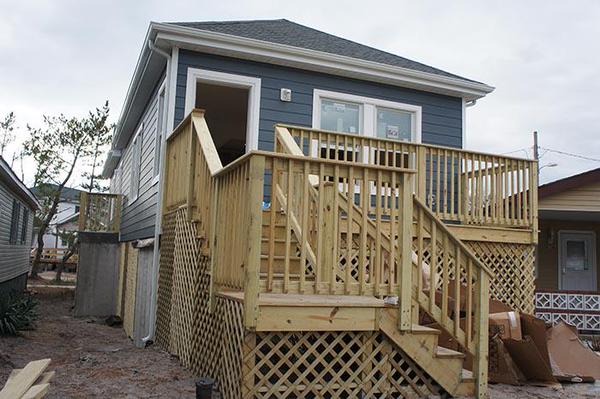 A home rebuilt after Sandy (photo: @NYCBuilditBack)
---
More than two years on and David Velez's battle with Hurricane Sandy is far from over. But, thanks to some help from the Attorney General's office, Velez's fight with his mortgage lender may soon be coming to an end.
The first floor of the retired NYPD officer's home in Gerritsen Beach, Brooklyn was destroyed by flooding during the hurricane, and without help from insurance he and his wife used their savings to rebuild.
Unfortunately, after the construction was complete an architect from the City's Build it Back program deemed the residence structurally unsafe. Velez and his family moved out of the home this past October and were told that demolition would begin in November. Now March, Velez is still waiting for Department of Housing Preservation and Development contractors to begin construction of his home. While the program has gotten a shot in the arm under Mayor Bill de Blasio, the pace is still too slow for many.
Even living out of his home there is another reminder of the damage Sandy has done: Velez gets regular calls from Citibank representatives asking when he will catch up on his mortgage. "They even called me the day I had cancer surgery to remove a tumor," said Velez who was advised like other Sandy victims that he could stop mortgage payments while his home was being rebuilt, only for his lender to demand missed payments immediately after the forbearance was over.
It is a call increasingly familiar to homeowners across the state who are behind on their mortgages, whether from unexpected disasters like Hurricane Sandy or thanks to the economic downturn of 2008 and subsequent recession. Even in 2014, New York City saw a 33 percent increase in first-time foreclosures compared to the year before, according to one recent study.
Many homeowners have watched as Attorney General Eric Schniederman won the state multi-million dollar settlements from major lenders like Bank of America, Citibank, and JPMorgan. Like Velez, many struggling homeowners expected that those settlements would go directly to help New Yorkers who are underwater with their mortgage.
In Velez's case the AG's office did offer help, through an initiative called the Mortgage Assistance Program, which makes up to a $40,000 loan for homeowners who face foreclosure to pay off mortgage debt, second or third mortgages, or tax liens. Eligible families must be able to keep up with their mortgage to qualify for the program. Thousands of New Yorkers face foreclosure and don't qualify for the AG's program - some New Yorkers are simply far too behind on their mortgages to qualify.
Groups like The Fair Share for Housing Coalition and New York Communities for Change say the State needs to commit all of the funds from settlements with major lenders over mortgage fraud to go to helping homeowners.
In 2013 Schneiderman won a $615 million settlement for "mortgage misconduct" and according to the settlement 85 percent of that money had to go to programs to help homeowners. Schneiderman announced he was going to parse the cash out to nonprofits across the state that help homeowners avoid foreclosures, but Governor Andrew Cuomo and the state Legislature cut a deal in the 2014 budget that swept the cash into their coffers. According to Crain's New York, Schneiderman only ended up with $85 million of settlement funds.
Many advocates say they expected a number of "innovative" programs from Schneiderman's office given his national prominence on the issue. They feel those programs were kneecapped by Cuomo, who has a searing rivalry with the attorney general.
The AG's office currently works with nonprofits around the state to help homeowners avoid mortgage fraud through a program called the Homeowner Protection Program. A network of over 85 groups gets about $60 million in funding from the AG's office. Homeowners are directed through that program to the Mortgage Assistance Program (MAP). The AG's office expects to be able to give out "several hundred" loans through MAP. The program began last October and has given out 100 loans of up to $40,000.
The Fair Share for Housing Coalition lists a total of $492 million in settlements with Bank of America, Ocwen Financial Corporation, and Citigroup as directly related to mortgage fraud and it advocates that the State utilize, at the minimum, those funds to help homeowners. But the State actually has over $5 billion in settlements with banks and corporations that advocates would also like to go to homeowners' cause.
Charles Pollydore, a homeowner from Long Island and member of New York Communities for Change, has been circulating a petition demanding Cuomo use settlement funds to help homeowners who are underwater or face foreclosure.
Pollydore lost his consultant job on Wall Street in 2008 and, while on unemployment, began trying to negotiate a loan modification with Bank of America. He said he was repeatedly rebuffed or ignored. He reached out to a slew of state and federal representatives only to be directed to a different office each time. Also in 2008, Pollydore became disabled due to a diabetes-related amputation and he fears he will never be able to come to terms with his bank for an affordable mortgage payment.
"It is great the State is getting all this money back from the banks, but I feel like they need to give the money back to the homeowners - especially the money that came from these predatory lenders," Pollydore said.
He adds that his Long Island neighborhood has been ravaged by foreclosures. "You drive through the neighborhood and the houses are boarded up, there are squatters, we have increased crime, school taxes have increased." Pollydore says he is now surviving on government assistance and still owes back taxes.
"The money the attorney general is using for his program is a drop in the bucket compared to the settlements they have reached," said Pollydore. "We need the money back to stop so many people walking away from their homes."
Cuomo's budget proposal combines the State's pot into $5.8 billion in settlement cash and proposes to put it largely toward one-time expenditures. The plan would use $1.5 billion for upstate revitalization, $3 billion for infrastructure including the Tappan Zee bridge, $500 million to increase broadband infrastructure across the state, and $850 million for a rainy-day fund.
The Assembly budget is largely in line with Cuomo's proposal, but adds $200 million in increased spending on housing issues, including $100 million for homeowners "at risk of foreclosure or who are underwater on their mortgage." The Assembly budget plan only offers this about the program: "The Assembly provides $100 million for a mortgage modification program." Calls to the Assembly for more details were not returned.
While The Fair Share for Housing Coalition praises Cuomo for including more funding for affordable housng and has tried to avoid ruffling feathers in its push for more help for homeowners, New York Communities for Change (NYCC) has used a more confrontational style. It issued a report earlier this year called "Wall St. On The 2nd Floor" that details the connections between Cuomo's new chief of staff, William Mulrow, and his former employer, Blackstone. Blackstone is the largest private equity company in the world and NYCC worries Murrow, and by extension Cuomo, has a conflict of interest.
The NYCC report reads: "Private equity companies "snapped up properties after prices fell as much as 35 percent from the 2006 peak and rental demand rose from the almost 5 million owners who went through foreclosure since 2008." The company that bought the most foreclosed properties during this time was Blackstone."
NYCC members plan to deliver Pollydore's petition to the governor soon.
"I think the governor has made his priorities pretty clear," said Peter Nagy of NYCC. " Helping people hurt by the banking crisis doesn't seem to be as important as helping those who caused the banking crisis. I think the governor's friends believe it is in their best interest not to help homeowners."
As they do during budget season, deals will materialize and implode, and it appears that the use of settlement funds may be decided in negotiations between the Legislature and Cuomo outside of the budget, which is due by April 1. Legislative session continues through mid June.
"The windfall money is something that I believe should be settled outside of the budget and done in a very deliberate way rather than rushing it in the next three days," Senate Majority Leader Dean Skelos said after meeting with Cuomo on Tuesday. On Wednesday, the Cuomo administration was pushing back.
Velez said he is happy with the AG's program but wished there was more help out their for other homeowners, "This was a hurricane, no one asked for this," he said.
Pollydore, meanwhile, plans to keep advocating for Cuomo and the Legislature to dedicate all of the mortgage-related settlement funds to helping homeowners who are facing foreclosure. "This is why I'm appealing to the governor to help us. The banks got a bailout from the government and we didn't - so the State got that money from us. They got it from us."
***
by David King, Albany editor, Gotham Gazette
@DavidHowardKing