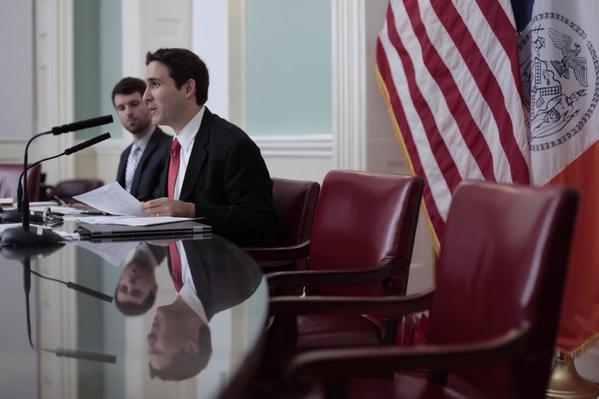 CM Kallos at a committee hearing (photo: William Alatriste)
---
New York City Council Member Ben Kallos, a Manhattan Democrat, will introduce a bill Tuesday to provide a professional urban planner to each of the 59 community boards in the city.
The bill, Kallos said, is a move to empower communities in the city's land use process. Speaking exclusively to Gotham Gazette, Kallos said, "The City has two main powers. The first is over budget and the community boards have a say in that. They make their budget priorities known. The other is land use. In order to give community boards power and a voice in that land use process, they need skilled technical help."
Kallos' bill would create a planning department in each of the five borough president offices which would staff at least one planner for each community board. There are 12 boards in Manhattan, 12 in the Bronx, 14 in Queens, 18 in Brooklyn and three in Staten Island.
The council member cited a number of concerns which prompted the bill, including lack of support from the City Planning Commission and the proposed rezoning of East Midtown. "This is the age of the super-scraper," Kallos said. "I'll be getting a 900 foot tall building in my district soon. Development is running rampant. Developers are making billions off new buildings and communities don't really have a say. The idea is to put planning back in 'community planning board' as it once was and empower the community boards."
Currently, community boards only play an advisory role in any zoning or planning issues. Land use deals that need City Council approval typically hinge on the decision of the council member whose district is home to the project. The City's Planning Department falls under the mayor and community boards that disagree with the administration may not get the planning support they need, Kallos said. Changes in the city's zoning laws proposed last month by Mayor Bill de Blasio will affect the entire city and Kallos believes the community boards may not necessarily have the expertise required to deal with them. The law would require the City to appropriate funding through each borough president's office and the borough presidents would have a say in the new hires, as they do with community board member appointment.
Kallos will introduce the bill at Tuesday's full-body Stated Meeting of the City Council and it will head to the governmental operations committee, which he chairs.
The demand for technical help already exists. At a recent hearing of the governmental operations committee, representatives of Manhattan community boards called for an increased budget for professional hires, although not specifically for planners. "This law is in line with that," said Kallos.
***
by Samar Khurshid, Gotham Gazette
@samarkhurshid